So many beautiful destination in Indonesia that can be visited. And so many ways too to spend your holiday. One of popular destination in Indonesia that has been popular in international too is Bali.
Bali is identical with beach, that stretch out and become an attraction for local and foreign tourist. But when visit Bali, not only have to visit beaches in Kuta or fun things to do in Badung, but once you need to visit waterfall. Because waterfall will give different sensation. With the access that still hidden, waterfall will give the cold and fresh air.
Yes, exactly right if you thought that waterfalls in Bali is awesome. But, Gianyar have beautifull waterfall too. So as not to be curious, there are some recommendation of popular and most beautifull waterfall in Gianyar, Bali.
1.Tegenungan Waterfall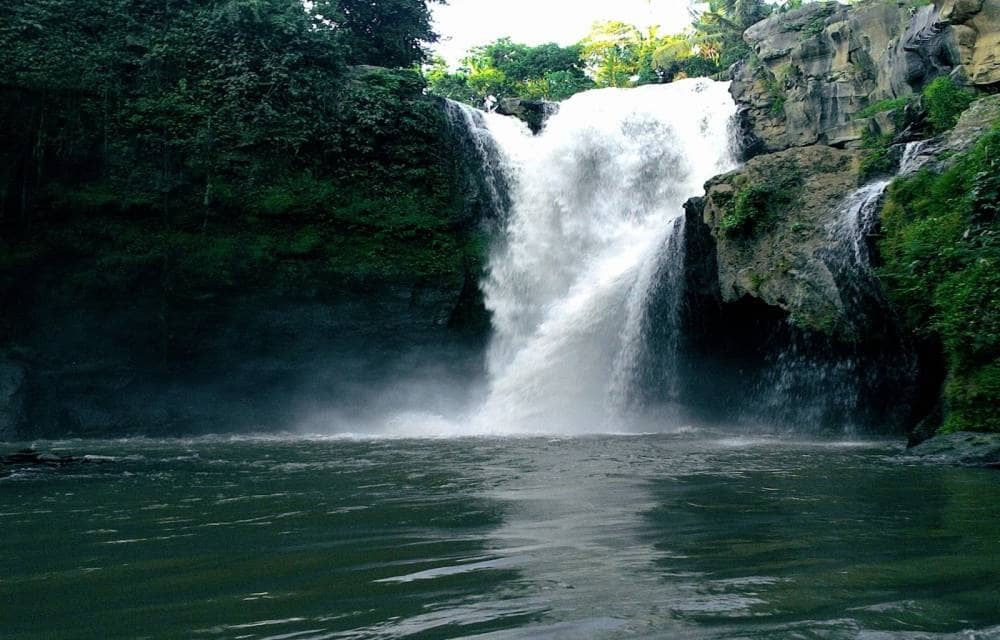 Tegengungan is one of most favourite Waterfall in Gianyar, that located at Kemenuh-Sukawati, Gianyar. This place was highlighted by some Television station, because have cool area that can lure some tourists.
This waterfall can be reach after along of the forest and river banks, and also down dozens of stairs. But next, you will see the beautifullness of this waterfall, because it decorated with shady trees, with the high of waterfall is around 15 meters. And to enter this place, you just pay Rp 15.000 only.
2. Kanto Lampo Waterfall
Kanto Lampo can be said the artistic waterfall. It is one of the best places to visit in Bali, because there are uniqueness of this waterfall, that is the water that seeps from around the overhanging and randomly arranged rocks. So can be differentiate with the other waterfall and be favourite and best place for photographer in Bali.
This waterfall is surround by natural and beautifull rocks and trees. And dont worry, the waterfall that located at Beng also have many facilities like toilet and rinse room. So tourist can be comfortable with that.
3. Goa Rang Reng Waterfall
Another popular and unique waterfall is Goa Rang Reng. That uniqueness is on the water's stream that is not gushing profusely, but flows and spreads through the stone steps.
On the over the waterfall, there are sacred cave, that known with Rangreng, that used by society to clean and purify themselves from negative things.
This place is located at Bakbakan-Gianyar, and included a sacred area. So there are some regulations that must be noticed with all of tourist, like wear a well mannered dress, guard the attitude and words, and also not recommended for menstruating women, because it is a holy place.
4. Petanu Waterfall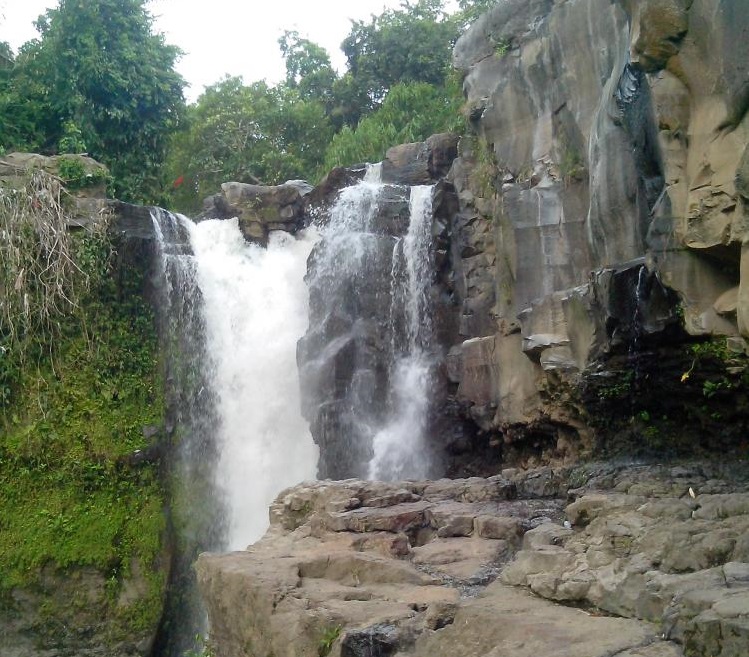 Petanu Waterfall is located at Kemenuh-Sukawati, Gianyar. Like the other waterfall, this waterfall also popular because have a natural and beautifull view.
The exotism of waterfall is visible because there are a big rock and shady trees that grow healthy and green. And the ticket is just only Rp 5000. This waterfall has heavy water discharge.
5. Sumampan Waterfall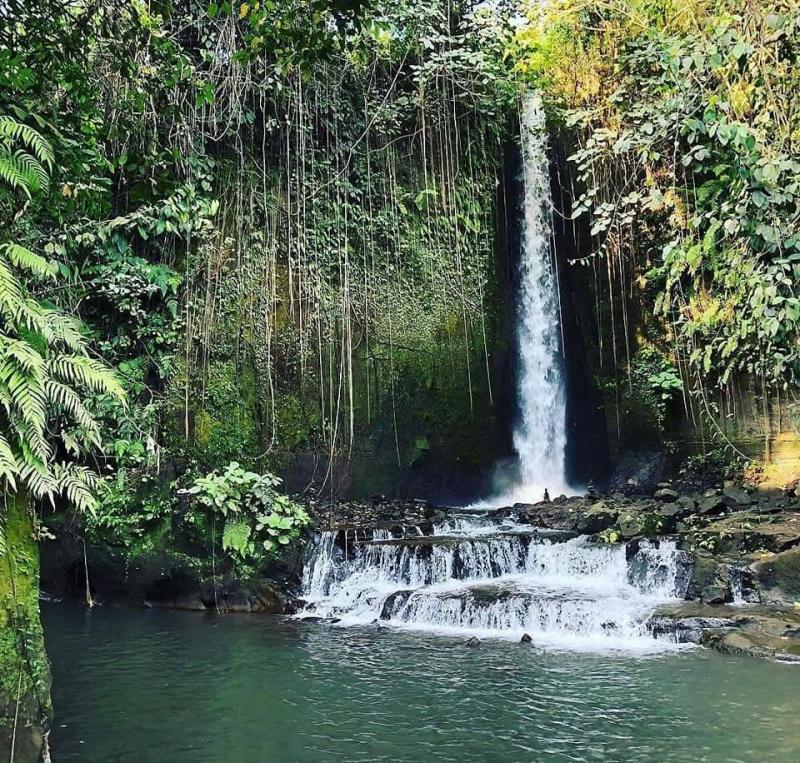 Sumampan waterfall is fairly new, that was opened at September, 2018. But different with the other waterfall, this waterfall was artificial.
Located at Kemenuh, Gianyar, the location access is simple. And you know? its free for you or just pay as much as you want, and you will see and enjoy the 15 meters of waterfall, with a mask-shaped stone that carving made by Nyoman Retana.
6. Manuaba Waterfall
Another new waterfall destination is Manuaba that located at Kenderan-Tegallalang, Gianyar. There are its own charm, where the waterfall is flowing between the gaps in the cliffs, then falling into the small natural pool belows that.
Just with Rp 5000, you will enjoy the clean water and natural pool, so that location is convenient location for swimming.
7. Titi Gong Gang Waterfall
If travelers walk around Bukit Jati Waterboom, there is no harm if visit the Titi Gong Gang Waterfall. Its mention that the name will reminds with the place of punishment of atma in hell. But in fact, this waterfall is very beautifull and natural. Its located at Samplangan, Gianyar and free to visit this place.
8. Uma Anyar Waterfall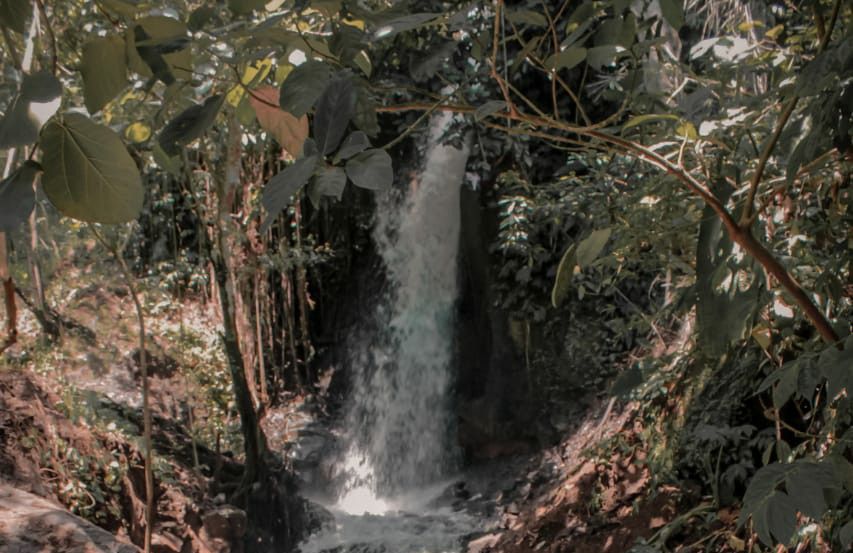 Beside Tegenungan, Kemenuh has another new waterfall too, thats it Uma Anyar Waterfall. Its mention that Uma Anyar is destination that has uniqueness. Beside the beautiful waterfall, there are herds of monkeys and the exotic forest landscapes.
Besides of these wonderful waterfall and beaches, Bali is more than that. Here are the caves in Bali that you can visit.
So thats the recommendation of popular waterfalls in Gianyar, Bali. It turns out that in one location there are a lots of beautiful waterfalls. So, which one is the most interesting for you to visit when you are on vacation?