Talking places to visit in Bali, people might be familiar with its beaches and temples which are so popular. Evidently, there are many other destinations beyond those common places in Bali, one of them is cave. Do you know that Bali has many caves? Some of them are even very unique and attracting.
Let's wandering 6 caves you might never know in Bali!
1. Garba Cave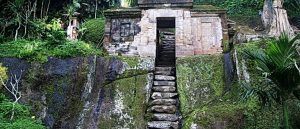 You might be familiar with Gianyar. In this location, there is a cave called Garba Cave. It is specifically located in Pengukur-ukuran Temple, Pejeng Kelod, Tampak Siring, Gianyar. This cave is surrounded by many cliffs and tropical trees.
Along the way towards Garba Cave, there are two niches which was used as meditation spot. The big one was used by public, while the other one was used by aristocrats. Now, both niches can be used by all people, not to be separated anymore.
Garba Cave is located in the east side of Pakerisan River. It was built in 1116. It used to be functioned as a place for aristocrats to study. There are some prehistoric sites in Indonesia near Garba Cave, such as Tirta Empul, Gunung Kawi Temple, and Tegalinggah Temple.
There is an old story about Garba Cave. When Bedahulu Kingdom was still exist, Garba Cave was the place for Kebo Iwa, the great governor, to be forged. Inside the cave, you could find the foodprints of Kebo Iwa.
2.  Lawah Cave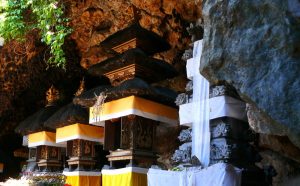 Planning about things to do in Klungkung Bali, you can visit a cave called Lawah Cave. This cave is one of 6 importants temple areas in Bali. The word 'lawah' itself means bat.
It is because there are many bats are hanging inside the cave. To enter this cave, the  ticket price is Rp 15.000. For children below three years old, it is free!
In the mouth of Lawah cave, there is a place of worship. There is also a large religious ceremony which is celebrated every 6 months. The day of ceremony is called Anggarkasih Medangsia.
According to history, the temple inside Lawah Cave was build in the 11th century by the suggestion of Mpu Kuturan. People who pray in Lawah Cave temple worship Baruna god or is also known as sea god. A recommendation for you, do not forget etiquettes while visiting temples in Bali.
3. Gajah Cave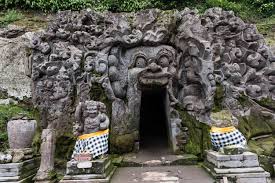 In Bedudulu Village, Blahbatuh, Gianyar, you could find a cave named Gajah Cave. This cave is very beautiful accompanied with the view of green and leafy trees. The ticket price is Rp 30.000 per person, the parking fee is Rp 5.000 for a car and Rp 2.000 for a motorbike.
When you arrive here, you will see the entrance in the mouth of the cave only fits for a person. So if you come with family or in group, please come in one by one. There is a sound of water which will attract you come closer.
The sound is from a statue. Around the statue, you will also find some rocks of the cave that fell down because of earthquake.
Outside the entrance, there are two guardian statues that welcome you. Inside the cave, you will see the cave shapes 'T' letter. Walking to the west side, there is Ganesha statue, while to the east side you will see three phallus.
4. Giri Putri Cave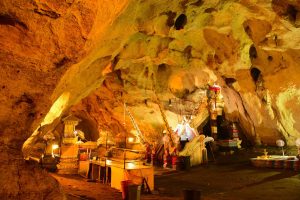 In Karangsari Village, Nusa Penida, there is Giri Putri Cave. This is the biggest cave in Nusa Penida which could be a good choice for all things to do in Nusa Penida. Giri Putri Cave has been popular as a tourism destination since 1990.
Long time ago, it was only visited during Galungan and Kuningan ceremony. After 1990, Giri Putri Cave has been getting more attention as spiritual tourism destination and worship place. Inside the cave, you will find four worship spots. This cave is possible to accommodate up to 5.000 people inside.
To reach the cave, you need to step on about 80 stairs. You will also through a small hallway. Do not forget to prepare Rp 10.000 per person for the entrance ticket.
5. Gala-Gala Underground House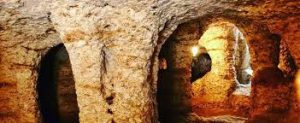 In Nusa Lembongan Island,there is Gala-Gala Underground House that is very popular. It is said the this place was built in 1961 by Mangku Byasa. It has been built for about eleven years. The long period of building process is represented by the well-organized cave inside.
When you enter the cave, you might think that it was functioned as a settlement. It is because the air circulation is very good. But you have to be careful because the cave height is only about one to two metres. So you might need to a little bit bowing while walking inside the cave.
There are some rooms inside, such as meditation room, bedroom, living room, kitchen, and there is also a well. In each room, there has been some lamps at the corners. To explore the cave in Gala-Gala Underground House, you need to pay Rp 20.000. Because there are so many doors, it is suggested for you to enter the cave with the guide.
6. Maria Palasari Cave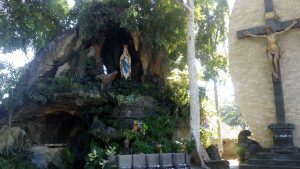 In Palasari Village, there is a cave named Maria Palasari. The area around this cave has been popular with the Catholics. It was inaugurated in 2008 by the ambassador of Vatikan in Indonesia.
There are some small statues of god in the entrance. Along the way to the cave, there is a long story of Jesus in a kind of relief. This cave is also used by people to worship Jesus. Since the cave is also used by local people, there is no information about entrance ticket to visit the cave.
Those are some wondrous caves to visit in Bali. Do not forget to explore all of them!