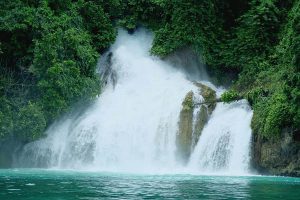 Nobody could ignore that Papua consists of so many beautiful places and biodervisities. Some places that are popular enough are Lorentz National Park, beaches you should visit in Papua such as Raja Ampat, and many more.
Do you know there are a lot of wonderful water tourism in Papua? If you just know it, do not miss about these 7 amazing waterfalls in Papua!
1. Wapsdori Waterfall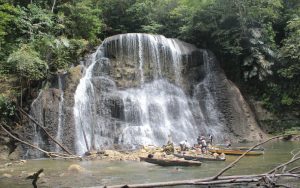 Wapsdori Waterfall is located in Wardo Willage, Biak, West Papua. This waterfall has a very clear and clean water. Its height reaches 15 metres. If you come to this waterfall, you will be served by a natural view from Mangrove forest around the waterfall.
There is no information about ticket price to visit Wapsdori Waterfall since this waterfall is still so natural. When you visit there, you might see some local people have their activities around. Most of them often go out to the waterfall in the afternoon. Don't you want to join with them?
2. Kiti-Kiti Waterfall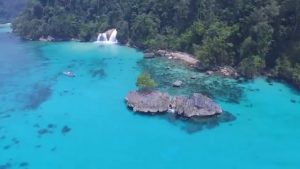 In Fakfak Regency, West Papua, you might ever hear about Taman Pesisir Teluk Nusalasi Conservation Area. There is a beautiful waterfall inside this conservation area calles Kiti-Kiti Waterfall, one of the famous waterfalls in Indonesia. To enter this waterfall, you need to pay Rp 20.000.
This waterfall is very special because the water directly falls to the sea. Along the area you will see the green view of forest. There is also an interesting coral reef spot near the waterfall. Going further from the waterfall, you could find an island where many bats live. You could go there by boat in only 10 minutes.
3. Cyclop Waterfall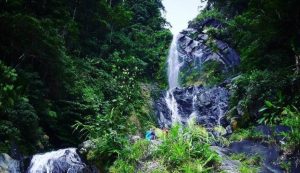 Do you ever know about Mountain Cyclop? Near this mountain, you could explore a waterfall with the same name, Cyclop Waterfall. It is located in Sentani. This waterfall is still natural. You could see many local people often have their activities near Cyclop Waterfall. They often swim there. Don't you want to have interaction with them?
Along the journey to the waterfall, you will step on big stones. It might sound tiring, but do not worry! All will be paid off with the comforting clear water in Cyclop Waterfall. This waterfall is also the springs of water in the area to be distributed.
There is no information about entrance ticket to Cyclop Waterfall. To visit this waterfall, perhaps it will not be so hard since the the way is not too steep.
4. Bihewa Waterfall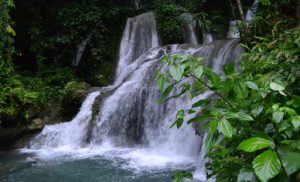 If you think about things to do in Nabire Indonesia, do not forget to go to Makimi District. In this district, there is a beautiful waterfall called Bihewa Waterfall. This waterfall was found by local resident at the upstream of Nabire River.
It can be said that the location of Bihewa Waterfall is hidden, but it means that this waterfall is still so natural. To visit Bihewa Waterfall, you have to get through forest and cobblestone road. You also need to be careful because the way is quite slippery. This waterfall is very high too. Its height reaches 40 metres which includes 7 levels.
5. Wafsarak Waterfall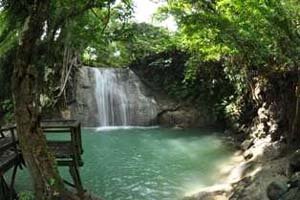 In District Warsa, Biak, you could find a waterfall named Wafsarak Waterfall. Actually, there is no entrance ticket, but tourists need to pay Rp 25.000 before they go home from Wafsarak Waterfall. This amount is not the fee for each person, but each group of visitors.
So, if your group consists of even more than ten persons, you still only need to pay Rp 25.000. How affordable, right? Wafsarak Waterfall is just about 100 metres aways from the road side.
Once you see the waterfall, you will see some tree roots are dangling at the left side of the waterfall. You may also meet local people who do their activities near the waterfall.
As tourists, you do not need to worry about the hygiene, because local people keep it clean as well. It is also because this waterfall is still not popular enough among tourists.
6. Tagor Waterfall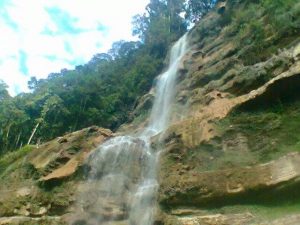 In Fakfak, there is another waterfall called Tagor Waterfall. It is specifically located in Mambunibuni Village. As same as Wafsarak Waterfall, this waterfall is not popular among tourists, but you can trust the beauty of Tagor Waterfall!
To visit the waterfall, you need to stepping on many river stones. It would be quite long, but you can enjoy the journey as well. There is a myth about Tagor Waterfall.
It is said that to know how high was the waterfall, the ancestors measured it by using sweet potato that was covered inside leaves. The covered sweet potato then would be thrown from the top of waterfall. If it was broken, it meant the waterfall was very high.
7. Meyah Waterfall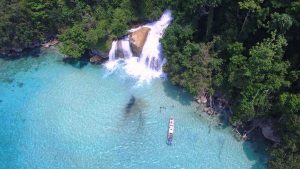 Last but not least, there is Meyah Waterfall in Meyah District, Tambrauw Regency, West Papua. This waterfall is not so famous but it is so beautiful and natural. Meyah Waterfall is located inside a jungle which has a very good environment.
When you are here in the morning, you could here the sounds of Cendrawasih birds. As this waterfall is so natural, there is no entrance ticket to visit. So many people who had come here hope that local government could give more attentions to this beautiful natural tourism, including to concern about public facilities for tourists.
Those are 7 wonderful waterfall and things to do in Papua. Which one do you think is the most beautiful? Get your best one and explore the waterfall!