Kintamani is one of the regions in Bali which is always interesting to be explore. It has plenty natural attractions you can visit either with your family or friends. Doing outdoor activities is one of the agendas you can do in Kintamani.
No wonder, it always attracts a large number of tourists every year. The view and atmosphere are simply splendid. Get the other ideas of the things to do in Kintamani too to get the best ideas!
Here they are, the 7 outdoor activities you can do in Kintamani, Bali that will surely spice up your holiday!
Sunrise Volcano Trek to Mount Batur
One of the most exciting activities in Kintamani will be trekking to Mount Batur. Mount Batur is considered as one of the sacred mountains by Hindu people. There is no other place you can find to view the sun.
Mount Batur is also a popular hiking place for locals and international tourists. The mountain is located at 1,717 meters above the sea level. Besides hiking and trekking, put these things to do in Mount Batur in your itinerary.
Even beginners are welcome to try the trails. The best time to hike this mountain is early in the morning as you can witness adorable sunrise on the top of the mountain. While you're hiking, make sure to wear comfortable hiking shoes and clothes.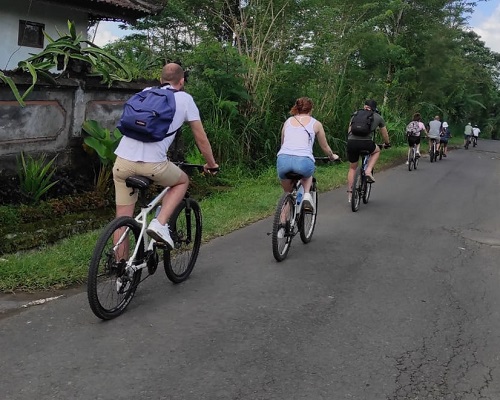 Another interesting outdoor activity to enjoy in Kintamani is taking a cycling tour. You can simply enjoy the natural beauty of the natural beauty and cool air. You can rent Greenbike Adventure, and you can enjoy cycling from Kintamani to Ubud.
Along the way, you will pass through the wonderful countryside and see the beautiful views of rice fields, temples, as well as Mount Batur.
Not only that, at the end of the tour, you will also get a chance to taste Balinese foods. It will surely be enjoyable and memorable!
One of the fun outdoor activities you can enjoy in Kintamani is enjoying a hot spring bath. One of the spot you can visit is the Toya Bungkah Hot Spring.
It is a spot where you can enjoy the perfect serenity while soaking yourself inside a hot spring bath. It is said to have some medicinal healing powers as well.
While you are soaking yourself, you can enjoy the endearing scenic beauty of the region. Breathe in the clean air as you enjoy tranquillity, soaked in the hot spring that will detox your body and soothe your mind as well.
Do you love challenging and thrilling sport? Then you should try canoeing and kayaking. The crystal clear water and its adorable surrounding makes this place looks like paradise. You can pass through the lake slowly as it is extremely refreshing and soothing.
A mystical trip to Trunyan Village
Trunyan Village is considered as a unique village in Bali. The locals living there call themselves "Bali Aga" or original Balinese.
The locals practice a funeral ceremony in this village by leaving the dead to decompose. They leave the dead under the taru menyan tree. Then, they collect the skulls, and put them together in a special place. While you're walking there, you will see the collection of skulls and bones in bamboo cages.
If you're really interested to learn more about the custom, then you should visit this village. It is tucked on the east side of Lake Batur.
No wonder, while you're visiting the village, you will also be able to enjoy the panoramic view of Lake Batur and its surroundings.
You can also explore these stunning rice terraces in Bali and get the peaceful atmosphere.
Indonesia also has some villages to explore such as batik villages in Indonesia and villages above the clouds in Indonesia.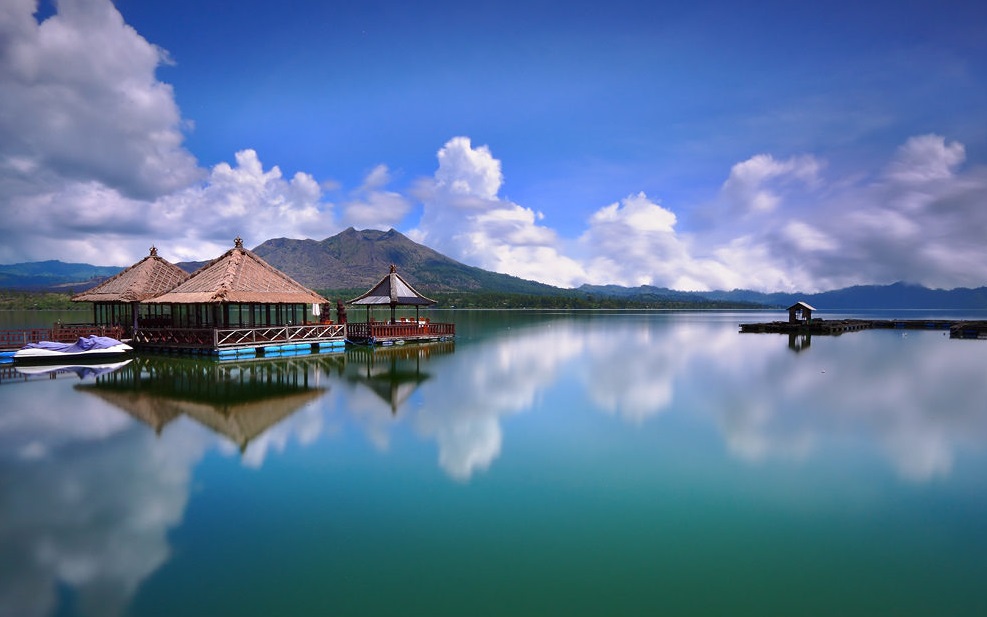 After visiting Trunyan Village, you can visit Lake Batur, a crescent-shaped lake located at the base of Mount Batur. You can simply enjoy the view of this picturesque lake which is surrounded by hills and shady trees.
If you wish to go around Lake Batur, rent a boat. You can also get on a kayak and paddle your way across the lake. Then, you enjoy the cool breeze there. You can also soak and comfort yourself in a hot spring nearby.