You may know Bali because of white sand beaches in Bali. However, Bali is not only about beaches. There are more tourist attractions to explore in Bali. One of which is the rice terrace.
Bali has some stunning and soothing rice terraces that will give the tourists the wonderful green scenery. The green scenery will surely impress the eyes and give pleasant experience.
Rice paddies in Bali are part of the people's heritage. For your information, the traditional irrigation called subak has been living on through such an artistry in nature. The most famous rice terrace in Bali is Jatiluwih, which was recognized by UNESCO in its world cultural landscapes list.
However, there are some other sites in Bali where you can enjoy the outstanding rice field views. Here they are the 6 stunning rice terraces in Bali you should visit at least once.
Being listed as one of the candidates and world's important cultural landscapes, Jatiluwih is known as the best rice terrace in Bali.
It covers around 600 hectares which flows down the southern slopes of the Batukaru mountain range in West Bali. Jatiluwih rice terraces are well maintained by the local village's subak cooperative.
Jatiluwih is also considered as the largest and most picturesque rice terraces in Bali. You will be able to enjoy the impressive 180-degree 'sea of green' views once you go halfway up along the paddy roadside.
If you have visited Jatiluwih, then you should visit Tegallalang for the next place to explore. You will surely find another awesome rice terrace scenery with the cool and natural atmosphere.
This rice terrace is located near Ubud, the famoys countryside for Balinese culture and art. So, if you plan to visit Ubud, don't miss Tegallalang rice terrace. Find the other things to do in Ubud at night for your memorable holiday.
Tegallalang rice terrace Ubud Bali Indonesia tour is very popular among tourists who visit Bali. Most of the tourists are happy to take a lot of photos with the amazing rice field as the background.
If you plan to come, the best time to visit this rice terrace is early in the morning or late in the afternoon. It is a good time to get shady and cool atmosphere. Instead avoid visiting this place at noon as it will be very hot.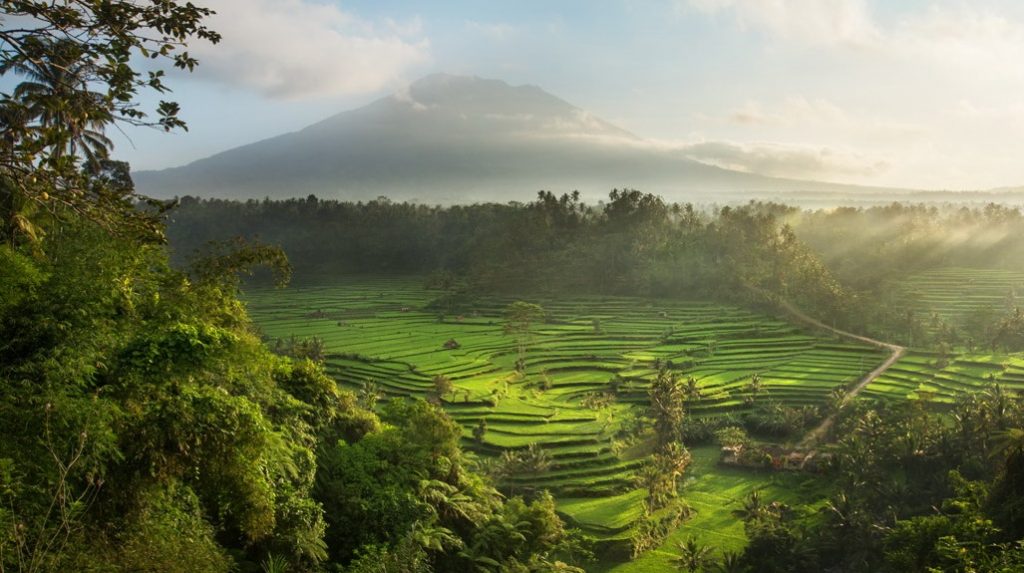 After visiting Tegallalang in Ubud, take a 2-hour drive to Sidemen Village. Then, you will find another mesmerizing rice terraces there. Sidemen Village is considered as an excellent spot to view the beautiful rice paddies in East Bali. If you plan to visit Besakih Temple, then you should go here.
Regarding to its popularity, Sidemen rice terraces are not as popular as Tegallalang or Jatiluwih. However, the scenery it offers is as beautiful as the other two.
One special thing to highlight about Sidemen rice terraces is the background. You will be able to see Mount Agung, the highest mountain in Bali clearly from this area. It will surely be a perfect background for your photo!
While you're here, you can just walk down around the rice field, enjoying the calm and amazing scenery of the terrace. In several spots, you will find out some plantations, such as banana, papaya and cassava. All of them are planted by local farmers.
Another attractive mountain village in East Bali is Rendang. Rendang offers scenic countryside views which compliment your drive to the capital of Amlapura. This area is dominated by rice fields and rivers and the local craftsmen who make their living from both agriculture and carving.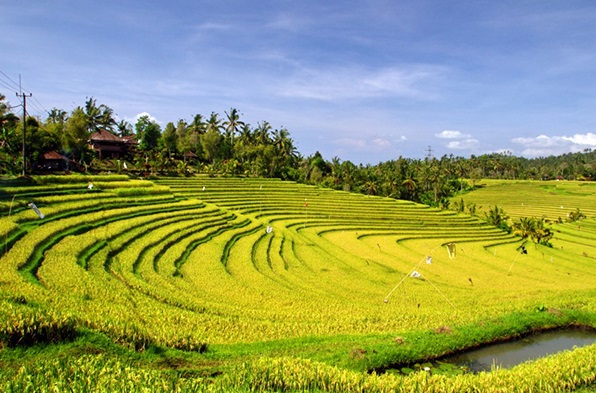 Pupuan is located in Tabanan, West Bali. This is a farming village which serves you beautiful rice terraces and some plantations, such as cocoa, coffee and clove. There are some rare tropical fruits planted here, such as mangosteen and durian.
If you wish to come here, try to come early in the morning. You will be able to enjoy the glimpse of the farmers harvesting their crops or laying out cloves to dry on the roadsides.
You will also find some hidden waterfalls and streams in the tropical forests once you are off to the main paths.
The last but not the least rice terrace in Bali you should visit is Munduk. Munduk region has a wonderful expanse of rice paddies.
This area is also popular for natural walks and village cycling tous due to its various natural attractions and lush atmosphere.
While you're here, you can buy some local fruits, including durians. The fruits are often sold at the roadside stalls. If you wish to stay here, there are also some nature resorts in this area.
Bali is home to a lot of amazing tourist attractions. Find the complete tourist attractions in Bali by reading educational tourist spots in Bali and forest attractions in Bali.