Welcome to Bali. Bali is one of many provinces in Indonesia that is famous with tourism. If you come to Bali, there is many resort can be your choice. Zen resort is one of many resorts that you can choose if you come to Bali.
Do you want to spend your day just in the resort? Your answer must be NO because it can be boring if you just sit and spend your day just in the bedroom.
Therefore, these are things to do near Zen resort Bali
Lovina Beach
If you come to Bali, your visit don't complete if you don't go to Lovina Beach. Lovina Beach is in North Bali about 10 km to the youst of Singaraja. Its location is in the village of Kalibukbuk, Buleleng, Bali.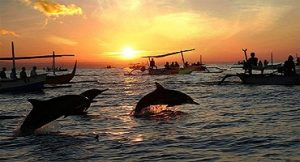 Attractions
Lovina Beach Bali is famous for the dolphin show that swim freely in the open sea. The most appropriate time to enjoy the sights of dolphins from fishing ship is at 6 a.m. until 07:30 a.m. From fishing ship you could see dozens of dolphins leaping and swimming on the sea surface. At times like this, while admiring the beauty of the landscape, to capture the moment is a must do. So, make sure the battery of mobile phone or camera is fully charged. You may also visit Things to Do in Lovina Bali Indonesia
Other than seeing dolphins in the open sea, you should not miss the sunrise in this beach. Because at the sunrise, beautiful dolphins usually will come to the surface. The combination of dolphins leaping into the air which is decorated by background morning sunshine will certainly spoil our eyes. Silhouette image of dolphins jumping in the air like you see in national geographics certainly easily obtained here. So, do not forget to hunting photos for your instagram and your own collection.
Besides watching the dolphin show and enjoy the beautiful sunrise, tourists can also do other activities such as diving. The scenic beauty of the underwater supported by a quiet stream makes the tourists can dive safely and comfortably.
If you want to dive but lazy carry diving equipment or do not have equipment, do not need to worry. Because in Lovina Beach Bali area you can find several places that can rent diving equipment. The rent price for diving equipment is starting from Rp 100,000, – only. The price is certainly still safe for pockets of travelers.
After pampered with the dolphins and the sunrise, you can immediately dive to see the beauty of marine life on the ocean which attracts many local and foreign tourists. This is an unforgettable experience. You can also dive with cheap price that still can make your pocket safe right? Isn't cool?
Not only the landscape that you enjoy, Lovina culinary is also one that you must try. Processed marine products such as fresh grilled fish and soup became a favorite among travelers. Even that will make more fun again is you can have tasty and nutritious meals that you can enjoy with views of the expanse of blue sea. If you have this, what else can you do besides eat and photographs? Your stomach secure and stock photos for instagram feeds are also safe. Isn't it great right? You may also visit Things to Do in Seririt Bali
Facilities
For those of you interested in enjoying the dolphin activity, do not hesitate. Because in this beach, you can easily meet traditional fishing boat that will take you to the sea for 2 hours. Enough to pay Rp. 150.000, – / person, the capacity of boat is about 4-5 people. In addition to the fishing boat, in Lovina Beach also there are plenty of dive equipment rent services.
For residence, in the village of Kalibukbuk, there are many choices for you to stay. Resorts, hotels or homestay with price starting from Rp. 100.000, – / night. Not only lodging, places to eat is also very easy to find in this area. Food menu options and the price range are varies. However, the average price of food in this region will still be cheaper than the tourist area on the south coast of Bali. That's all the top things to do near Zen Resort Bali.
So, do you like to come to Lovina Beach? 
Vihara Dharma Giri
Vihara Dharma Giri Tourism Pupuan Tabanan in Bali is one of the sights are located on Highway Pupuan No. 1, District Pupuan, Tabanan, Bali, Indonesia. Travel Vihara Dharma Giri in Bali Tabanan Pupuan is a bustling tourist spot with tourists on a regular day or a vacation day. The place is very beautiful and can provide a different sensation with our day to day activities.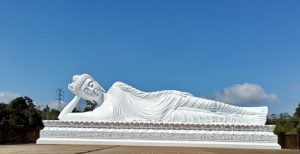 Travel Vihara Dharma Giri in Bali Tabanan Pupuan has the charm of beauty is very interesting to visit. Very regrettable if you're in town Tabanan, but you do not visit Vihara Dharma Giri Tourism Pupuan Tabanan in Bali which has such unparalleled beauty.
Travel Vihara Dharma Giri in Bali Tabanan Pupuan very suitable to fill your holiday activities, especially during long holidays as national holidays or other holidays. Travel beauty Vihara Dharma Giri in Bali Tabanan Pupuan This is good for you all that is near or at a distance, for close visit the Vihara Dharma Giri Tourism in Tabanan. You may also visit Where to Watch Kecak Dance in Bali Indonesia
The attraction of this place is a sleeping statue. If you travel Vihara Dharma Giri in Pupuan Tabanan Bali, you can feel that this is a sacred place where there Sleeping Buddha statue that was built so large and magnificent.. Sculpture in large measure appeared resplendent with clean white color.
There are several facilities in Vihara Dharma Giri such as parking places, bathroom or toilets, rest area, and many others. You may also visit Things to Do in Goa Gajah Ubud Bali
Note: Visitors, who want to take pictures near Sleeping Buddha statue, must remove footwear to maintain the cleanliness of the floor. Because it is a worship site, so visitors who come must maintain norms and decency.
Visitors are not allowed to use shorts. If you already wear it, you can borrow a cloth that has been provided by the monastery to cover your feet.