Are you now in Medan? If yes and you don't know where you can spend your days in Medan, while you stay in or near Jangga House Bed & Breakfast. These things can you do if you near Jangga House Bed & Breakfast.
Rahmat International Wildlife Museum & Gallery.
If you come to Medan, but don't have enough time and confuse where to go, you can come to Rahmat International Wildlife Museum & Gallery. This place has a collection of about 5,000 animals were preserved.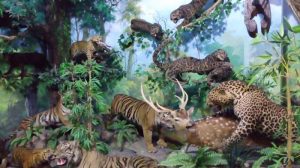 When you stepped foot into the first floor of this magnificent museum, you will immediately stunned with the collection of African Big Five. It consists of elephant, white rhino, bull, lion and leopard. The five of these animals is the greatest animals and they are considered as the most dangerous in Africa.
In the next room, you will see the Night Safari that contains collection of wild animals that live in the forest and the animals that are active at night. In this place, you will be taken to a jungle atmosphere. You can feel the dark atmosphere and hear the roar of the king of the jungle. You also will hear the sounds of nocturnal animals such as owls.
After seeing the collection of animals at night, you could see stray cats from foreign countries, different types of bears, deer and mountain goats. On the second floor, there is also a collection of various types of birds, turtles, a collection of butterflies and beetles, the framework of the Asian Elephant, Hippo and the skeleton of Orang Utan. You may also visit Garden Flowers in Medan
This museum also has facilities such as a library, cafe, souvenir sales space, toilets and prayer.
Ticket Price: Adult Rp 50.000.- Children Rp 25.000,-
Open Hours: Tuesday to Saturday 09.00 a.m. – 05.00 p.m.
Mesjid Raya Medan
Masjid Raya Medan known as Masjid Raya Al-Mashun is one of the oldest buildings in the city of Medan. Moreover, the mosque is always well known as a major landmark of the capital of North Sumatra. This mosque has magnificent and unique architecture. Until now, the mosque is still used by Moslem for worship and prayer on a daily basis.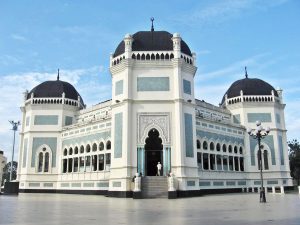 The uniqueness of the Great Mosque of Medan is since it was built in the ancient times until today, the mosque has never been renovated. According to the manager of the mosque, the local government had planned renovations because there is several damages. It was influence by age. It also renovate because to expand the space so it will accommodate more people that will pray.
However, this was opposed by various parties because they are worried about the value of art and original architectural styles of ancient buildings have disappeared. In the end, local governments simply add the supporting facilities in this mosque, like adding a place of ablution and without renovating its main building. You may also visit Instagram Worthy Places in Medan for Photography
Ticket Price: Free
Open Hours: Everyday 24 hours 
Tjong A Fie Mansion
The residence Tjong A Fie or Tjong A Fie Mansion in Jalan Ahmad Yani, Medan become a historical sights that invite curiosity for tourists. How? The city of Medan is famous for its local cultural identity. It also has the most influential figure in the development of the Chinese city of Medan.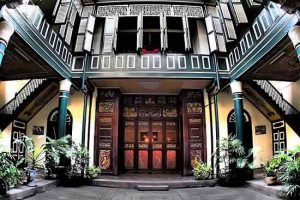 According to the guide, the caretaker residence Tjong A Fie named Desi, Tjong A Fie is a wealthy banker in his time. He was very generous and play a major role in developing the city of Medan. He was keeping the harmonization of relations between the Dutch government, the people of Medan Deli and Imperial China.
In this place, travelers can see the beauty of this home, wondering what had happened there.  In this house, visitors can learn the history of Tjong A Fie life through photographs. Tjong A Fie is a figure who diligently documenting each activity. Starting from the moment the family gathered at the moment until the marriage anniversary and important meetings he also documented. You may also visit Things to Do in Berastagi
Near this mansion, there are several inns for your stay.
Ticket Price: Adult Rp 35.000,- Children Rp 20.000,-
Open Hours: Everyday 09.00 a.m. – 05.00 p.m. 
Maha Vihara Maitreya Cemara Asri
For those of you who plans to visit North Sumatra, Maha Vihara Maitreya can be your choice. Because this temple is the largest one in Indonesia and even in Southeast Asia.
This monastery was founded in 1991, was inaugurated on August 21, 2008. This place  is established on an area of ​​4.5 hectares and is built in a housing complex Fir Asri, Jl. North Boulevard, Medan.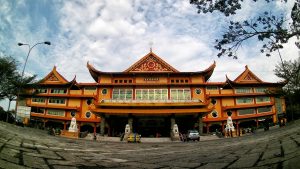 As the name implies, Maha Vihara Maitreya is very thick with the teachings of universal love of Maitreya Buddha. Derived from the Sanskrit, word Maitri, Maitreya means love.
In this building there is a statue of Buddha wrapped in gold color, with a magnificent interior in it. In the court, there is also a monument fly pot, large wall-rich carved Buddha images, up to a statue of Buddha.
On the left temple there is a statue of the goddess Kuan Yim with water containing koi pond, which is believed to bring good luck and a pair of dragons facing leads to the statue of the goddess Kuan Yim. You may also visit Things to Do in Medan, Indonesia
The building consists of three main buildings. The first building is usually used to worship Buddha Sakyamuni, Bodhivasta Sakyalama, and Bodhisattva Alovokitesvara. This building can accommodate about 1,500 people.
The second building is able to accommodate 2,500 people, is an area known as Maitreya Baktisara. Last building serves as a hall or meeting room that can accommodate 2,000 people. You may also visit Romantic Cafe and Places in Medan
For those who bring a baby, there is a park that is called Avolokitesvara.  This temple also has a fish pond often 'visited' by storks. These storks are being migrated from Europe and Australia.
The place of worship is also very crowded, especially while there are religious events, such as Chinese New Year or Cap Go Meh.
Ticket Price: Free
Open Hours: Everyday 24 hours