Penestanan, a small enticing village tucked away between Sayan and Campuhan in Ubud area, become main alternative for the travelers who seek a serene place to spend their vacation.
Ubud as a preferred destination in Bali has become more brimful with tourist, therefore many visitors fancy to go further to the suburb of Ubud in the interest to find unperturbed place to stay.
Penestanan favor with luscious greenery, striking valley and golden rice paddy field ready for harvest, little pathway, hidden cafes the right destination for those who look for a tranquil vacation. Notwithstanding of  being a small village still there are at least 11 things to do on a pilgrimage in Panestanan Ubud, Bali. As adjacent of Ubud, staying in Panestanan enable you to experience what Ubud has to offer.
This picturesque village lay only approximately 3 km away from the central of Ubud. Notable as Artist's village, it was started when Arie Smit, world's renowned artist stayed at Penestanan and one day, young people of the village impressed him with their drawing on the sand,thus he invited them to his studio and started to disciple them. Thereafter, his disciples grew to hundreds of young villagers, therefore Penestanan become a village of artists.
Leave behind your party spirit, a journey to Penestanan , a voyage to feed your body, mind and soul, many things to do on a pilgrimage in Penestanan will bring the refreshment not only for your body, most importantly to your mind and spirit.
How to get to Penestanan
There are several options of public transportation to go to Ubud;
From airport Ngurah Rai, find the official taxi counter, you will find the fixed price without hassle, the approximately price around 200,000 idr.
From Denpasar, you can take Kura Kura Shuttle , from DFS Galeria mall, at Jalan Raya Ngurah Rai, the bus fare 80,000 idr. But this shuttle will only take you to central parking Ubud, from there you will need another ride or take 15 to 30 minutes walking to Penestanan. Taxi will not be easy to find in Ubud. More convenient to take the taxi to your hotel, especially for the first time visitor.
Now, let's go through on the things to do in Penestanan Bali Indonesia:
Goa Rang Reng Waterfall
Situated in Banjar Gitgit, Gianyar, walk down the stair approximately 15 minutes from parking area. Take the journey under the shade of tropical rain forest heading toward the waterfall. In the  foreground, a cliff  with cascade of water come to sight. This waterfall is a convergence of Bangun lemah and Betiting Rivers, the ancient believe the convergence of two river is a sacred place.
The downpour water from the middle of the rock at the cliff compose a stunning scenery. Local people acknowledge the cave as the sacred place, hence they build a small shrine nearby. They use this place for Balinese spiritual cleansing, Melukat.
Entrance fee : 15,000 idr
Opening hour : unmentioned, morning to late afternoon will be the best time.
Tegalalang Rice Terace
On a blissful morning, take a trip to Tegalalang Rice Terace, located north of Ubud and take pleasure of the most stunning view of the rice terrace, you will treasure the most photogenic landscape before your eyes. come as early as possible, something whimsical for being there while the sun just rises.
Revel in the joy walk down the rice terrace path. Let the mountain breeze and the quietude captivate all your senses. Yes, there are many things to do in Penestanan Bali Indonesia!
Entrance fee: 10,000 idr
Hidden Canyon Beji Guwang
Here, the nature has created a magical work of art. For thousand years the climate and water created a wonderful pattern on the stone along the river. Balinese people refer this hidden canyon as Beji Guwang.
There are some parts with clear water where the visitor can swim of just soak their foot in the water. Dress comfortably for trekking, with short and trekking shoes or trekking sandal, some of the paths are rocky and slippery. Be ready to get wet, store your valuable things on a dry bag.
Entrance Fee : 15,000 idr.
Mount Batur Hiking
Balinese Hindu believe that Mount Batur as one of their sacred mountain. Located in Batur village, Kintamani,  Mount Batur is 1717 m above the sea level. Within 2 hours you will reach the summit of Mount Batur.
You don't have to be the professional climber to hike mount Batur.  The wayfarer hikes Mount Batur to catch a sight of the sunrise, thereupon the journey starts at 2 am.
Witness the striking sunrise and embrace the solemn atmosphere of the ground. Dressed with warm comfortable attire accordingly.
Entrance Fee : approximately 500,000 idr, including trekking guide.
Yoga Retreat Under the Banyan Tree
Set amidst in the high land with tranquil environment and magical vibes, Penestanan draws a good deal yoga enthusiasts to come and acquire a deeper spiritual experience.
Diverse classes to choose in this village to suit every chakra, to suit the needs of beginner yogis, advance or those who seek to be a yoga teacher. Under The Banyan Tree is one among other Yoga Galore in Penestanan.
If you take the early yoga class, spend the rest of the day visit another town around Penestanan, with only 1,5 hours driving you can visit Munduk, and you will be amazed that there are bountiful Things To Do in Munduk Bali.
Raw food adventure at Alchemy
Traditional staple of Balinese cuisine is apparent from the beautiful scene of rice paddy fields in a vantage point everywhere.  Rice serves in daily meal accompany with harmonious balance of meat, tofu or tempeh with mixed of vegetable like green bean, spinach or bean sprout flavored with a wide range of spices.
Some famous traditional foods in Bali are suckling pig, Ayam Betutu and Nasi Campur Bali.
Along with yoga galore spread around the Penestanan, the healthy lifestyle, organic and vegan conscious creates myriad vegan and raw food eating places, even though vegan is not your thing just try to be one for a day or two, it will give a new perception about being a vegetarian. As one stop destination for healthy food, you will find a raw vegetarian café, organic food store at Alchemy. Famous for their juice bar, vegetarian salad bar, and raw dessert.
Cooking Class
Cooking class, one of the favorite activities to do in Penestanan. Profuse cooking classes offer for food and cooking aficionados from healthy food, homemade Balinese cooking, and modern cuisine.
From all over the world, food enthusiast come learn the uniqueness of Balinese cooking. Rumah Desa, Paon Bali, Raw Food Bali are few among of plenty cooking classes in Bali.
Indeed, let's check out more things to do in Penestanan Bali Indonesia!
Price Starting from : 350,000 idr.
White Water Rafting
Ayung river, the most marvelous river and the longest river in Bali, well-known for its water rafting adventure with fascinating scenery of enchanting rain forest along the river.
The water always in stable condition all year round. Suitable for you who look for an adrenaline outdoor activity, with 10 km rafting track. You will delight in a spectacular view of rice paddies field, hidden waterfall, high cliff with amazing stone carving on some area of the river, magnificent gorge. Be ready to get wet and wild in this fun filled adventure.
Price : Starting from 650,000 idr
Campuhan Ridge Walk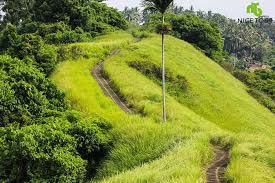 Take a morning stroll to  Campuhan ridge walk. Feast your eyes with the beauty of  nature down the path and devour the morning sound.
At the first blush of morning will be a suitable time to do the walk, don't forget to bring water. At the end of the walk you can stop at one of the café and enjoy a glass of refreshing fruit juice or grab your light breakfast here while immersing yourself in the charming atmosphere. After a long walk, discover and amusing  Things To Do In Bedugul Bali.
Entrance Fee : Free
Purifying Your Soul at Tirta Empul
Tirta Empul means a spring of holy water , located inside the temple, built in 960 Ad.
The architecture featuring the old Balinese architecture from Warmadewa Dynasty.
Myriad of people come , specifically to carry out the purification bath. Purification pool located in Jaba Tengah, one of the temple area. Balinese people believes in the magical power of Tirta empul.
Entrance Fee : 30,000 idr
Opening Hour : 07.00 am – 05.00 pm
Blanco Renaissance Museum
Located on the hill top overlooking near Campuhan river, Blanco Renaissance Museum is swanky and flamboyant museum. Built in 5 acres The Museum built in 5 acres property, a beautiful blend of traditional Balinese and Spanish architecture. Savor your eyes with the charm of Blanco's famous artwork.
Don Antonio Blanco, an arguably is the most famous painter in Indonesia, Philippines born from Spanish parent. After an extensive travel around the world he landed in Bali and captivated its beauty, henceforth he settled down in Bali for the rest of his life.
Not too far from Blanco Museum , stopover Puri Lukisan Museum to have another amusing moment.
Location:
The Blanco Renaissance Museum is located at Jalan Campuhan in Ubud
Entrance fee : 80,000 idr
December is around the corner prepare yourself to find  out the special things to do in Bali In December. Or maybe having a blast of Fun Things To Do In Bali In New Year Eve , plan your fun in advance. Happy Holiday Ahead!