Bali is one of the best destinations in Indonesia. There are so many places you can explore in Bali, including Pura Tanah Lot, Pura Ulun Danu Beratan Bedugul.
All of these interesting places are located in Tabanan, Bali. If you plan to visit Tabanan, then you can put these 12 Wonderful Things to Do in Tabanan Bali Indonesia on your list.
Tabanan is one of the districts in Bali Island. Tabanan covers almost 15% of the total area of Bali Island. One of the best attractions in Bali Island is the beauty of the waterfall. There are some waterfalls you can explore in this area. So, if you visit Tabanan, make sure to visit these 3 best waterfalls in Tabanan, Bali.
Sing Sing Angin Waterfall
Sing Sing Angin Waterfall is located in Manikyang Village, Tababan District, Bali Island. This waterfall is around 13 km from the center of Tabanan and can be accessed for 60 minutes from Tanah Lot.
Do you know that there are some reasons why you should visit this waterfall? The first one is because Sing Sing Angin Waterfall isn't a single fall, instead, it is a twin waterfall. Both of them are not tall but they are quite wide and very beautiful in its shelter enclave in the middle of the forest.
Then, uniquely, this waterfall is even bigger during the rainy season. Most waterfalls in Bali are best visited during the rainy seasons.
It's because the rivers and streams will be swollen up due to the rainwater. The scenery is another best point of visiting this waterfall.
You will be able to enjoy the scenic drive by following the trails through lush forest vegetation and villages with old temples. You can also enjoy the view of the stunning rice fields along the way.
You can also enjoy your time resting and relaxing as there are many wooden huts to stay. This way, you can enjoy your time without being worried of getting too much sun or even getting sudden rain shower. You can also enjoy some food there too. You might also find 9 Halal Foods in Bali You Should Try here.
This is a natural waterfall, but it is managed and monitored by local people. That's why you will find a big gate at its entrance. As a result, you will find the operation times, which is from 8 a.m. to 5 p.m.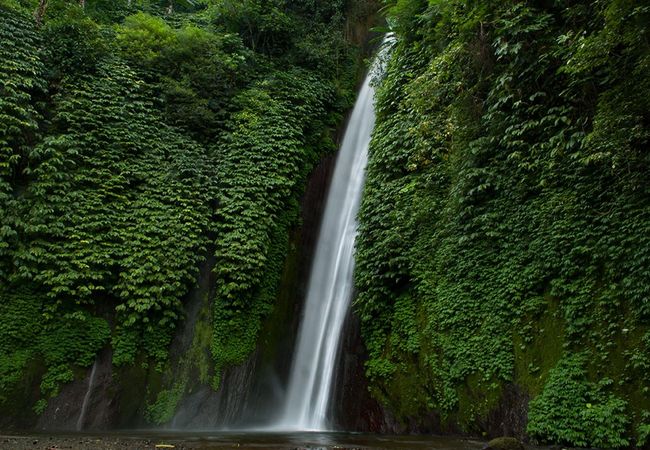 Blahmantung Waterfall is located in Pujungan Village, in the regency of Tabanan, Bali. There are several reasons why you should visit this waterfall. Firstly, in this area, there are actually three waterfalls. Though people mention Blahmantung only, but there are actually three waterfalls.
The distance between one waterfall with the others is around 200 meters. So, you can enjoy three waterfalls at the same time once you visit Blahmantung Waterfall. Blahmantung is also included in the 10 Famous Waterfalls in Bali Indonesia #1 Must Visit.
Secondly, Blahmantung Waterfall is still virgin and natural. It is quite hard to find virgin waterfalls nowadays, so it is really worth visiting. You won't find public facilities in this place.
You should be ready with this situation as you should prepare every single thing you might need there, such as food, suit and beverage before you visit. You should prepare everything in advance as it will be very difficult to buy something there.
Lastly, this waterfall also has a nice trekking track. To reach this waterfall, you need to do trekking. There's no waterfall you can see from the big road, so you should walk from the parking area then you will use stairs to reach the waterfall. Make sure your body is fit to get up the stairs too!
Pengempu Waterfall is located in the Seribupati Street, Cau Belayu, Marga, Tabanan, Bali. To enter this waterfall, you will not be charged anything but you will find a box for donating some money for the local people who manage the waterfall area. For parking, cars will be charged around 5 thousand rupiahs while motorcycles will be charged around 1 thousand rupiahs.
The debit of the water in this waterfall is not too big, so it is considered safe to play water and even stand up under the waterfall. The water flows to the swallow river that has clear and clean water.
Many people enjoy playing water here, both kids and adults. Besides waterfall, you will also find a cave that is located not far from the parking lot. This cave, according to the local people, was ever used during the independence war in the past.
Avoid visiting this waterfall during rainy season, as the way to access the waterfall will be very slippery so it is quite dangerous. Besides, during rainy season, the debit of the water will be bigger and some materials, like rocks and wood, might also be brought with it.
If you wish to visit other waterfalls in Indonesia, you can consider visiting 4 Waterfalls in Bali to Calm Your Soul and 3 Waterfalls in Maros to Visit for Your Holiday Retreat.