Indonesia is a home for natural tourism, with the things to do you can find almost in every corner. The country also became a host for several Geoparks that were inaugurated by UNSESCO, and most of them are crowded with coming visitors like the Ciletuh Geopark for example.
The meaning of Geopark may seem confusing for some people. The Geopark of Geological Park means an area that is rich with geological elements where people also take a part to keep, use, and develop all the natural heritages contained within including the values in ecology, archeology, and even arts.
An area could be considered a Geological Park after fulfilling some requirements. The most notable one is the wide. An area should have a wide range in order to accommodate three main things, conservations, education, and geotourism. After that, the area may have a chance to be included as one of UNESCO's Global Geopark Network.
Geoparks in Indonesia
The country has about 15 different Geoparks located widely. This time, we're gonna include seven of them on the list of Geoparks in Indonesia.
1. Mount Rinjani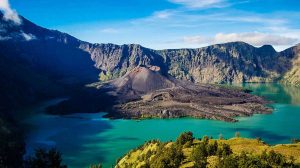 · Location : East Nusa Tenggara
· Opening Hours : Opens 24 hrs
· Ticket Fee : Rp800.000,- (could be more during weekend and holidays)
The first geopark on the list is Mount Rinjani. This geopark is also included as one of the famous things to do in East Nusa Tenggara, and also one popular mountain in Indonesia.
Almost every hiker in the country knows its name. It's like one of the places they want to include inside their bucket list.
However, the beauty of Mount Rinjani is not located on the mountain range only, but the other attractions located around as well.
Still inside the mount area, you might meet the other ones like Joben waterfall, or the other man-made attractions like Meru Temple, and the traditional village called Karang Bayan.
2. Toba Lake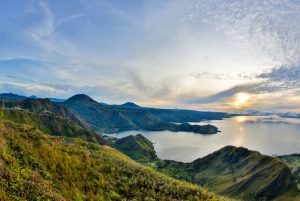 · Location : Samosir Island, North Sumatra
· Opening Hours : 24 hrs
· Ticket Fee : Rp5.000,-
Included as a very memorable fairy tale in Indonesia, Toba Lake also became a popular Geopark to visit in the island of Sumatra. The lake was created because of the Mount Toba eruption that happened centuries ago. It was inaugurated as a Geopark because it has the complete aspects of biodiversity, geodiversity, and cultural diversity.
This 87km long lake is also a house for the annual Toba Lake festival that happens in December. You can see the event on 6 to 9 December each year, if you're lucky.
The other attraction located nearby, Samosir island, is visitable as well since it's now specifically built for accommodating tourists. There's a hotel and restaurant as well on the island, making it a complete set of vacation spots for holiday.
3. Mount Batur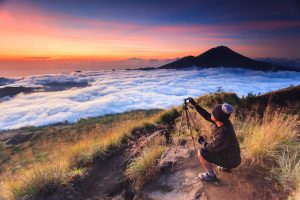 · Location : Bali island
· Opening Hours : 24 hrs
· Ticket Fee : Rp15.000,- (could be more for porter services)
Aside from the popular and mainstream spots to enjoy like Sanur and Kuta beach, you can also enjoy one other thing that is highly noticeable, even from afar.
The name of Mount Batur, a single popular hikers-favorite location that is also included as one of the things to do in Bali. The characteristics of this mountain show that it is pretty friendly, even for general tourists.
It's still included as an active volcano, and was granted the Geopark title by UNESCO on September 20, 2012. Just the same as Toba Lake above, there's also a lake that is located near this mountain. It has the crescent that looks really pretty.
4. Ciletuh Pelabuhanratu Geopark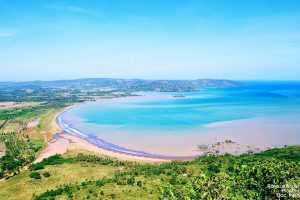 · Location : West Java
· Opening Hours : 24 hrs
· Ticket Fee : Free
There's also a Geopark located on the west side of Java island called Ciletuh. This is a favorite place of the people. It has second-to-none attractions like the Palangpang beach, Taman Purba park, Awang waterfall. The route is also well preserved, making it a favorite place for bike touring as well.
However, the inauguration of Ciletuh is not far from its functions as integrated tourism. Aside from promoting and enhancing the tourism aspects, it's also giving a possibility in community development via collaborating with the local people to maintain the geotourism around Ciletuh.
5. Merangin, Jambi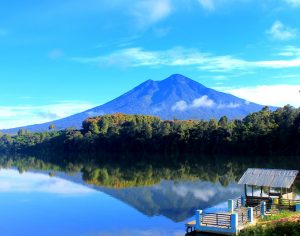 · Location : Jambi
· Opening Hours : 24 hrs
· Ticket Fee : Free
Just a bit far from the center of Jambi, you can find another Geopark called Mount Merangin. This lonely mountain is located in an area named Air Baru village that is reachable via four wheeled vehicles for about 7 hours. It is a pretty long ride, but you'll be given calming green views along the way.
As one of the things to do in Jambi, Mount Merangin can offer you some things from the adrenaline-pumping boating activity to the historical value that can be seen from the 350 years old flora fossil.
6. Mount Sewu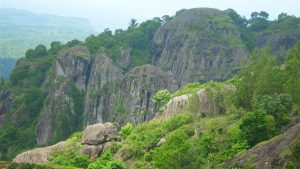 · Location : Yogyakarta
· Opening Hours : 24 hrs
· Ticket Fee : Rp15.000,-
There's a geopark in Yogyakarta called Mount Sewu. This is a less active mountain than Merapi, and has about 1.802 square kilometers. This wide area consists of three smaller ones, the Mount Kidul, Pacitan, and Wonigiri. You won't only find a mountain around this wide area, but as well as the other attractions.
You have a chance to visit a lot of natural tourist spots like Ngalang river, Wediombo beach, Karangmojo beach, Bejiharjo, and also the Jomblang cave.
7. Banyuwangi Geopark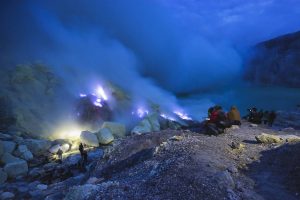 · Location : Banyuwangi
· Opening Hours : 24 hrs
· Ticket Fee : Free
In 2018, Banyunwangi was granted a Geopark status. This Geopark title can complete the whole things to do in Banyuwangi. There are three main sites that are included inside the Geopark area.
First one is Mount Ijen, a place where you can actually see meteor showers and the exclusive Blue Fire. Second is Pulau Merah (Red Island), which was planned to be an International Laboratory for studying mines and volcanoes. And the last one is the legendary mythical Alas Purwo.