Bali is the most popular tourist destination in Indonesia. The island is famous for its nature and cultural tourism. Bali has managed to attract tourists from various regions and even from various countries. Most tourists in Bali definitely want to visit the beach and the seas.
Forest Area in Bali to Visit
However, forest tourism in Bali is also attractive and worth to visit. Here are some of them.
Also read:  Reasons You Need to Solo Travel in Bali Once in Your Life Time
Tukad Melangit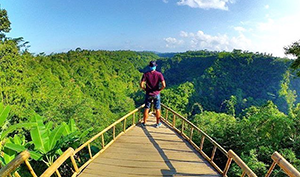 Tukad Melangit is located in Banjar Antugan, Jehem, Bangli. The beauty of the forest in the area will provide a soothing and relaxing atmosphere.
Another interesting thing about this site is that there are cliffs that are about 300 meters high. From the top of this cliff, you can enjoy the breathtaking view.
In addition, there are interesting photo spots near the cliff that allow tourists to take pictures with the background of a green forest. This place is an alternative forest tour in Bali, especially for those of you who are very fond of nature and green-scenery.
Also read:  Magical Things to Do Near Besakih Temple Bali
2. Yehembang Village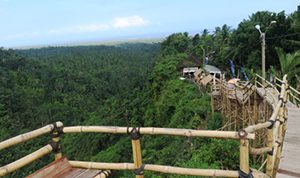 Another interesting tourist spot to visit with the theme of the forest is Yehembang Village. The most famous tourist spot there is the Green Cliff.
This place is the best point to see the cliffs and green expanse of forest.
Tourists can climb up the hill. And on this hill the green landscape of the forest and the surrounding hills are visible. Moreover, there is also a river below so that the sound of the river will make the atmosphere more natural.
This cliff top has a viewing post made of bamboo. This place is also a beautiful photo spot in Bali with the theme of green hills and beautiful cliffs.
3. Monkey Forest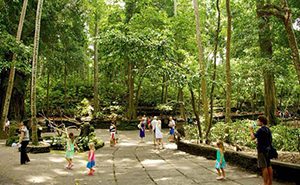 The next famous Bali forest tour is Monkey Forest in the Ubud area. As the name suggests, in this tourist attraction you will see many monkeys living in the protected forests. This place is also famous for its history. This protected forest can provide a cool and comfortable atmosphere for tourists.
With the presence of tall and green trees, visitors can enjoy the atmosphere and refreshing air but please be careful with the monkeys that you might encounter because these monkeys often steal your belongings or foods.
 4. Campuhan Ridge Walk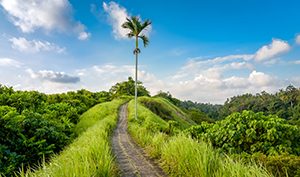 Another tourist spot in Bali that offers the concept of forest tourism is Campuhan Ridhe Walk. Even though it is not a wilderness with high towering trees, this area can provide a green and beautiful landscape to the tourists present. 
Located in Ubud Bali, Campuhan Ridgen Walk is perfect for those of you who want to calm down and don't really like beach tourism in Bali. You can take a leisurely stroll while enjoying the view. 
Because the area is still natural, you can also enjoy a river with typical views of traditional Balinese rice fields. Not only that, the view of Mount Agung will also look very beautiful from this area.
You might want to read:  Amazing Things to Do in Goa Gajah Ubud Bali
 5. Eka Karya Botanical Gardens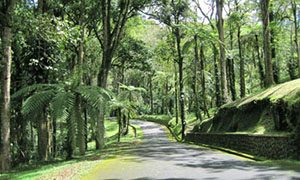 Eka Karya Botanical Garden is an area that is also famous destination for travelers.  
Although the shape is a botanical garden and is not a native forest, the trees inside will provide tourists with a green atmosphere. Not to mention the various concepts of flora education tours that are complete at this Educational Tourism Place in Bali.
So you can enjoy not only the green trees and cool air, but also you can gain knowledge about the types of plants which, some of them, can only be found in Bali and or Indonesia.
 6. Hiking on Mount Batur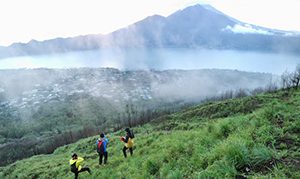 When we're talking about forests, it will never be separated from the name of the mountain. You can take advantage of a long enough tour time to enjoy a trip up the mountain in Bali.
One of the famous ones is Mount Batur. Mount Batur is a mountain which located 1,717 meters above sea level. To get to the top, hiking for approximately 2.5 hours needs to be done. This mountain is a beautiful mountain. 
Besides being able to enjoy the cool and calm atmosphere, tourists can also enjoy Lake Batur Kintamani which is very beautiful. Apart from that this place is one of the best points to enjoy the charming sunrise panorama. For nature lovers, Mount Batur is a mountain that must be visited when in Bali.
 You might want to read:  The Hidden and Interesting Story of Hot Spring at Banjar Singaraja Bali
7. Hiking on Mount Agung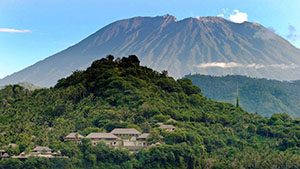 Gunung Agung is a mountain located in Karangasem Bali. To be able to hike the mountain, there are two paths that can be passed.
These two routes are between the Pura Besakih and Pura Pasar Agung. The path that is famous among hikers is Pura Besakih. Mount Agung itself is the highest mountain in Bali.
The peak is at the point of 3,142 meters above sea level. The beauty of the scenery above will make you able to enjoy the atmosphere of Bali in a different way. Not to mention when the sunrise is obtained. Surely the scenery that will be obtained at Sunrise Place in Bali will be very beautiful.   
8. Bali Treetop Adventure Park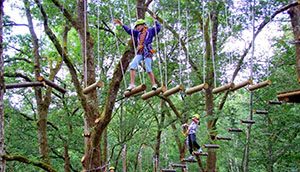 The next interesting place to visit with the theme of the forest is Bali Treetop Adventure Park. This place is also one of the Final Semester Holidays in Bali that is suitable for children. 
This place is actually an attractive outbound tourist area. There are many simple games with the concept of tree games. Visitors can enjoy time while playing there. The location is in Tabanan Bali and it is a unique place for memorable tourism and is useful for honing children's agility.
You can travel there from 09.30 to 18.00 local time. Thus are some forest tourism references in Bali that can be used as alternatives to marine tourism. Hopefully it can provide interesting tourist recommendations for you, especially for those of you who prefer to travel in a cool place than tourism in the sea.
More articles:
Things to Do Near Tirta Gangga
AmThings to Do in Goa Gajah Ubud Bali
Where to Watch Kecak Dance in Bali Indonesia