There is no end if we talk about Bali Island. This wonderful island has such a limitless attraction and beauties. It has many beautiful beaches all along the island line. And also, it has that cultural tradition that draws many tourists from all over the world.
But there are not always beach that attract the tourist, there is also a Volcano that famous in Bali amongst the tourist. It called Kintamani Volcano. Kintamani is a village on the western edge of the large Caldera wall of Gunung Batur in Bali. This location is used as a stopping place to view the mount Batur Region.
Kintamani Volcano Entrance Fee and Attraction
Other than that, this place is also known for Pura Tuluk Biyu's 1000 year old "Rites of Peace" stone tablets and the Kintamani dog. And in this article you will be inform about the most recent entrance fee of Kintamani, how to reach the place and also the attraction you can enjoy in this area.
You may also want to read: Padang Padang Beach Accommodation ; Nearest Hotel &Budgets
Main Point of Kintamani Interest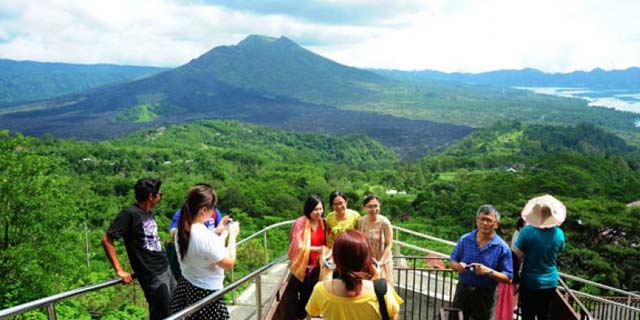 Since this destination is located in the highlands, the air temperature at noon is remaining cold; the average air temperature of this place is around 20 degrees Celsius.
This place attracts many tourists due to the beautiful view of the volcano and natural lake in Kintamani. From this village, we can witness the beauty of Mount batur and Lake Batur. Mount Batur is one of the active volcanoes in Bali. In 1917, there was the largest eruption of this mount that result in Lake Batur.
Lake Batur is the largest Crater Lake which is 18 square kilometers (approximate). This lake is a create crates lake due to the eruption of Mount Batur that occurs many time. Actually, Mount Batur is popular as "Kintamani Volcano" amongst the travelers. It is popular choice to spend the night before hiking up mount Batur in time to watch the sunrise.
You can also read: Here's The Best Shopping Mall in Tangerang You Must Visit
Mount Batur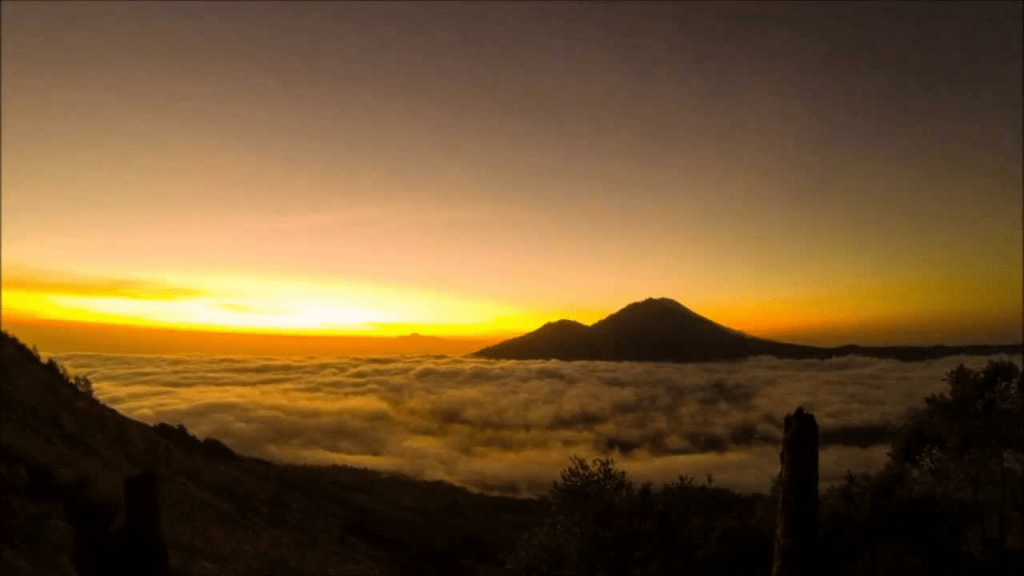 Mount batur is the main attraction of Kintamani volcano. It is located at the centre of two concentric calderas North West of mount Agung of Bali Island, Indonesia. Mount Batur is rises 679 meter – tall stratovolcano above the lake Batur surface.
Batur area is known as one of the most impressive Calderas around the world with 13.8 Km length and 10 km width. This volcano consists of main cone with four summits and one main crater.
There is also a small parasitic cone in the west slope flanked the volcano called Bukit Butus. In September 2012, Mount Batur area was declared as Batur Global Geopark by UNESCO for its natural scenery and cultural significance.
Mount Batur is also known as the most climbed volcano by the tourist in Bali. Even the trek is definitely not a walk in the park; it sure doesn't take too long to get to the summit because the peak sits at 1717 meters (5,633 ft) above sea level. The only problems in climbing this mount is the crowded situation since many tourists come to climb this Mount every day.
You may also read: What to Do in Ratu Boko Yogyakarta ; Cultural Spots
Lake Batur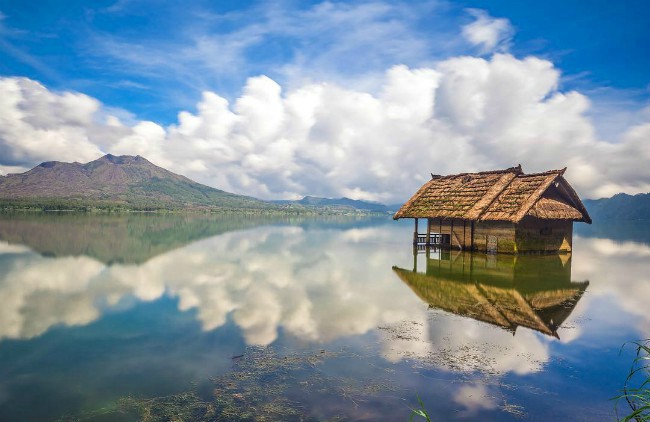 Located about 30 km northeast of Ubud, Lake Batur is a crater lake in Kintamani. The lake is located inside of the caldera of Mount Batur active Volcano, along the ring of Fire of Volcanic activity.
The lake is 65 meters deep (approximately), extremely cold and surrounded by beautiful mountain vistas of Mount Batur. The local who live in the small villages around Lake Batur consider the lake as a sacred site. Local communities around the lake mainly live on agriculture and fishing and have lesser extent on tourism. 
Batur Natural Hot Spring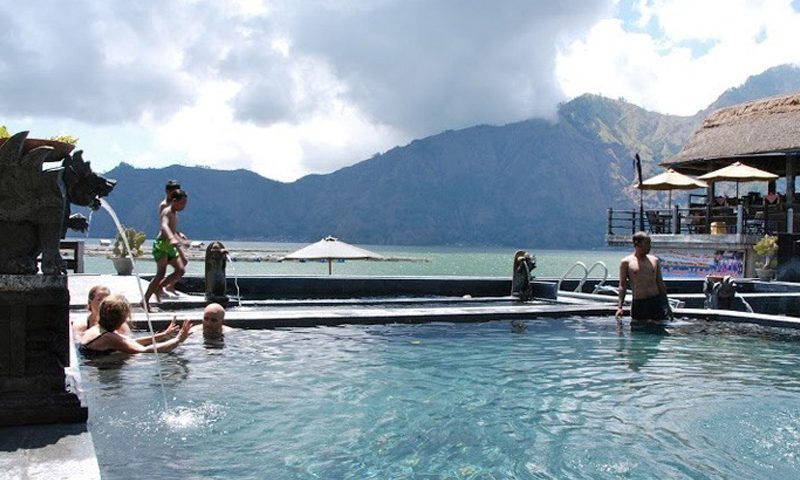 This place also known as Toya Bungkah Hot Spring. It is a geothermal heated springs, perched at the edge of Lake Batur.
You can enjoy the lovely volcano views while get the steaming hot springs. It has clear spring water without any sulphuric odour and local claim all sorts of healing properties from the mineral rich waters.
Although there are no scalding – hot pools, the water temperatures have range from lukewarm to slightly hotter and it usually warmer in the early morning.
The mineral springs are said to have benefits on the alleviation of neuralgia, bruising, articular rheumatism, and stiffness of the shoulders, recovery from fatigue and muscular complaints and enhancing fertility. In the site, there is also Resto Desa Sari Ulam that serving local cuisine and fresh water fish grills. The entry fees are USD 10 (IDR 150.000) including drinks, lockers, showers, towel and unlimited use of the pools. It usually opens from 07.00 to 19.00.
You can also read: Tegalalang Rice terrace in Ubud Bali Indonesia
Batur Geopark Museum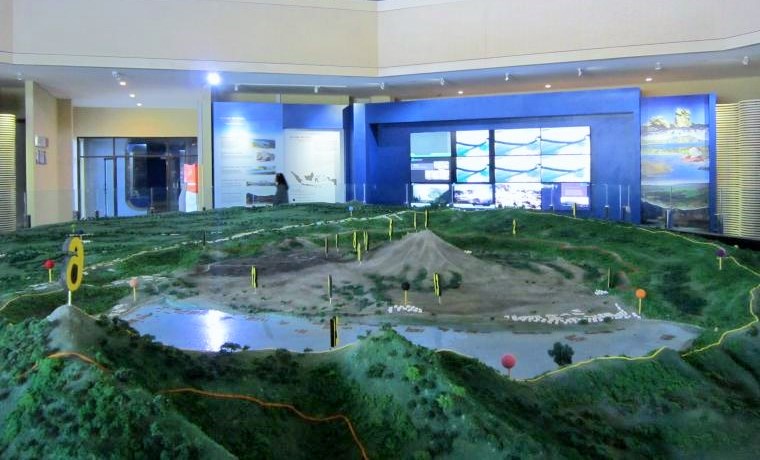 This Museum is located in Kintamani District of Bangli Regency, bali. Batur Geopark Museum is the first volcanic museum in Indonesia.
This museum is a treasure chest full of information about volcano Indonesia, especially Batur Volcano. This museum built regarding the fact that Indonesia possesses more than 500 volcanoes which 129 of the volcanoes are active volcanoes.
This museum is giving you interesting facilities about volcanoes. In the first floor, you can find a big diorama showing the relation of volcano across the world. In the second floor, you can watch the explanation of how volcanic rock is carved by Balinese people. 
Kintamani Volcano Tour with lunch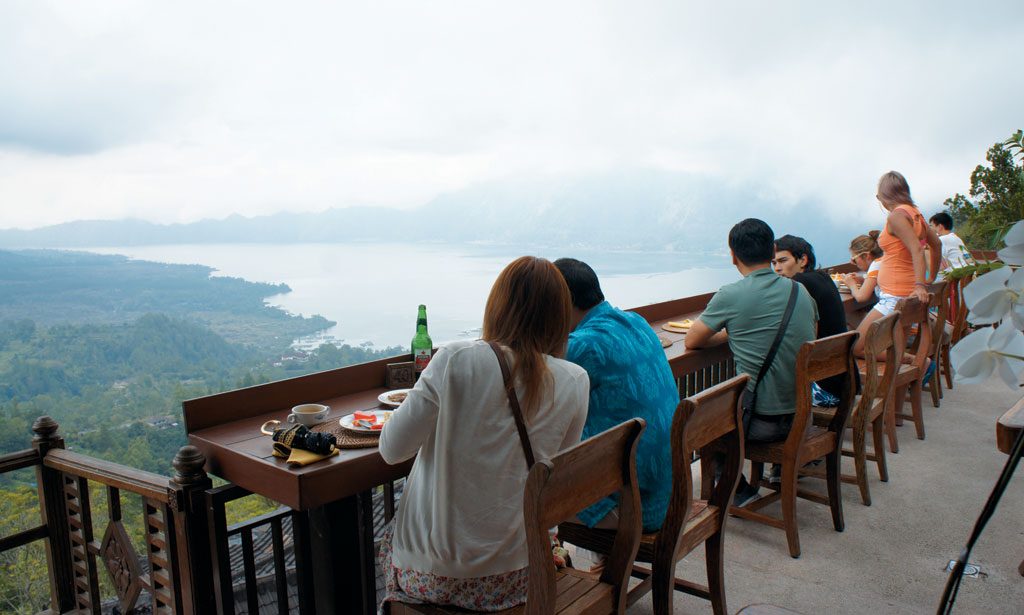 Other thing we can do in Kintamani is to take a tour package covered the best and popular attractions in Bali.
You can take this tour to visit many place such as tegalalang rice terrace, Celuk village and many more. With $ 40 per person, you can enjoy that tour that covering the entrances fee, lunch, taxes and also car with the knowledgeable Balinese Driver or guide.
You may also want to read: Things to Do near Uluwatu Temple, Bali Indonesia
Sunrise Volcano Trek to Mount Batur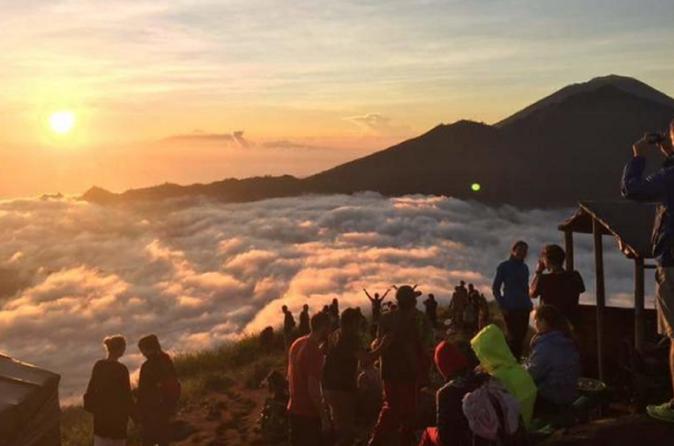 You also can take this tour package with $ 60 per person. This tour package is a tour that you can take if you want to climb up the mountain to take a look at the sunrise. You will be picked up by 01.30 am and you will be guided to hike the climb by a professional guide.
Those are some attraction and the fee entrance of Kintamani Volcano. Even some of the place doesn't require any entrance fee, but you still need to pay the parking fee.