Having holiday with kids is surely a fun thing to do. However, some places are not kid-friendly and as a result, kids cannot enjoy their holiday. When you plan to bring your kids to Bali, then you're doing it right.
Bali has several tourist attractions that are kid friendly. Your kids will be able to have fun as well. Make sure you also know things to do with kids in Bali.
Outdoor activities are favoured by kids as they can explore the place freely. Bali also offers some outdoor activities that your kids can enjoy during holiday. You can't wait to see the complete list, can you? Here they are the 6 recommended and fun outdoor activities for kids in Bali.
Have fun with the animals in Bali Zoo
Bali Zoo has been one of the favorite spots in Bali to spend holiday with kids. The zoo is favorable by tourists as they let the kids have direct interaction with some of the animals, especially the tamed ones. Your kids will even be greeted by a herd of deer which are not in cages! No wonder, Bali Zoo is listed as one of the educational tourist attractions in Bali.
As being told before, Bali Zoo allows the kids to interact with the animals. Your kids will get chances to feed elephants, have breakfast with orangutan and even pet snakes and crocodiles. Don't worry about the safety as there will be some animal trainers accompanying the kids.
The best thing about Bali Zoo is their outstanding facilities and the range of their animal collection. This zoo even has new exhibitions for African wildlife where you can see hyenas, giraffes, and others. If your kids love the Lion King movie, then they will surely love it! If you love visiting zoos, then make sure you visit these zoos in Indonesia.
Visiting green turtle in Turtle Island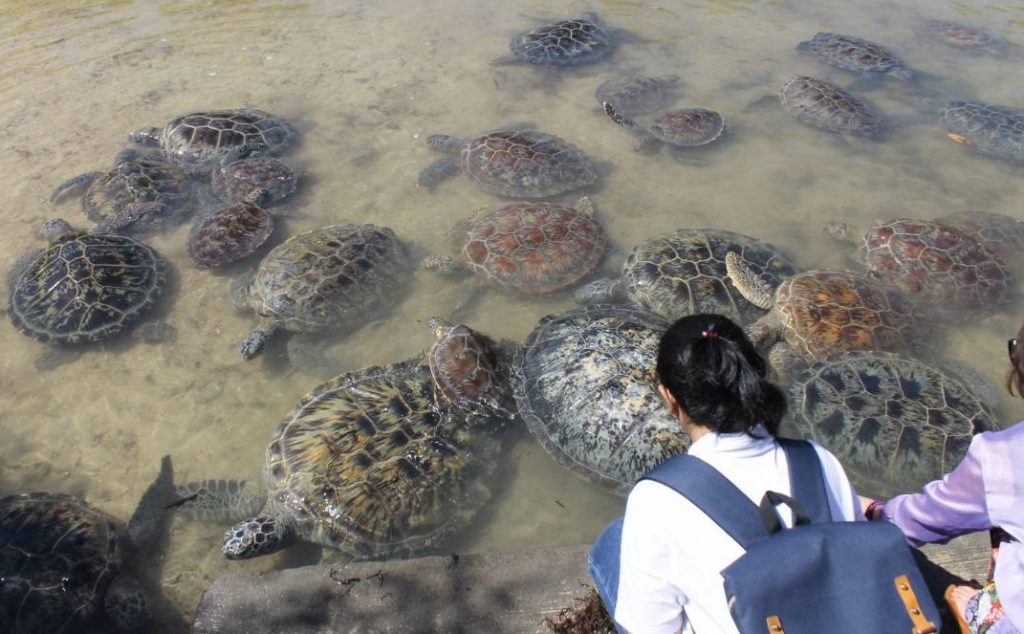 Turtle's Island is located on Tanjung Benoa Beach. This island is actually a green turtle conservation. Most visitors bring their kids while they are visiting this island, so we can conclude that this island is kid friendly.
When you're visiting this island with your kids, your kids will be allowed to touch the baby green turtle. It will be a very fun and exciting experience for your kids. To reach this island from Tanjung Benoa Beach, you can rent glass bottom boats.
Playing outdoor in Bali Treetop Adventure Park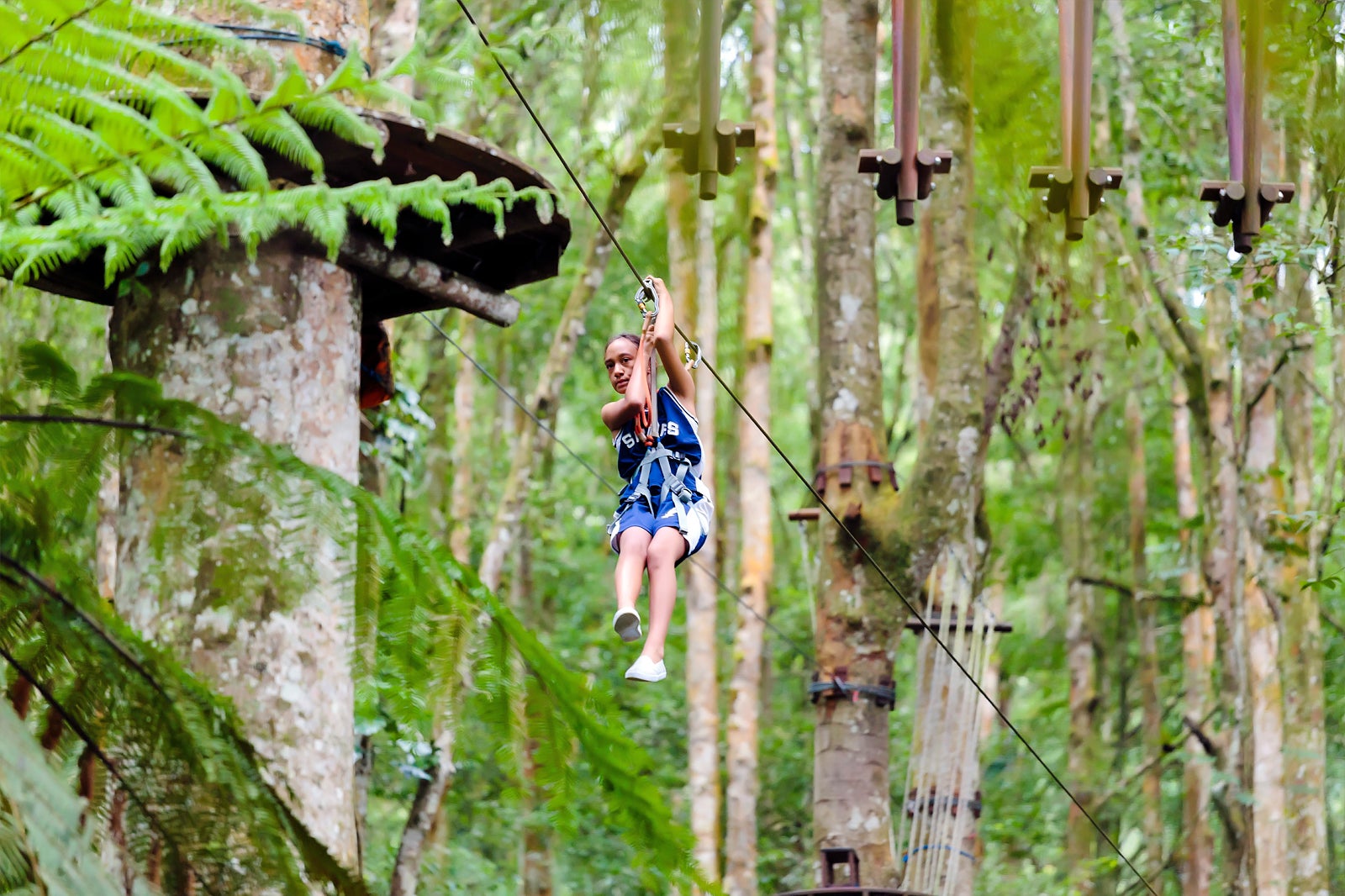 Playing outdoor is always fun for kids. Located in Bedugul, Tabanan, Bali Treetop Adventure Park is an outdoor park which is surrounded by green trees. In this park, there are 7 adventure courses with 72 types of challenges.
When your kids enjoy the activities, the parents can choose to watch their children while playing or joining one of the challenges for adults too. So, the challenges are not for kids only, but also for adults.
Experience Ubud Bike Tour
Another outdoor activity your kids can experience in Bali is joining a cycling tour. There is an Ubud Bike Tour organized by Sobek, which allows your kids to take cycling 15 kilometers cycling trips in 2 hours cycling.
Don't worry about the safety of the tour, as Sobek, the organizer, chooses the road with less traffic and easy to do for first timers, especially for kids.
Meet the elephants at the Elephant Safari Park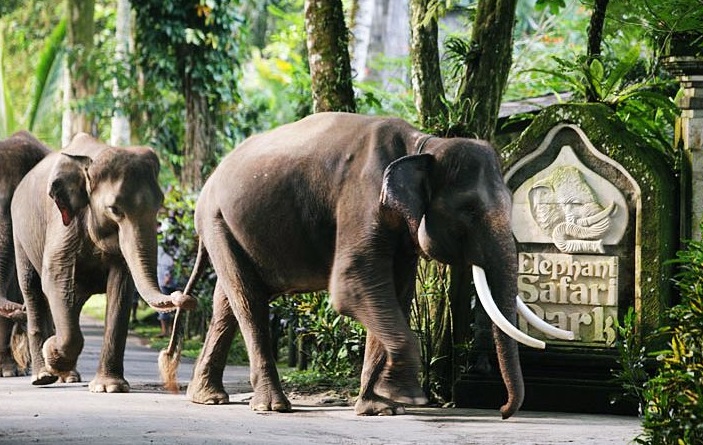 This safari park is one of the most visited attractions and also home to 31 endangered Sumatran elephants. Try to bring your kids to this elephant park and your kids will be able to experience washing and feeding the elephants.
If you wish to stay near this safari park, you can stay in Elephant Safari Park Lodge. Get the complete review of Elephant Safari Park Lodge Bali along with the facilities.
Besides washing and feeding the elephants, your kids will also be able to ride on an elephant. However, it is not suggested as it is against animal rights.
If you and your kids love animals, you can put these national parks in Sumatera Island on your list!
Rock climbing at Bali Climbing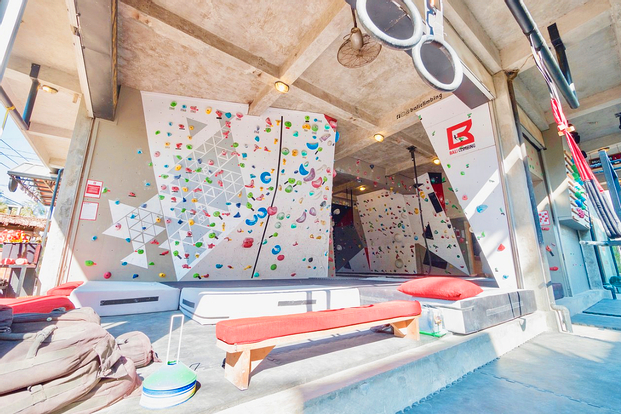 Bali Climbing is an open-aired climbing facility specialized for active kids. If you have active kiddos, then you should bring them here.
Your kids will be able to experience climbing levels to the rooftops. Professional supervision is provided so you don't have to be worried. You can rent climbing shoes for your kids too.
Have some fun activities in Ubud Jungle
Ubud may be known for having cool cafes, temples, and some bars, however, it is also great for the whole family members, including your kids.
Your kids can enjoy quad-biking through the jungle, rafting down white-water rapids, or cycling through the open terrains and camping under the stars. You can book one adventurous package at Bali Ubud Camp.