Besides spending your night in the big cities like Surabaya or Jakarta during New Year's Eve. But, if you want a marrier party, then maybe the island of Bali is a suitable place for you. In this island, there are many areas for celebrating New Year like Kuta, Bedugul, and also the special Seminyak with its things to do in Seminyak Bali. So here's the fact about Seminyak.
Years ago, this area was included inside the popular destinations in Asia to celebrate the New Year based on popular traveling sit, TripAdvisor. On that site, not only Seminyak that included, but so did Kuta Bali, reaching 9th position. In Seminyak, most people there including tourists would visit some places like restaurants and Clubs. In fact, Seminyak is known for having a lot of clubs besides unusual things to do in Seminyak Bali. So here it is, the Seminyak Bali New Year's Eve Events. There are three main events or activities that you can do in Seminyak.
1. Visiting Night Clubs
Like mentioned above, Seminyak is basically filled with so many clubs. Like these ones for example :
Kudeta Club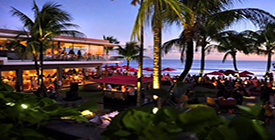 The first one in Seminyak Bali New Year's Eve events beside clubs in Bali is Kudeta. You can find this restaurant and club in the street of Kayu Ana number 9. Many people would recommend this one if you're looking for a club that has a beautiful beach view. In here, the services are pretty complete, starting for the kinds of meal, and also music events.
Like for example, the foods consist of Breakfast menu with cocktails and Juices. And there's also All day dining with Grazing and Pizzas, A La Carte for both lunch and dinner, and also drinks. This club also produces its own album called KU DE TA, that available exclusively in KDT Boutique Bali. Every Sunday, there will be a Sunday Family Day starting from 10 am to 3 pm.
Location : Kayu Ana street number 9 Seminyak Bali
Double Six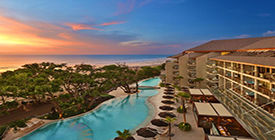 Aside from having a very nice club, this place is basically a hotel. A really good one. It's even known as The Luxury Hotel of Bali. One of the many good things that you can find inside this hotel is the fact that you can find pretty nice deals like discounts for rooms and spas. Other than that, you can get complementary benefits like 24 hours room service, butler service, and housekeeping service.
Well, the other plus things about this place are spacious parking, luggage service, medical service, laundry and valet service, and many more. Inside each room, there are some amenities such as dual wardrobe, executive desk, mini bar, private, balcony, espresso machine, and tea making facilities, television with international channels, and others. There are also some events that held in this hotel, especially on New Year's Eve.
Location : Pantai Double Six street number 66, Seminyak
Potato Head Club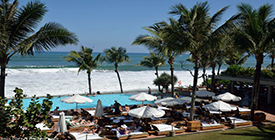 Next place on the list of Potato Head Beach Club Bali. There are some Potato Head Club branches in Indonesia, and the one located in Bali has a very simple design that combined with the beauty of the sea. Surely this one would be a great place for you.
In this "Home of Tropical Modernism", there are some great things to have here such as lounge and bar that open from 10 am until 10 pm, Pizza Garden, which opens at 12 pm until 11 pm with Neapolitan Pizzas and cocktails, also some music and events.
Location : Patingetet street number 51B
La Plancha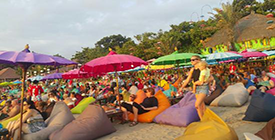 Aside from things to do in Seririt Bali, there's another beautiful place located in Seminyak called La Plancha. The location of this place is around Mesari beach street. La Plancha is a special club with authentic Spanish cooking. Aside from joining in the public events, you can also hold private events for yourself by reserving first at their website.
You can also book some tables for later. During this year, there were some wonderful events located in this club such as  Wednesday Sunset, Hawaiian Party, Wednesday Sunset Party, A Quest Meaning, and also La Plancha New Year's Eve
Location : Mesari beach street, Seminyak, Bali
2. Music Event Located Around Seminyak
When visiting Bali, don't ever forget to come to one of the greatest musical events in Bali
Djakarta Warehouse Project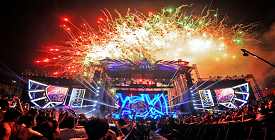 Mark your date in 7, 8, and 9 December of 2018 because there's an event called Djakarta Warehouse Project. Celebrating their 10th anniversary, they will bring famous artists such as The Weeknd, Afrojack, Alesso, Armin Van Buuren, Baauer, DJ Snake, Kungs, Lost Frequencies, Major Lazer Soundsystem, Marlo, RL Grime, Slushii, and the others.
The event will start in an uncertain time because the rundown is on the way. They also offer a travel package consists of three nights stay at some hotels located near the venue with a bonus of shuttle bus. Other information still unknown, make sure to check out their site at http://www.djakartawarehouse.com.
Location : GWK Cultural Park, Bali 
3. Visiting Restaurant
The next activity that included inside Seminyak Bali New Year's Eve events.
Sisterfields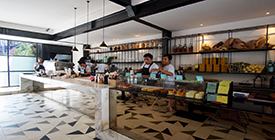 A restaurant that looks as good as best restaurants in Plaza Indonesia in Seminyak is Sisterfields. Sisterfields has two main locations, in Jakarta and Seminyak. Sisterfields looks interesting with its indoor and outdoor breakfast bar.
Basically, this restaurant serves brunch menus, with an Australian touch. In All Day Menu, you can pick some meals like Acai Berry Bowl, Raw Cacao and Frozen Banana Smoothie Bowl, and also Tropical Fruit with granola, berry sorbet, and strawberry honey.
Aside from the All Day Menu, you can get some sides, signature drinks, and also cocktails. For the sides, there are some like Polenta Fries, French Fries, Cold Smoke Salmon, Smashed Avocado, and many more. There are Grandpa's Remedy, Un Beet Able, Inner Cleanse as their signature drinks. As for the cocktails, there are Bloody Mary, Kick Starter, Sangria, and Cold Presser.
Location : Kayu Cendana street number 7 Seminyak
So that's our topic for Seminyak Bali New Year's Eve Events. As you can see, there's only one big event that will be held during New Year in December this year. Other than that, you can try those awesome clubs and restaurants.
Djakarta Warehouse Project