After we told you about the New Year Celebration in Indonesia in the how does Indonesia celebrate New Year, we want to tell you about another New Year Celebration that located specifically in Bandung West Java. Like we said in the previous article, each area has their own unique tradition and events to celebrate the New Year at the end of the day.
In Bandung city, there are some notable locations that people always use in the last day of December to gathering with their friends and family in order to feel the New Year Celebration in Bandung city, like places mentioned in the things to do in Bandung for 3 Days. For you who don't know where they are, here's the list about them to experience the New Year Celebration in Bandung.
1. Alun-alun Bandung / Bandung square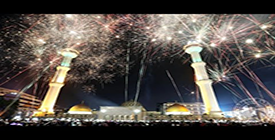 To celebrate the wonderful New Year, we can go to some places interesting in the city. Thanks to the handful and creative mind of the Bandung Mayor, there are always interesting places to go that, of course, should be included inside the things to do in Indonesia on New Year's Eve. For example, there's a famous location in the city called Alun alun Bandung, or basically the Bandung city square.
For the people who want to celebrate the New Year in such an affordable place, then maybe this spot is perfect for them. Each year, the park will be filled with Bandung people on the last day of the year. They usually gather around since evening or after Isya's. Some people are also buying stuff for their kids like kites, bubble toys, etc. There's also a firework show that hard to miss.
Location: Asia Afrika street, Balonggede
Tips: You can come to the park early because the roads around it will be closed for hours
2. Tegallega Park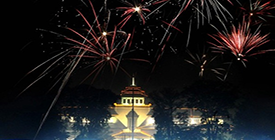 Next location that also looks interesting as one of the free things to do in Bandung is Tegallega Park. The location of this park is in Astaanyar Bandung, for you Bandung people, you should be very familiar with this location. It's considered to be one of the great places to celebrate New Year in Bandung. The location which is in the central part of Bandung makes it very easy to reach.
Many people would use this location as an alternative to Alun-alun Bandung. That's why, when that place is already very crowded, this place will also be filled up shortly. Celebrating New Year's Eve, there will be some concerts that making the celebration marrier. This place is really suitable for the people who want to celebrate New Year in central Bandung.
Location: Astaanyar, Bandung
Tips: You should come earlier to have the frontest part of venue when watching the show
3. Dago Tourism Area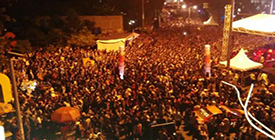 Another location that suitable and also included inside the New Year Celebration in Bandung article for today is Dago Tourism Area. You know what kind of location the Dago is? Dago is a location for many kinds of attraction such as Dago Dream Park, Juanda Forest, and also Bird and Bromelia Pavilion.
Even during usual days, this area is like always crowded with tourists. It's even more crowded during New Year's Eve, where people basically just filling up the roads in this location to see the spectacular firework show.
Location: Dago, Bandung
Tips: The roads are just full, it's not recommended to come here by car
4. Lembang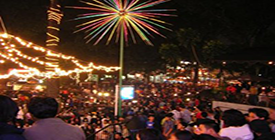 Beside Alun-alun Bandung, people can also visit another location called Lembang. Just like Dago, Lembang is also a popular area of this city. It also has some beautiful attractions, especially the natural ones like Tilu Leuwi Waterfall, Putri Lembang Mount, and Dewata.
Aside from those locations, you can also spend some of your times in some parts of Lembang such as Lembang Floating Market, Mini Town, Farm House, De'Ranch, and also Begonia Flower Garden. For the New Year Celebration, people can also visit the square that usually filled up with musicians, artists, and bazaar.
Location: Bandung, West Java
Tips: You can firstly visit the attractions, and then the square at night
5. Braga Street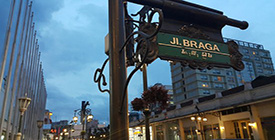 Next one is Braga street. This street may be the most popular road name in all the things to do in West Java. As you may know already, this Braga street area has interesting collections of Bandung attractions. So you can visit them first before celebrating the New Year.
For example, during the morning until evening, you can visit many different locations around Braga street like Taman Braga or Braga Park that is the favorite location for Bandung people to gather around, Sports Warehouse, Braga City Walk, and many more.
Location: Braga, Bandung
Tips: You can also book a hotel first that located around Braga
6. Bintang Hill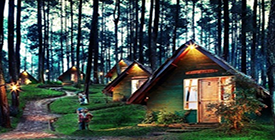 If you want to visit somewhere far from the city center where you can have some peace, then Bintang Hill should be the best location to fulfill your demand. It's a high ground located in the area of Cicaheum of Bandung city.
Around this beautiful location, you can also have some foods if you're hungry at some stalls available in there. There are so many of them, and most of them have a very affordable price for their foods. So, celebrating the New Year in places like this, and see the fireworks around Bandung city could be the best experience for you.
Location: Cicaheum, Bandung
Tips: Always don't forget to bring a jacket with you
Aside from the seven locations above, we also have the other nine locations on the small list below as usual. Some of them are a hotel and the famous thematic parks in Bandung that look really interesting. Here are some great locations for New Year celebration in Bandung.
Keraton Cliff
The Struggle of West Java People Monument
Ujungberung
Sabilulungan area
Ciwidey
Moko Hill
Cimahi
Bandung city thematic parks
Interconinteal Hotel Bandung Dogo Pakar
Gasibu Park
That's our topic for today, the places to experience the New Year celebration in Bandung city of West Java province. As you can see, there are so many places to be in the city to celebrate the New Year's Eve. So, if you're coming to Bandung city for December, make sure that you also have the greatest experience in the locations mentioned above.
New Year Celebration in Bandung
https://www.youtube.com/watch?v=2ZH93S9wC1Y