And back again with us in this article to talk some more about the best places to celebrate the New Year that still 2 months from now. Now, we want to tell you about some of the best places to spend a day at the end of the Year, in a special area named Seminyak. Seminyak is one of the best areas with its unusual things to do in Seminyak Bali that really perfect to celebrate the upcoming year.
The area of Seminyak is actually popular, just like the known spots in Kuta, Pandawa, or Gianyar. In the how does Indonesia celebrate New Year, you may see that there are some unique spots available in Seminyak. But, the events that located in this area are fewer than those in Kuta. But, you can still spend your beautiful day in these beautiful things to do in Seminyak on New Year's Eve.
1. Revolver Espresso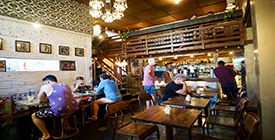 The first cafe that we want to visit that looks as good as the things to do in Bali for solo travelers is the Revolver Espresso. The location of this cafe is right in the Kayu Aya street number 51 in Seminyak area. For the design, the Revolver Espresso cafe looks really cute with its pink interior that matches the flower patterns on the walls. On the other side, you can see wooden interiors with a board that says "Mator Noewoen" or Thank You.
About the opening hours, this cafe opens every day in a week, starting from  7 am until 11 pm. The drinks are variative here from the best combinations such as Black Risetto, White Macchiato, Scoops, Filter Coffes, and Killer Chiller. You can also get some tea, sips, and coolers. You can also get some foods in here if you're hungry. The burgers like  Happiness is a Warm Bun, Cat Burglar, and Double Royale with Cheese can fill your stomach in a second.
Location : Kayu Aya number 51, Seminyak, Kuta, Badung Bali
Price for two : Rp250.000,-
2. Pork Star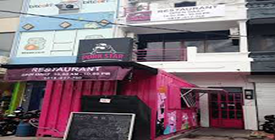 If you're looking for a good nonhalal stuff, you can always get the best meal possible, like the pork. There's a place in Legian Kuta named Pork Star that opens 12 hours every single day. In this small place, you can find something amazing, the creation of the famous Pork Star. The restaurant has the best menus for you to choose that come with so many categories.
In here, you can get very variative meals like Pork Ribs Soup and Caesar's Salad in the Salad and Soups Category. Don't forget the Pork Dynamite, Tori Karaage, and Candied Bacon that ready to bite you. As for the main courses, the interesting things are Pork Star's Pork Ribs, Ayam Sambal Matah, and Grilled Ham and Cheese Sandwich. To make everything better, you should order a drink from Ice tea up to Espresso Shot Single.
Location : Nakula street, Legian, Kuta
Price for two : Rp120.000,-
3. Gustafo Gelato and Coffee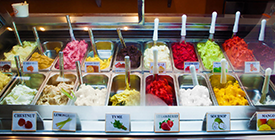 While waiting for the New Year celebration, inside the things to do in Seminyak on New Year's Eve, here's the Gustafo Gelato and Coffee that looks as interesting as the things to do in Seminyak when it's raining. The location of this spot is right inside the Seminyak Square, which located near the first attraction on this list.
It opens from 9 am to 11 pm every day, and it gets more crowded during the afternoon when the temperature is getting hot, especially in Bali. You can get some flavors in a cone for the fair price. For the smallest size with two flavors, you can get one with Rp25.000,-. And for the largest cup with five different flavors, it's Rp140.000,-.
Location : Seminyak Square, Seminyak.
Price for two : Rp70.000,-
4. Ultimo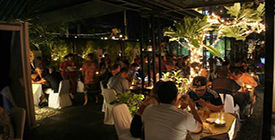 The street of Kayu Aya is indeed rich of so many interesting locations. When the clock is near to the end of the year, you can visit one of the best bar in Seminyak called Ultimo. You can gather here with some friends and family to wait for the New Year while having a really nice dinner.
The best things in here are the food sets. The foods are mainly Italian by the way. For example there's an Ultimo set menu for a price of Rp287.000,- with the appetizer of Avocado and Shrimps with Tomato Tartare and Soft Greens, the first course that consists of Pumpkin soup, Grilled Tenderloin of Beef as the main course, or you can choose the alternative which is Pan Fried Dory Fish that served with Potato Confit. For the dessert, you can get an Apple Strudel with Cinnamon Ice Cream. Plus the bonus, a glass of House Red.
Location : Kayu Aya street number 104X, Seminyak
Price for two : Rp600.000,-
5. Metis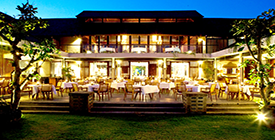 In the romantic things to do in Bali, there are so many outdoor restaurants that you can pick as a romantic way with your loved one. One choice from them is Metis. Aside from the famous outdoor dining tables, Metis also has a very interesting set of menu. But be careful though, the foods may contain pork.
Let us tell you about the menu that served in here. In the first page, you can see the Soup such as Pearl Barley Risotto, Seafood Carnoli Risotto, and Macaroni Cheese Gratin. Other from that, there are some lunch, meat and poultry, foi gras menu, fish and seafood, and wonderful desserts. 
Location : Petingetet number 6, Seminyak, Bali
Price for two : Rp400.000,-
6. Woobar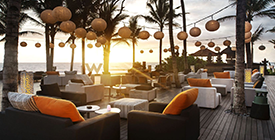 Bali is always known for its best sunset view, You can easily get that experience in a special place like Woobar. The location is actually for spa and looks similar to the usual resorts you can find on this island.
Aside from serving you with the best sunset view, Woobar is always ready to serve you with some best meals such as Tapas, Cave n Cellar, W Tacos and Burgers, Thin Crust Pizza, the unique Mason Jar Dessert, and also the Signature meals with Paletas.
Location : W Retreat and Spa on Petingetet street.
Price for two : Rp250.000,-
Aside from those locations that already mentioned above, as usual, we also prepared the small list that contains the other choices for you if you want to seek for other spots, the most comfortable one and can suit you perfectly. Maybe these things to do in Seminyak on New Year's Eve can bring you the excitement.
Mama San
Nook
Ku De Ta
Potato Head Beach Club
Kilo
Kim Soo Home
Merah Putih
Mexicola
Sisterfields
So that's the article about the things to do in Seminyak on New Year's Eve. Even though in this location mainly there are only clubs, bars, and restaurant, you can still have your best experience in New Year's Eve by having a really good time with your friends and family. That heartwarming feeling is the best thing ever.