Many people want to relax and free from stress, but they don't know what and how to free from it. Don't worry, Ancol Jakarta beaches can be your choice. In this place, there are many attractions that you can find. After that, you can enter Ancol Beaches. Other than in Ancol, you can visit beaches in Tangerang. One thing that you must know Ancol beaches is divided into five beaches, such as:
Festival Beach,
Indah Beach,
Elok Beach ,
Ria Beach (the beach that has a characteristic of a replica of the ship breaking large),
Bende Beach (famous Pier Love connected by a wooden bridge length)
Carnaval Beach (beach for the concert events and other entertainment events).
You also can see things to do in Ancol. Many activities can be done in Ancol beaches are:
Ship Replica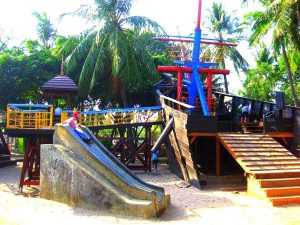 This beach has characteristics that stand out. It has the beauty atmosphere and also has replica ships stands firmly. Many visitors come to see and enter this place. This replica gives children the new knowledge by just visiting and knows about the replica of the ship. In this Ria Beach you are not allowed to swim, because the beach have the steep coast. This beach is intended for visitors who want to work out jogging or cycling. Because of that, along the coast beach, there is dikes and Jogging track, with a length of 500 meters.
Other than, playing in a replica ship, children can also play sand around the replica. Do not worry, if you do not bring sand play tools from home, because around Ria beach many merchants who sell these tools despite the price is quite expensive (around Rp. 40.000,- for a set of bucket shovel and colorful prints). If you don't know where you can stay, you can stay in Hotel Mulia. Moreover, you can also celebrate new years eve in the hotel mulia.
Ride the train.
After you go to Ria Beach, you can go to Bende Beach that is located beside of the car parking. In this place, there are choo-choo train. You just have to pay Rp.10.000,-/person. In the train, you can enjoy the cool air while you watch the view of the beach from Ria beach station to Bende beach station and then return again in Ria Beach station.
Seaworld
Seaworld Ancol is an a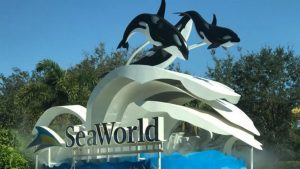 rea which will offers you an entertainment and education, especially about marine biota. Visitors can see around 7,300 freshwater biota that are shown in the 28 display. This display is in the form of a large aquarium with four open pools. Once in a while, there is also an attraction that you can call Feeding Show. This event is divers' action to feed the marine biota. For those who want to feel the thrill of interaction with marine biota, you can go to Kolam Sentuh.
Ticket Price
Monday-Friday: Rp 85.000,-
Saturday-Sunday: Rp 100.000,-
Open Hour
Every day: At 9:00m. – 6:00 p.m. 
Ocean Dream Samudra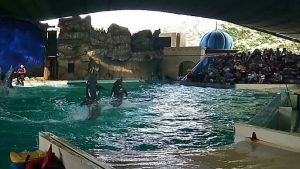 If you want to see the attraction of intelligent dolphins, sea lions, and variety of other animals, you can come to Ocean Dream Samudra. This place will give you the opportunity to know the variety of sea creatures.
Ticket Price
Monday-Friday: Rp 95.000,-
Saturday-Sunday: Rp 160.000,-
Open hour
Monday-Friday: At 9:00m. – 5:00 p.m.
Saturday-Sunday: At 9:00m. – 6:00 p.m.
Alive Museum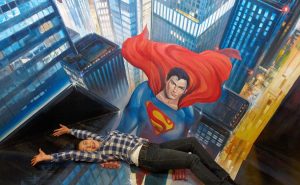 Located in 3rd floor of Ancol Beach City Mall, we can enjoy the paintings and art modified with digital technology in Alive Museum. Here, our imagination will come to play when we go to this place that is equipped with the 3D illusion, such as Fantasy zone, Dark Road, Horror zone, Extreme zone, Circus Zone and Travel zone. In this place, you also will see wax statues of Indonesia and Korea celebrities. You can selfie and upload the pictures in social media.
Ticket Price
Museum: Rp 100.000,-
Alive Museum & Star: Rp 200.000,-
Open hour:
Tuesday-Sunday: At 10:00m. – 9:00 p.m.
Art Market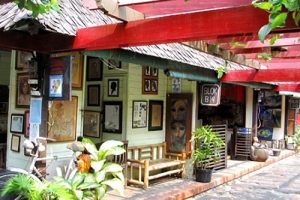 Do you like art objects? If yes, you can visit Ancol Art Market because in this place there are many of galleries that sell handicrafts. There are paintings, sculptures, pottery, weaving, batik, and many more works from various regions of Indonesia.
Not only that, here we are also can see art activities from artists of various streams. You also can enjoy creative works plus you can interact with workshops, exhibitions, film screenings, and discussion. Musical performances were diverse, such as modern and traditional.
Ticket Price
Open Hour
Every day: At 9:00 a.m. to 8:00 m. 
Atlantis Water Adventure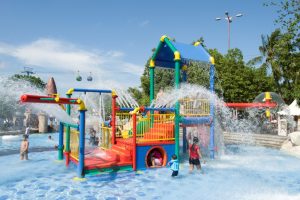 This place have theme of Atlantis continent which disappeared into the ocean. In this place, you can swim, not only that, you also can try a variety of exciting and thrilling water rides.
Several water rides such as wave pool, lazy river, float pools, and Crazy Highest Longest Slide waterslide. There is also a duel pool, a children's pool, and an outbound pool. There are many facilities in this place such as wash rooms, equipment pool rent, and food courts.
Ticket Price
Monday-Friday: Rp 95.000,-
Saturday-Sunday: Rp 200.000,-
Open Hour:
Monday-Friday: At 8:00 a.m. – 6:00m.
Saturday-Sunday: At 7:00m. – 8:00 p.m.
Enjoy the Sunset and the evening walk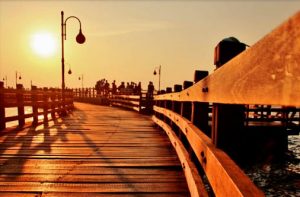 You can enjoy the sunset to free from stress. Yes, a lot of tourists want to see the sunset / sundown when come to ​​the sea. The view of the sunset of ancol is also beautiful that you can't miss it. You also can take a picture in the exotic atmosphere. Cool, isn't it?  You also can take instagram worthy restaurants in Jakarta.
Ancol ticket price is quite cheap despite many new sights. Prices for regular weekday and weekend per individual is Rp. 25,000. For parking:
car fare: Rp. 20,000,
motors fare: Rp. 15,000.
Operating hours Ancol entrance gate is opened 24 hours, but for every attraction that located at the Ancol, it has its own opening hours and closed. Don't forget to visit best islands in thousand islands Jakarta.