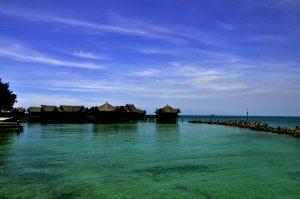 Have you ever craved for a short escape from your hectic routine yet nearby the city? For some people, a quite sandy beach is quite nice place to go to. Fortunately, there is a place like that near Jakarta, called Ayer Island.
Ayer Island is one of lovely island in Indonesia archipelago. It has white sandy beach, crystal clear sea water, and calming fresh air. Very close from capital city Jakarta, it only takes about 30 minutes from Jakarta by boat/speed boat. Long time ago, it  was the most visited island by Indonesia first president, Ir. Soekarno. Ayer Island also known as the cleanest and an idol of the Thousand Islands of Jakarta.
The charm of Ayer island is a thing you shouldn't miss. Spending time in floating cottages, with fresh sea air, stay in old fashioned yet clean cottage, only few minutes from the heart of the city, and of course no traffic jam!
Here is few information about exotic Ayer Island that may be helpful for you.
Facilities in Ayer Island Jakarta
Upon your arrival, you will be welcomed by very hospitable staff who always greet you every time.  Ayer island has supported facilities, such as Cottages and Hotel rooms.
A unique thing about cottages is they have two kinds of cottages, floating cottage and land cottage with Papua ethnic style. The floating cottage is uniquely designed with Papua ethnic style. If you are a fond of fishing, you are be able to go fishing in floating cottage. Here are the things to do in Ayer Island Jakarta
Stay in the Floating Cottage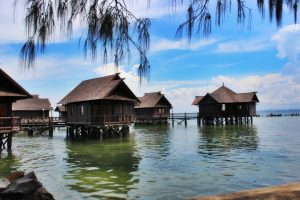 For a 2 day and 1 night package in a standard cottage, the cost is approximately 919,600 IDR (70 USD) per person. It includes 3 time meals. The cottages are 3 meters (~10 ft) above the sea, so the water will not come inside during high tide.
Stay in Land Cottage
It built from wood material and roof from the sirap leaves, brings natural and calm nuance. The wooden materials also make less noises.
The price for this cottage starts from 910.000 IDR (~70USD) per person included welcome drink and breakfast.
Things to Do in Ayer Island Jakarta
There are a tons of fun activities you can do beside enjoying the lovely beach.
Enjoy fresh air of the sea while playing basketball with a bunch of friends, what can be more perfect?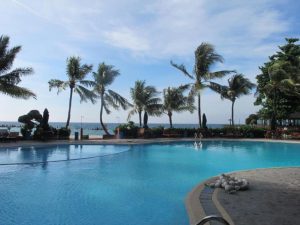 Wondering about swimming under the blue sky and breezing wind around you? This isn't a dream anymore.
If you are a runner and looking for a running track with different view, running in Ayer's jogging track is worth of try.
If you enjoy seaviews, beaches and fresh sea air, do try the bike tours.
In the middle of the island's park, there is children playground for family who brings up the kids in their vacation. This playground has lots of fun play equipment for younger children.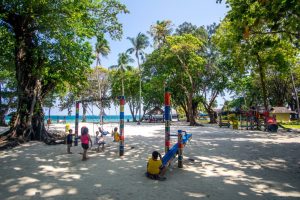 Bored with playing volley indoor? Have fun with a volleyball game on the sand.
For you who likes fishing, you will find many fishing spots around the island. In case you don't bring fishing equipment, you can rent  it from 70.000 IDR (~6USD), including the pellets.
Exercise your body balance with canoe activity by the sea. It costs 30.000 IDR (~2USD)
For you who likes challenging activity,do try this sport with your family.
Enjoy exploring the island by riding banana boat, with minimum 5 persons on the go. The price starts from for 375,000 IDR (~28.50 USD)
You can find billiard room near the restaurant.
While enjoying your dinner, you can also enjoy live music in dining room, makes it more special.
There are various cuisine that you can taste here, Indonesian, Chinese, and even Wester cuisine, served by qualified chef.
It has large size, suited well for corporate meeting, conference, and seminar.
You can find your daily needs, souvenirs, clothes and medicines here.
Besides white sandy beaches and comfy cottages, you can find another uniqueness, komodo! If you are lucky enough you can see them in few spots of the island. Don't be worry because they are already tamed.
While enjoying your vacation, do not forget to bring these essential stuff, camera, swimsuit, and hat. Also, protect your skin from sun exposure by applying sunscreen in the day and mosquito repellent at night.
For a sea-lover, the most suitable destination is a white sandy beach with crystal clear sea water, affordable price, close, yet give you unforgettable sweet escape in this awesome Ayer Island.
In the middle of exhausting work life, many people may forget that Jakarta is also a coastal city and near us there are cluster of sparkling islands to visit. In Ayer Island, you will find unforgettable sweet escape with totally different atmosphere from your usual routine and other typical vacation in Jakarta. That's all the best things to do in Ayer Island Jakarta Indonesia.