Do you ever visit West Java? If yes, don't forget to visit Cirebon. Cirebon can be your choice or your next destination.
Remember, if you come to Cirebon, you must visit Sunyaragi cave. This place is full with history and uniqueness that you cannot find anywhere. Therefore, what's the problem? Come on!! Let's straight to Sunyaragi cave.
1. Information about Surayangi Cave
Here's the review of Sunyaragi Cave – Sunyaragi cave in Cirebon, West Java is one of the vacation destinations in the town Sunyarangi, Cirebon, West Java, Indonesia. Sunyaragi cave in Cirebon, West Java is a bustling traveler spot with sightseers on a reguler day or a vacation day. This place is extremely wonderful and can furnish an alternate sensation with our everyday activities.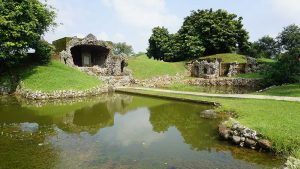 Sunyaragi cave is a former water royal residence for the sultans of Cirebon, in the Indonesian island of Java. It was once encompassed by water, with lakes, washing pools and cascades. Its name gets from the words sunyi raga which signify "quiet frame" in the Javanese dialect. Sunyaragi filled in as a contemplation put for the sultans, with caverns and resting stages taken cover behind drapes of falling water, permitting serene and private asylum from the world.
The extent of this place approximately  is about 15 hectares. This place consists of two parts: the first part is the rest house and  the second part is several caves. At the rest house, there are several rooms. It consists of a bedroom, a foyer, a dressing rooms, and a prayer room. What the unique of this building is this place is surrounded by gardens and ponds, although now the pond has receded. In the other hand, in the cave there are several rooms with different functions,  such as
Bangsal Jinem used as a room for sultan give advice
Pandekemasang cave as a place of manufacture of the weapon
Guard cave as a place for guards of Sultan
Langse cave as a place to rest
Padang Ati cave as a place to meditate
Peteng cave as a place to train stronger body
Arga Jumud cave as a gathering place for a relative
Pawon cave as kitchen and a storage for food.
Lawa cave used as a gathering place for bats
Kelanggengan cave as a place of meditation in order to make relationship long lasting
Simanyang cave used as checkpoints
Kompleks Mande
This place is not only used as a tourist attraction, but this place also often serve performance culture, such as dance performances.  There is a stage and seating for the audience. Moreover, now Sunyaragi cave have been renovated so that it will give more support with various various facilities.
Do you curious what facilities in this place? However, before we know about the facilities in this place, you must know why this place always bustling with tourist. What make tourist to visit this cave? Why this cave attract many tourists? This will answer your questions. 
2. Attractions
Sunyaragi cave in Cirebon, West Java is the place that you should visit for the charm of its beauty. The beauty is second to none. Local residents Sunyaragi area is also very amicable towards local tourists and foreign tourists.
Cirebon city is also famous for the beauty of tourism objects, one example is Sunyaragi cave in Cirebon of West Java. This place is one of many spots tourism that attract many tourists to visit it. The cave was not an ordinary cave because it's formed from naturally occurring phenomenon in the karst region. See more 20 things to in Cianjur, West Java, Beauty Everywhere.
This unique cave is formed from the composition of stone and it looks like a natural rock cave. However, if you can see it, you will realize that the cave is work of human. Sunyaragi cave was built by initiated of Pangeran Emas Zaenul Arifin or Panembahan Ratu Pertama.
It was made during three periods in the early 18th century. There is nothing so unique about Sunyaragi cave, which is about the myths that surrounded it. This place has there are two oppose myths. The first myth is in the Peteng cave, one part of Sunyaragi Cave.
At the front entrance, there is a stone statue called the Virgin Sunti.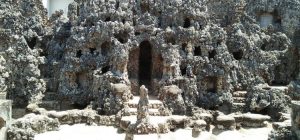 It is said that anyone who holds this stone, they will difficult to find partners. Therefore, every visitor is recommended to use a guide to avoid wrong touch of stone.
The other myths that develop in this place are precisely in the Kelanggenan cave. It is located not far from the first cave earlier. This is where every traveler who goes into the cave is believed that they will easier to find partners. Maybe for anyone who unintentionally have already hold the Virgin Sunti stones can break the myth of the cave entrance into eternity.
Who knows? Do you believe myth or not?  This myth that makes this place is bustling with tourist. 
3. Facilities
Sunyaragi cave in Cirebon, West Java is have some facility that can make you comfortable, if you visit this place. Some facilities and services that you can find in Sunyaragi cave are parking, mosque, bathrooms/toilets, lodging, and many others.
4. Ticket Price, Open Hours and Location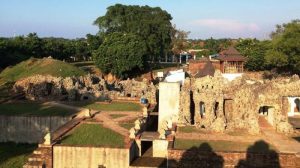 This cultural heritage is open every day from 8:00 a.m to 17:30 pm. It is located on the side of the road By Pass Brig Dharsono, Sunyaragi, Kesambi, Cirebon.
For parking tarif is Rp 3.000,-
For entrance fee Rp 10.000,-
Note: The management also provides tour guide services for those who want to know the history of Sunyaragi cave. The cost is Rp 50.000,-
5. Tips
Before heading to Sunyaragi Cave in Cirebon, West Java, you need to prepare some things that will be needed. As well as some additional items such as a camera because you'll want to capture the moment with your family or friends. Indeed, that's all about the review of Sunyaragi Cave Cirebon!
Do not forget to bring medical equipment (eg a soap, wet tissue, shampoo, antiseptic). Prepare your car, so that will make your holiday runs smoothly. Take care of yourself and conditions.