Circling around the famus city of Yogyakarta as a part of its unique Special Region of Yogyakarta Province, of course you can find some of the best things to do in Yogyakarta Palace easily. All of them are thick with the Javanese aspects that can be seen clearly in every corner of the city.
People come to the city with so many reasons. Maybe they want to build a branch of their business in there, and then finding what to buy in Yogyakarta Indonesia, and also visiting it beautiful attractions. For now, we want to enter another area in Yogyakarta called Kaliurang. Known as a tourism spot, it has so many potential areas that can be enjoyed by the people. The area are included on things to do in Kaliurang Yogyakarta below :
1. The World Landmark Merapi Park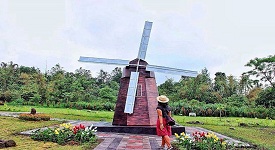 Beside having some unique place like things to do in Kotagede, Yogyakarta, especially the area of Kaliurang will introduce you to the world wonders by building this World Landmark Merapi Park. Well like the name, the place several world landmarks that you can see.
There are some famous ones here and there like the Eiffel Tower, The Big Ben, and the unqieu windmill that resembles the Deustch country. Starting from Rp15.000,- worth of entrance ticket, everyone can enter the place so easily. This place can be a great option during the weekend or maybe for having a date.
Location : Kaliurang street KM22
Tips : Camera is a must bring item when visiting this place
2. Lost World Castle of Yogyakarta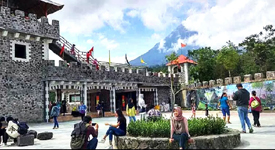 Aside from the attraction above, the Kaliurang area also starts amusing us again with another place called The Lost World Castle. Combining the unique areas of the world to the attraction itself is of course a very great thing to do.
Well in here, you can see the replica of a Chinese or Japanese castle. The size also matching with the Japanese castle, at least some of them. Even though the castle itself is not very popular like anotehr one called Water Castle Yogyakarta, but it's still worth to know.
Rp60.000,-
Location : Kepuharjo, Cangkringan
Tips : Carry a jacket here, because the weather can be cold at some times
3. Stonehenge Cangkringan Kaliurang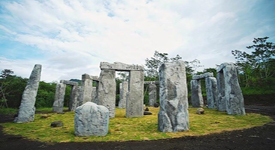 If the two attractions above provide us the atmosphere of travelling around the world seein all the icons, all the landmarks, while still standing in Indonesia. This attraction is  a bit different. The place will take you to million years before century.
The Stonehenge, the thing that mysteriously exists in this world. If seeing the original one that found in New Zealand or other countries is a very fancy, then this can be your best option. Plus, you'll not be charged with much entrance fee.
Location : Kepuharjo, Cangkringan
Tips : The place can be a great background photo, and can be used for many kind of sessions
4. Tlogo Putri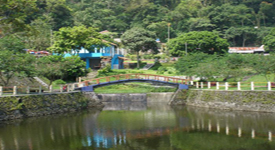 After tiring legs visiting the places here and there, it's time to calm a bit by visiting this Tlogo Putri. The Tlogo itself means lake in English. Well, this lake isn't lonely, there are several rides that can be fun activities.
Imagine that, with the administration ticket around Rp2.000,-, you can enter the place freely, visitng every corner on the spot. There are also some rides and here that can be enjoyed by all people, but of course by paying a bit of money.
Location : Tlogo Putri street, Hargobinangun
Tips : Bring your family here for the best experience
5. Kaliadem Bunker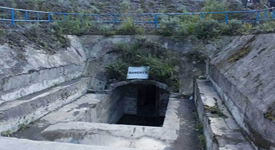 A place that filled with thousand memories of the people that taking cover from the Merapi's Eruption. This is The Bunker, the Kaliadem Bunker that used by the people during those hard times. It's rally memorable and yet fun experiences that you'll get after visiting this place. As for the students or usual tourists, this place can fit every one.
By paying the administration fee that consists of Rp10.000,- ticket, you can enter the place to do alittle tour inside. Aside providing the people with the natural condition of the Bunker, the people there can also enjoy teh Lava Tour, which has the price of Rp350.000,-. For you the tourist that came from another area, another island, or even another country, you should try that package too.
Location : Hargobinangun
Tips : Doing no vandalism is highly recommended
6. Mount Merapi Museum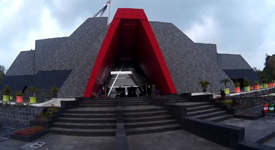 Beside the historical place of Kaliadem Bunker above, Kaliurang also has an option for you if you want to learn some more about the mountains, geology, and stuff. The place is called the Mount Merapi Museum, dedicated to the mount Merapi, which is one of the greates mountain in Indonesia like things to do in Mount Bromo.
People in there will be charged with a very cheap entrance ticket, which is only for Rp5.000,- or less than a dollar. With that prize, you can have an educational tour for studying so much informations, especially about the Mount Merapi itself. 
Location : Kaliurang street Km22, Banteng
Tips : Doing no vandalism is highly recommended, and always keep places like this clean
7. Tlogo Muncar Kaliurang Waterfall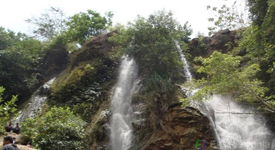 And in the seventh place, it's the time to visit another natural attraction that Kaliurang area has. One of them, is the Tlogo Muncar Kaliurang Waterfall. This beautiful waterfall is located around ara of Kaliurang of course, near the Kaliurang Forest.
In the day, the place is a little bit crowded with people. And because of that, during the morning, the place will be very much enjoyable. Especially, if you want to have a good time relaxing and doing water activities in the waterfall.
Location : Kaliurang
Tips : Be sure to come here at the morning
Aside from those places, seven exactly, you can also do another search to find the other locaations. Of course, we also want to tell you about the other potential spots that can be found in this area. Because of that, we made this small list that contains a bit informations about what's left on the things to do in Kaliurang.
Blue Lagoon Yogyakarta
Ullen Sentalu Museum
Omah Salak Education Center
Mount Merapi
Kaliurang Tourism Center
Ledok Tourism Village
Pulesari Tourism Village
Japan Cave in Kaliurang
Kali Kuning Hill
These beautiful and unique spots are already included in our list of things to do in Kaliurang. They have their own different personality, and of course worth mentioning and also visiting. This can be a proof that Yogyakarta has so many areas that have their own unique potential to serving the best tourism for all the tourists.