Many traveler come to Yogyakarta to spend their holiday or weekend. There are many places that you can visit with your family and friends. Because there are many places that you can visit, maybe you are difficult to decide it and you don't have enough time to explore Yogyakarta. Don't worry! if you come to Yogyakarta and only have 3 days to stay, I have already planned what to do in Yogyakarta for 3 days.
Mount Merapi
The morning is the best time to enjoy the scenic beauty of Mount Merapi. It is about 07.00 a.m in the morning. If you like to test your adrenaline, you come visit Merapi .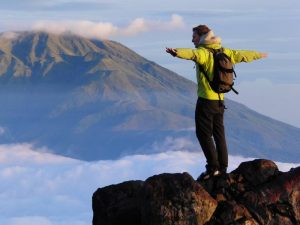 The beauty Mount Merapi undeniable.  You can feel the mystery and tragedy that surround the mountain. Because of it, Merapi is a choice for outdoor sports enthusiasts as an alternative for mountain tourist destinations. If the weather is not foggy, you can see clearly the towering and gallant mountain that is also surrounding by four towns. The four towns are Sleman, Magelang, Klaten and Boyolali. In Merapi, you can feel the fresh air, even though it is cool. You also can feel that friendliness of its people that make you feel comfortable.
In 2010, there is major eruption in Mount Merapi. Because of this tragedy, there are a few that changed in this place, which just added to the charm of the beauty of Mount Merapi. The villages within 4-6 km from Merapi's peak uninhabitable. Instead many stand-shelter (shelter) designated for refugees who lost their homes. You'll also see there some bridge that broken caused by cold lava and hot clouds. You may also get to know more about Things to Do in Mount Merapi Yogyakarta
In 2010, the place that affected by eruption is used by local people to attract the tourist. It is called volcano trekking. The tourists can trace the eruption that occurred in the past, including visit the former home of Mbah Maridjan, a caretaker legendary figure.
Many sprouts from the remains of plants withered and scorched. However from that plant, you can see the new plant grow. You can see the greatness of the eruption by looking at the aftermath that left behind in that place. Near the former home Mbah Maridjan, now there is a building semi-permanently. In that place, you can see many attached photographs to commemorate great events in 2010. You may also get to know more about This is How to Catch the Sunrise at Mount Merapi
If you want to come to Mount Merapi, you must know the entrance. Because it is located in the center of the Java Island, these are the entrance that you must know
Slope in south side, the entrance in Sleman Yogyakarta
Slope in west side, the entrance in Magelang
Slope in North and east side, the entrance in Boyolali
Slope in southeast side in Klaten
A facility that you can find in this place is Campsites, if you like to camp in this place. You also can find Lodging, such as villas and bungalow. In this area is often hold events – events such as conferences, seminars, meetings, workshops, and others.
Ticket price
Volcano trekking tour tickets Kinahrejo 5,000, –
Volcano Trekking tour tickets Kepuhharjo 5,000, –
Rp.2.000 vehicle parking tickets, –
Open Hours: Everyday
For first day, you can go to Mount Merapi. However, what about 2 days later? Where do you can go? What place you can visit in second day? Lets' go to Imogiri graveyard 
Imogiri Graveyard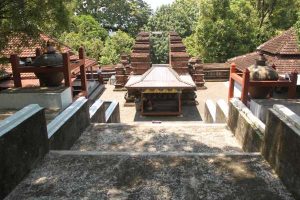 Do you know imogiri graveyard? Do you ever visit it? If no, you can go to this place. Imogiri graveyard is the tomb of kings of Mataram. It is located in the hills Imogiri Bantul. To go to Kings Tomb, you can climb the rungs that is about 409. This tomb is destined for the tomb of the king, the royal family and their descendents of Islamic Mataram Kingdom. Java community believes that mountains or hills symbolize the status and the attempt to get closer to the Almighty.
Upon entering the location of the tomb of the king, the scent of flowers mingled incense seemed to welcome the arrival of visitors. Courtiers of the palace almost every day put special offerings in the tomb. According to the royal cemetery caretaker, the tomb of Sultan Agung always fragrant because now he has reached the level of Waliyullah. You may also get to know more about Why Everyone Should Visit Yogyakarta Indonesia?
In this place apart from the tomb of Sultan Agung, buried the 23 king descendants of Sultan Agung, Sultanate of Surakarta and Yogyakara Tomb.
The structure and composition of the royal cemetery is triangular. Tomb of Sultan Agung are at the top. While the East side is where the king tombs of Yogyakarta Sultanate and the western side is King tombs of Surakarta.
Until now, the tomb of Sultan Agung very sacred so that not just anyone can enter the tomb. A requirement that must be met when it intends to make a pilgrimage to the tomb of Sultan Agung are: the pilgrims are prohibited to using the footwear, bring a camera, wear jewelry, especially gold and had to wear a Javanese clothes. For male pilgrim must wear Java blangkon, beskap, cloth, belt, buckle and samir. As for the female pilgrims must mamakai kemben and a long cloth.
In the tomb and the forest are, visitors are prohibited do not polite, hunt, cut trees, take the wood and remove / destroy the existing plant.
In this place also there is a jug.The jug is said to have certain power such as for health, healing or success, so many pilgrims believe that. Many people try to get this water. You may also get to know more about Borobudur Temple Indonesia Yogyakarta History
The facilities are fairly standard in this place: a parking lot, public restrooms and a guide that will tell the history associated with this Imogiri royal cemetery. In addition,  to make it more understand with this place, you can buy photo copy of three small books that contains a history of the tomb of King of Mataram and the scheme of king tombs. There are also several stalls located in Terminal that provides food  such as wedang uwuh, pecel, jadah tempe and tahu bacem.
Ticket Price: Free
Open Hours: Everyday 
Borobudur temple
For the third day, you can visit Borobudur temple. At every level, you can see beautiful carved reliefs depicting Buddhist teachings implicitly at that time this religion followed by citizens. Historically, Borobudur was built for a worship place for Buddhists in the era of the Sailendra dynasty.
Buddha statue that contained in stupas adorning the top floor of Borobudur is a very comfortable place to soothe and refresh yourself. You also can take a break after a trip around Borobudur. Not only stupas, natural scenery from this level is also very beautiful.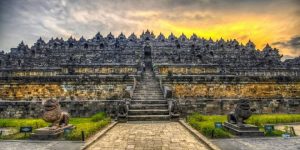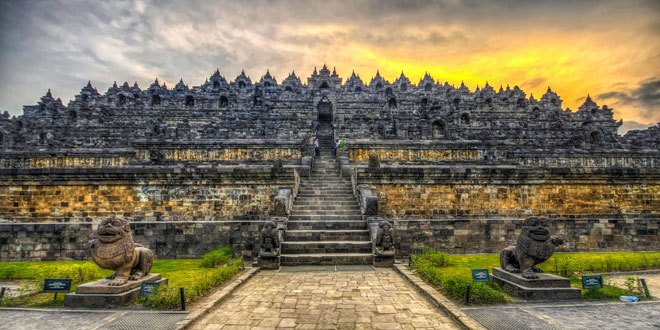 Historically, this Borobudur temple construction process takes over 92 years (far longer than the Angkor Wat temple, whose construction took about 30 years). At that time, there is a worship place which is shaped like a lotus flower in the middle of the lake when we look from a height. Unfortunately, earthquakes and volcanic eruptions are very large in the past that had made the temple was buried. It made the lakes around this magnificent temple lost.
Komplek wisata candi Borobudur mempunyai fasilias yang cukup memadai seperti penginapan, rumah makan, toko cenderamata, warung telekomunikasi. Juga terdapat beberapa tenaga guide yang dapat memandu dan menjelaskan mengenai informasi yang terkait dengan sejarah, budaya dan arti arsitektur dari Candi Borobudur. You may also get to know more about Things to Buy in Yogyakarta Night Market
There are many facilities in this temple are lodgings, restaurants, souvenirs. In this place, there are also guides that will guide you and explain the history, culture and architecture of this temple.
Ticket price
Borobudur – Mendut – Pawon
Adult: Rp 60.000
Kids: Rp 30.000
Borobudur – Prambanan
Adult: Rp 60.000
Kids: Rp 35.000
Borobudur – Ratu Boko
Adult: Rp 60.000
Kids: Rp 35.000
Borobudur – Ramayana Ballet Prambanan
Adult: Rp 150,000
Kids: Rp 135.000
Open Hours: Everyday
How is it? These are what to do in Yogyakarta for 3 days.