After we're going from the area of West Java province to see the new year celebration in Bandung, we want to take you to an area that located in the center of this island called Yogyakarta. For you who really interested in doing some cultural journey, especially the Javanese culture, you may familiar with this location.
Aside from known for having some locations that thick with Javanese culture such as Borobudur temple and also Prambanan, Yogyakarta does have some things to do in Indonesia on New Year's Eve. Even some of the natural attractions in the city like hills and mountains can be a great place. There are also some events, the special ones that exclusively held in Yogyakarta city. To see the full of them, you can check our locations in order to celebrate the New Year party in Yogyakarta.
1. Becici Peak Bantul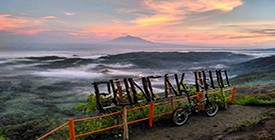 Inside the article how does Indonesia celebrate New Year, we can see that there are so many wonderful things you can find in the country to celebrate your best New Year's Eve. This is location is considered pretty different from the other locations available in the city. The location of this peak is in the tourism area of Gunungilik on Dlingo, Yogyakarta.
Basically, the area used by the campers to do some outdoor activities such as camping, and other events like firework party. For example, back in the 31st December of 2017, there was an event called New Year camp that held starting from that day and the day after that. Maybe this year there will be a similar event that looks like this.
Location : Gunungcilik, Dlingo, Yogyakarta
Tips : For the further announcement, you can see their community website in @campingjogja
2. Tugu Monument
The next location is right in the city center. People of Yogyakarta, or the tourists who already visited this city before can be very familiar with this one. At the end of the day of a year, there will be an event held by government tourism service. The event itself called Gebyar Tahun Baru or New Year Party. Of course, the show is pretty much fun with all the guests and artists.
Usually, the show will start right at 7 pm and then continue until midnight. The show also held in four different points in the city, with different kinds of shows on each point like Wayang Golek, Wayang Kulit, Dangdut Stars show, Stand Up Comedy, and also a beautiful performance of Harmony Musik Kawula Muda.
Location : Jendral Sudirman street, Yogyakarta
Tips : Because you can pick your favorite one from the four shows, you can save your time.
3. Malioboro Street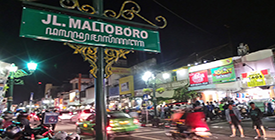 One of the iconic streets in the cool things to do in Yogyakarta is Malioboro street. This street is always known to be a favorite place for shopping and taking pictures of Yogyakarta city nuances. During the night before the new year, the street is always filled up with people.
There's also a carnival sometimes right on this street. But, each year there's like a stage built right on the Malioboro street that used by Harmoni Musik Malioboro, a show that usually happens there before the firework show.
Location : Gedong Tengen, Yogyakarta
Tips : You can buy some stuff before celebrating the new year, the market will be very much crowded shortly.
4. Gunung Kidul Firework Party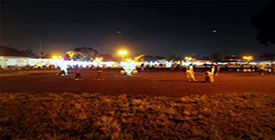 The Gunungkidul tourism regency is located in the province of Yogyakarta, with the capital Wonosari. This area, beside the Yogyakarta city itself, is also known to be a favorite place for having a very nice vacation. There are different kinds of attraction like beach tourism, cultural tourism, temple tourism, sites tourism, and also other natural attractions.
In Patuk Gunungkidul, The Gunungkidul Government Tourism Office of this regency held a show named Gebyar Sambut 2018, on December last year. The show also enlivened by campursari musical performance done by Sido Rukun Gunungkidul with Dimas Tedjo as the leader.
Location : Wonosari, Yogyakarta
Tips : You can bring a camera in here because the view is always stunning.
5. Borobudur Nite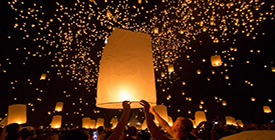 After seeing one of the wonderful things inside instagramable places in Yogyakarta, which is the Borobudur Temple, you may think that this kind of place can be a wonderful place for having a beautiful New Year Party. And you're definitely right because there's an event called Borobudur Nite.
Borobudur Nite that held by Taman Wisata Candi corp. every year is always an interesting event to see. If you're coming to Magelang this end of the year, make sure that you don't miss it, because last year they brought some famous artists including the star, Andien Aisyah. 
Location : Borobudur Temple, Magelang
Tips : About the event of Borobudur Nite 2018, you can directly check their site at borobudurpark.com
6. Boshe New Year Eve Party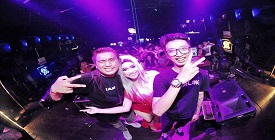 Do you love EDM or Electronic Dance Music? If so, then coming to the city of Yogyakarta can be the best decision you have made, because there's a show named Boshe New Year Eve Party that held in Boshe VVIP club located in Sleman, Yogyakarta.
The show is about partying all night long with the waves of music creatively done by famous DJs. One of the stars that will make the party more merrier is Dj Matt Watkins with his latest releases such as 2018 Summer, Moon Records X IN, and also Walk Alone.
Location : Magelang street, Kutu Tegal, Sleman, Yogyakarta
Tips : The music is so fun, pretty big room, and suitable for drinkers.
Besides those seven places mentioned above that have the opportunity to be your favorite place for having a really nice and memorable New Year Party in Yogyakarta Indonesia, we do have some things to introduce to you in the small list below :
Royal Ambarrukmo
Abhayagiri Restaurants
Alun-alun Jogja / Jogja square
Nglanggeran Mount
Kaliurang
Prambanan Temple
Siung Beach
Kedungmiri Village
Parangtritis Beach
Musical Events in Tentrem Hotel Yogyakarta
So that's our topic about the New Year Party in Yogyakarta. The city does have really nice places to celebrate the one and only event of the year, the New Year Party in Yogyakarta. With the culture that seems to never vanish, the city is always a good destination to visit.
Borobudur Nite 2017