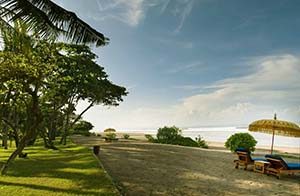 Oberoi street also known as  Laksamana street,  become the hub of Seminyak area once a humble beginning, nowadays emerge into a jet-setter playground and expatriate indweller. The beautiful beach in the area is obscure behind the lines of upscale beach resorts and lavish restaurant.
This part of Bali suitable for those who seek the delirious nights, dine out at the diverse type of high end dining. Showcasing an amazing dining scene, expatriate chef, yet rather scarce on Indonesian cuisine.
In case that fashion is your interest, pack light on your departure, here the mecca of swanky boutique. Local designer, international renowned brand from all around the world line stretch out for 1 km at Jalan Oberoi. From beach wear, evening attire, swim wear, bags, accessories, wardrobe for any occasion,  from morning to night.
So, here are  things to do in Oberoi Bali:
Petitenget Temple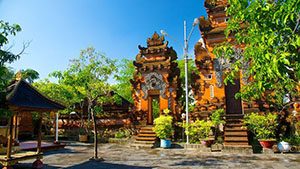 The centuries-old temple comes, a petite temple located in short distance of Petitenget Beach. The name of the street that runs adjacent to the beach as a matter of fact was taken from the temple.
Notwithstanding, its location in the center of Seminyak area, this temple doesn't attract a large crowd of tourist.  However, this temple owned its own charm and indeed a good place to know about Balinese culture. The temple has a regular worship and festival activities based on Balinese calendar. On the daily basis you would be able to catch a sight of the native give their daily offering and burning incense at the altar to the gods.
When you visit dress accordingly,  in order to respect this sacred place. The cloth should cover the knees, if you happen to wear shorts, you could have the sarong at the ticket booth. Visit the capital city of Bali,  find out more of things  you can do in Denpasar.
Entrance Fee : 5,000 idr.
Petitenget Beach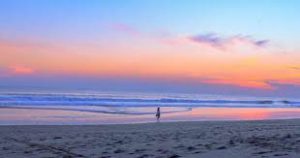 Petitenget beach, located side by side on the same coastline with Kuta and Seminyak, those three beaches have the same beauty characteristic, however unlike its sisters beach, here at petitenget beach, the atmosphere is more serene and solace.
Lined with savvy resorts and restaurant, it is convenient if you want to unwind and wait until the sun dip in the horizon.  Restaurant and bar hopping is something you can easily do, myriad of fancy restaurant and bar are easy to reach by walking.
Seminyak Beach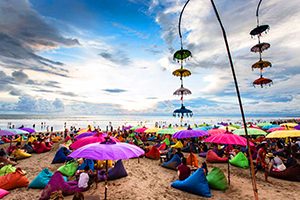 Seminyak beach, located in close proximity from Oberoi, favored with a white powdery sand and magnificent waves. This white sandy beach is stretch for 3 km from Tuban area. Basking yourself under the sun or hanging out with friends. Whilst the clear blue sea water and the sound of the waves breaks on the shore fills you with the solace feeling.
An ideal place for surfing due to its great waves, therefore many surfer come to have fun with the swell and having a great surfing adventure. You will notice some people play kite or swimming if they are not surfing. If you don't bring your own surfing board, you will find the surfing board rental by the beach.
This entire coastal has blessed with stunning panorama of Indian Ocean, thereupon, the location attract many resorts and restaurant developer to build their business there. An endless luxury resort and fancy restaurant become a borderline of Seminyak beach. Talk a short walk to its neighbor beach, you will have a bunch of things to do in Kuta
Double Six Beach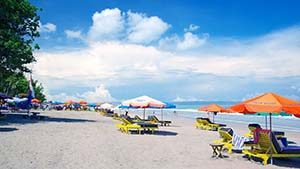 Double six Beach, well known as " Blue Ocean Beach" , a half kilometer of golden white sand. This Beach interconnect Legian Beach at the northern strip and the most southern part of Seminyak or well-known as Oberoi Beach, it is name after the Famous The Oberoi Bali Resort. This part of the beach most likely , you will find it more peaceful compare to the other beaches in the area, especially in the morning or the daytime.
The wave here is suitable for the beginner surfer, so bring your surf board or rent one on the spot. Those who are looking for other activities , plenty water or beach activities are available, you can choose from swimming, snorkeling, beach volleyball or football. Other than that go on banana boat trip, or if you need something the pump your adrenaline higher, try parasailing, you will have a bird eye view of the whole area.
Laying down under the umbrella, reading the book and have a local masseurs give you a traditional massage and braided your hair.
Dream Museum Zone (DMZ)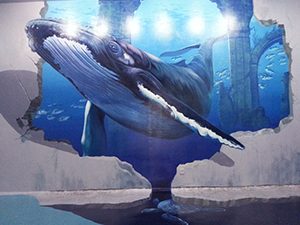 Dream Museum Zone presents an amazing collaboration of Indonesian and Korean artist. The stunning artwork of illustration effect made of paint and great illumination arrangement. The museum features a wide selection of artwork.  Occupied three level of the building, with 14 different categories and 120 unique artworks.
Find your way in a utopian dimension, experience a magical wandering from Indonesia to Amazon, Egypt to Venice. Unleash your inner model,  allow yourself to pose and play, among the exceptional artworks.
Capture yourself in various pose against life size murals. Here you can have yourself gliding off the cliff, escaping the shark attack of surfing over the waves. From Dream Museum Zone, take another trip to Umalas, and go for plenty things you can do in Umalas.
Dream Museum Zone
Jalan Nakula No. 33X, Legian
Opening Hours : Monday-Sunday; 09.00 am – 22.00
Entrance fee : US $ 10
Tanjung Benoa Beach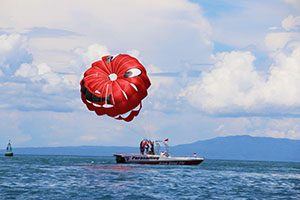 Tanjung Benoa Beach sits at Nusa Dua peninsula, enclaved by the sea at both side. Decorated with golden white sand stretching along the coast. This traditional village has transformed into a marine sport center with an array of water attraction. Aside from it scenic seascape, Tanjung Benoa has a calm seawater which is ideal and safe for any kind of water activity.
The ambience of the area is suitable for the family fun and relaxation, away from the frolic of Kuta- Legian area. At Tanjung Benoa you could ride a jet ski, banana boat, flying fish, etc. More of things to do in Tanjung Benoa. Supposing that water adventure is something you really keen, should you sail to Nusa Lembongan, find more things to do in Nusa Ceningan.
Bali Safari and Marine Park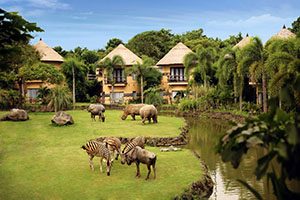 Spend your day in an exciting Bali safari adventure journey, get an opportunity to get close with the wildlife. Discover the animal  from Indonesia, India and Africa.
Explore hundreds of animal life for more than 60 species including some rare and endanger species within a very close proximity. There is a stunning freshwater aquarium at the Marine park the abode for a wide range of flora and fauna. Whilst you are in the area, explore extensive list of things to do in Bali Safari and marine Park.
Package Fee : starting from 580,000 idr
Location: – Jl. Bypass Prof. Dr. Ida Bagus Mantra Km. 19, 8, Kec. Gianyar, Bali, Indonesia
Opening Hour: – 9 Am to 5 Pm
Echo Beach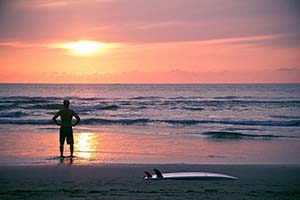 Drive further to Canggu and find one of Bali's most popular surf beach. The paradise of the surfer, just recently developed into an international surfers hang out. Take a joy ride all the way from Oberoi to Canggu with a serene rice paddys field.
Echo beach become popular for its advance reef breaks, a clean ,well-maintained beach and a wide seascape to watch. An array of good eating spots along the beach becomes a great spot to meet people from different nationalities. A great escape with the laid back atmosphere, creative vibe and good people.
Entrance Fee : Free
Location: Jalan Pantai Batu Mejan, Canggu
Drifter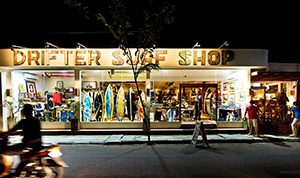 Drifter is  a house that represent the surf culture and generation, the brands that honor surfing for surfing with unconditional fun and free thinking. It is a place to chill, and to get a creativity based brand and sip a fresh brewed espresso.
The shop open in 2006, at Oberoi street , Seminyak. Tim Russo and Jake MacKenzie, the creator of Drifter Bali, wanted to bring an independent spirit among corporate surf label.
Here, at the lovely shop you will find all your surfing necessities, from Danny Hess's wooden surfboard collection. Furthermore, you can find stylish clothing and sarong to a wide range of surf related books. Ready with your surfing gears, head to the best spot for surfing in Bali, and discover things to do in Medewi Bali.
Uluwatu Lace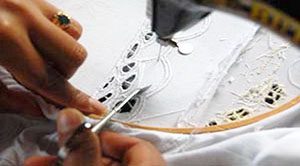 Handmade Balinese Lace present an extraordinary work of art. The artistic expression through hand crafted lace. This lace work know as cutwork or "krawang" in Balinese. Uluwatu krawang created this lace artwork for more than 30 years.
The lace stretch in a bamboo hoop and sewn by hand. The thread is carefully layered one by one as the hoop move back and forth. The lace are delicately cut out with a sharp tiny scissors whilst the loose edges bound up by the whirring needles. A single item need more than five days of completion. When you are done with your shopping , drive a little bit further. You will find more things to do in Ngurah Rai other than shopping, in order to make your vacation complet.
Uluwatu Lace Shop
Oberoi Street-Seminyak
Teatro Gastroteque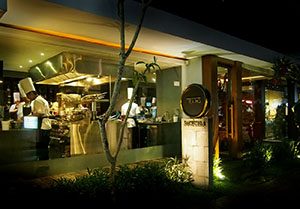 Chef patron of Mandif M Warokka- a prominent Indonesian Chef,  will take each guest to a different realm of Indonesian-Asian cuisine.
One of the first fine dining restaurant in Bali Culinary Industry, present the gastronomic theater at his open kitchen.
The menu is focusing on degustation tasting menu, all prepared and presented meticulously in their own unique way. Indeed, there are more  things to do in Oberoi Bali with your lovers.
Teatro Gastroteque located in Jl. Kayu Aya Block C No. 1-2 Seminyak Bali
Sunset cruise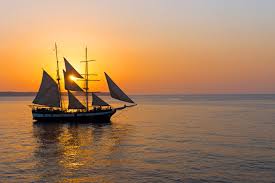 Escape the mainland and watch the coastline of Bali from the open sea. A sophisticated evening cruise is the best way to enjoy tropical evening and watch the sun goes down in the horizon. Take pleasure of unobstructed views of the glittering light of the Bali's mainland and the twinkling stars take over the dark sky. Immerse yourself in the beauty of the night.
Abounding option of ship you can pick to your preference, from a huge catamaran ship, luxury yacht or traditional phinisi.
Fee : starting from 650,000 idr/person
Professedly, the flashy scene of an endless row of savvy shops, stylish restaurant and luxurious beach resort outshine the native lifestyle. Distinctively, typical Balinese attraction comes short in this area. Nevertheless, in the midst of this modernity, well-hidden some interesting things to do in Oberoi Bali.