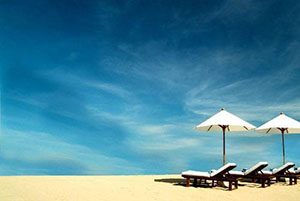 The Grand Hyatt Bali, perfectly situated in a leisure and resorts complex , Nusa Dua. A radiant prestigious area, enclave with lavish International beach resorts.  A world class convention center are the main landmarks of Nusa Dua area.
The name means 'two islands'. A place where you can find a Balinese luxury and indulgence, perfect destination for unperturbed gateway.  The Grand Hyatt  Bali, built with modern Balinese architecture, laying by the pristine Nusa Dua beach.  If you are looking for an upscale vacation this is the right place for you to stay. Find an array of other international brands resorts nearby. Whether you have money to flush or looking for more decent vacation, check bountiful Things To Do near Grand Hyatt Bali.
Another Beautiful Sigh of Bali 
Nusa Dua  area  located 20 minutes from the airport , 40 km from Denpasar, the capital of Bali. If you are from airport, the most convenient transportation will be official airport taxi which you can get from the official taxi counter in the airport.  The Grand Hyatt Bali located in a secure and guarded complex , known as BTDC ( Bali Tourism Development Corporation) Nusa Dua.
A beautiful gardens and not a leaf out of place are the first impression. That is the welcoming vista as you enter the gate of Nusa Dua resort complex. In short, it is a world away from much of the rest of Bali. Notwithstanding, its secluded situation, if you decide to stay at Nusa Dua, whether it is at The Grand Hyatt Bali or other luxury resorts in the area, you will not short of things to do near Grand Hyatt Bali.
Most visitors come to Nusa Dua if they are looking for a relaxing beach holiday. You can spend your days swimming, enjoying the scenery across the water, and having dinner on the pretty beaches here.
There are also a range of cultural activities in Nusa Dua although many tourists skip these in favor of staying in the confines of their resorts, but there is a huge amount to enjoy here in addition to the sea and sand. 
Nusa Dua Beach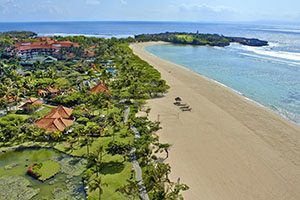 It is given when you stay at beach resort, your ultimate destination will be the beach. Nusa Dua Beach, the crystal clear shallow water lined with a pearly soft white sandy beach.
The ultimate place for you to hang out with your love ones. If you happen to have a conference here, unwind after a long day of conference at this beach.
Get the refreshing drink from Poolside Bar and order a scrumptious pizza from Salsa Verde.  Immerse yourself in the luxury of peaceful beach before you and stunning swimming pool behind you.
Pasar Senggol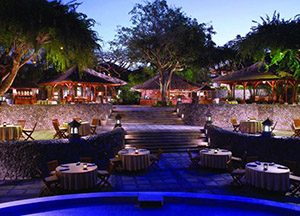 Contemporary version of traditional Balinese market, you will have a wonderful dinner under the stars. While your palate savor an eclectic choice from the food stalls around Pasar Senggol village,  offer the authentic Balinese and Indonesian cuisine.  And you can enjoy the Balinese traditional performance whilst savoring the delectable food at Pasar Senggol.
Even if you are not staying at The Grand Hyatt Bali, dinner under the stars at Pasar Senggol should be on your thing to do list. Dance the night out is something you crave for, Bali night scene is alive with bounteous clubs to choose for, for ultra high-end club, to the budget friendly, you can have it all, before you decide where to go, you should know the fancy clubs in Bali that will suit your preference.
Water Blow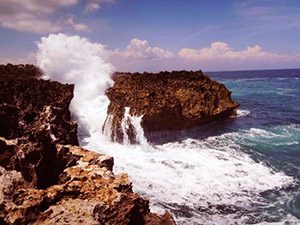 One of the best natural beauty in Nusa dua is The Water Blow, located next to The Grand Hyatt Bali.
The blow comes through the narrow slit of coral and hit the reef.  Because of the wind and water pressure the water rise and explode at the top of the cliff. Blowing water looks like a dancing white foam from a far.
If you don't want to get wet, do not stand by the edge of the cliff, because when the water will blow out of the blue. Surely it will make you wet and also dangerous to stand by the edge. The best moment to visit the water blow is during the high tide.
Bali Collection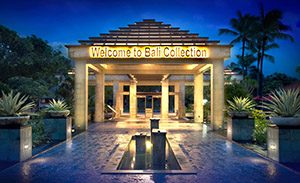 Bali collection is the largest shopping, dining and entertainment complex in the heart of  Bali Tourism Development Corporation. Featuring the wide selection of tenant, that will meet every needs of the visitors. Here you will find a different categories of stores , you can choice any stores base on your preference and your budget.
In the evening you will find several of entertainment performs here, from traditional Balinese, live music, you will find a frenzy night away from hustle bustle of the cities. Plenty of restaurant are available , to suit every taste bud.
As for the shopping you will find the prominent Sogo Department store, to local chain stores, designers label to traditional fashion and merchandise. You don't need to find another place for your necessities, even the souvenir to take home, you will find it all in one place. 
Tanjung Benoa Marine Walk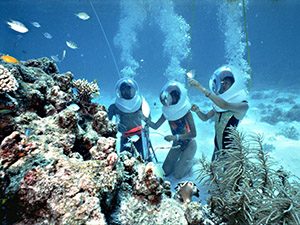 Dare to have a deeper dip on the ocean? Marine walk is a challenging yet fun activity you can do while you are in Nusa Dua area. You can do Sea walking at Tanjung Benoa beach, which is very close from BTDC. So if you stay there, this is really an activity you need to put on your thing to do near The Grand Hyatt Bali.  Let's explore the underwater habitat, the colorful fishes, coral and reef in the clear ocean water.
Walking on the seabed is ideal for those who keen to explore the amazing underwater life but not confident enough to swim in the ocean nor to dive. You will equipped with the latest marine exploration technology, a water resistance transparent helmet with visor, lightweight and flexible. It enable you to walk on the bottom of the sea while breathing normally and come face to face with the ocean's beautiful creation.
Before you take a dip, will be equipped with short course and a guide will accompany you and also to ensure your comfort and safety down there. There are bunches of water sport activities and other things to do in Tanjung Benoa
Don't miss out every single things, and enjoy the super fun day in the water.
Sea walking Fee : 1,250,000 idr/person
Geger Beach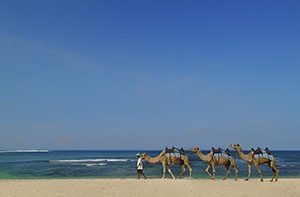 Considered as hidden beach, The Geger beach is located in the area of Peminge village, Sawangan. To reach this place, you will need to pass the Nikko hotel, but if you don't stay in Nikko hotel, then you can reach this beach through the Pura Puget road. The perfect white sands, crystal clear waters and a peaceful ambiance. A perfect place for honeymooners who want to experience a romantic and quite gateway.
An extensive part of the beach is a part of Nikko hotel Nusa Dua, they offer a unique Camel Safari package, both for hotel residents or outside guest. The unique and memorable experience of riding a camel by the sea, it will be a very interesting story to bring home with you.
Camels may not be the first thing that spring to mind when you think of Bali but that is exactly what you will find if you come to Bali Camel Safaris in Nusa Dua. The camels will take you on a leisurely walk along the sand from the Nikko Bali Resort and you can take in the scenery of the seascape as the camels ramble along. If you find this really interesting, Bali have enough wonders to give you more memorable occasion. Do not miss the excitement of the legendary Kuta area, there are countless things to do in Kuta Bali
Geger temple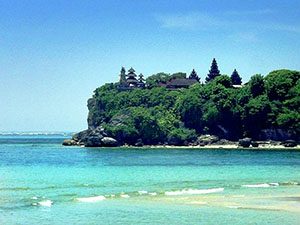 Geger Temple is located at the southern tip of Geger Beach. This small temple presents the outstanding picture perfect vistas.
The temple is hidden away behind the lush of green vegetation, most of the time you will not find too many people in the area.
Climb up the stairs and enter the beautiful carved Balinese gate and prepare yourself for the most breathtaking picturesque view before your eyes, the crystal clear turquoise sea, gleaming under the sunlight, lined with white pale sandy beach and crowned with the blue sky. This is one of the greatest Things to do near The Grand Hyatt Bali Indonesia you don't want to miss. 
Museum Pacifika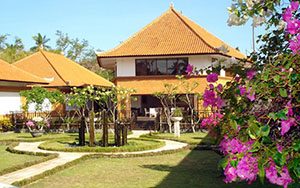 When there are no group tour visit this Museum, you will have this museum for yourself. Derives pleasure in the extensive art and historical collection at Museum Pasifika. There are an artworks from more than 250 artist from 25 countries. Take pleasure to appreciate the famous Balinese painter, Nyoman Gunarsa or prominent Javanese artist Raden Saleh.
Furthermore, they have the artwork of the important European artists who thrived in Bali in the early 20th century. You can find the work of Arie Smit,Theo Meier and  Adrien-Jean Le Mayeur de Merpres.  They present painting from Matisse and Paul Gauguin, Rudolf Bonnet, and Emilio Ambron. The art lover should not miss this Museum, and treasure the precious work of art at this almost unknown museum.
After some quite time in the museum, surround yourself with the green will be ideal, go further to Ubud area.  It takes around 2 hours to reach there, however it is worth your time, since plenty things to do in Ubud will wait for you.  Don't miss Puri Lukisan Museum.
Opening Hours: 10:00 – 18:00
Location: Bali Tourism Development Corporation (BTDC), Block P, Nusa Dua.
Jimbaran Bay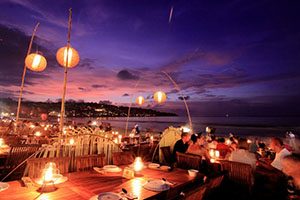 Only 15 minutes away from Nusa Dua, and you will identify the seaside with a long lines of seafood restaurant. They serve the best and fresh seafood in Bali. Come to Jimbaran bay at late afternoon, right before sunset, and have an early dinner here.
Indulges the stunning sunset and the watch the plane landing or take off, right from where you sit.
All the restaurants has the beach dining area, you will have the nice dinner with the sea breeze blow your face gently. The scent of grill fish will reach your nose and will boost your appetite. Loosen up yourself and be brave to try the traditional hot and spicy relish 'sambal matah'
Bali Wake park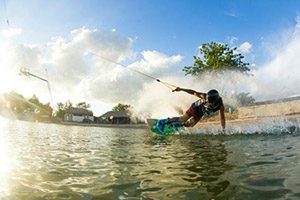 A different concept of wake boarding you can find here at Bali Wake Park. Instead of being pulled by boat, the boarders will enjoy the ride using a unique system of a looming crane. It constructed on the man-made lagoon. This system enables eight boarders to do the rides at the same time.
The wake boarders professionals can break in a series of slides or obstacles, while for the newbies it will be possible for them to learn the wake board here.
Bali wake park is designed carefully to provide more convenient facilities compare to the conventional boat pulled rides. Furthermore, The park arranges the golf buggies around the lagoon on standby. In order to pick up  to pick up the fallen boarder. Moreover, You can  enjoy another water sport activities such as wake surfing, water skiing, knee-boarding at this park.
Riding pass started from 625,000 idr. 
Serangan Turtle Island, Turtle Conservation and Education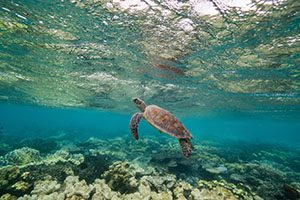 If you are looking for something different whilst your stay around The Grand Hyatt Bali, visiting Serangan Island, will be a fabulous option. At Turtle Conservation and Education Center you will be able to learn and having a pleasant experience.
Exist to eradicate illegal turtle hunting and trading around the island. With the full support from WWF, Governor of Bali, the Major of Denpasar, municipality authorities, the Provincial Nature Resource Conservation Agency and local community, TCEC doing a hard work to conserve the turtle in Bali.
The center also directly helps to protect turtles by hosting injured animals, collecting nests from tourist beaches around Bali. They bred the eggs at the center, and when they are old enough they will release the turtle to the beaches. Hereabouts, you will be able to get close and personal with the turtles.
From Nusa Dua, you can take either the boat or expressway directly to Serangan Island from Tanjung Benoa.
Location: TCEC, Turtle Conservation and Education Center,
Jalan tukad punggawa lingkungan Ponjok, Serangan 80229,
Denpasar, Bali
Puja Mandala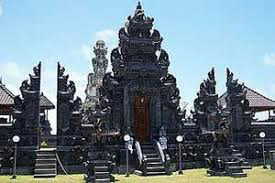 Puja Mandala  Temple at Nusa Dua, is the place where people can see the diversity in all religion in Indonesia within one complex. It is an example of respecting each other faith in daily life. The artistic and charm are  as beautiful as the values they want to share with the world.
Puja Mandala temple is a worship complex  which was built in an impressive details. Stands as a symbol of closeness between religious communities, in order to coexist peacefully.
It actually means 'Hill of Worship' in Indonesian and atop this pretty promontory you will find a Buddhist temple, Hindu Temple, Catholic Church, Protestant Church as well as a mosque.
Furthermore,  take a close look  at the refine craftsmanship of the decoration on each building. The decoration on each worship house has their own meaning, based on their own values and beliefs.
Your Things to do near Grand Hyatt Bali will not be complete without visiting a nearby city Sanur or sail to adjoining island and things to do in Nusa Penida.