Consisting of more than 17,000 islands makes Indonesia becomes the biggest archipelago country. However, among the 17,000 islands, there are only 5 main big groups of islands with also big population in Indonesia. They are Java, Kalimantan, Sumatra, Sulawesi, and Nusa Tenggara islands.
Even though Sulawesi is considered as the main island with big population, there are many small islands within Sulawesi which have low population. The example of the islands are Togean Islands in Tojo Una Una Regency, Central Sulawesi.
Togean Islands are an archipelago that consists of 56 islands located in the hidden area of Gulf of Tomini, Central Sulawesi. The location makes Togean islands becomes less visited by tourists.
Even though it is less visited, it doesn't mean that the islands have nothing to offer. The islands are actually surrounded by beautiful natural scenery that will surely work as an escape from your daily stressful routine. So, if you hope to have a nice, peaceful vacation, then visiting Togean islands is the answer.
How to get to Togean Islands?
The islands can be accessed by driving 375 kilometers or by plane for 45 minutes from Palu to Ampana, the capital city of Toja Una Una regency. Then, from AMpara, you can take speed boat to Wakai for about 45 minutes. The speed boat usually leaves at 10-11 AM every day. You will need to pay IDR 130,000 per person to ride the boat.
As soon as you arrive at Wakai, you can rent small boat rented by the locals in order to arrive at Kadidiri Island, Katupat Island, or Malenge Island, which have homestays or resorts as your place to spend the night during your vacation in Togean islands.
When you have arrived there, it's time to prepare for things to do on the islands! As your guide, here is a list of 7 exciting things that you can do in Togean islands, Central Sulawesi.
1. Swimming in Mariona Lake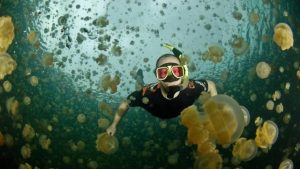 Swimming in Mariona Lake is highly recommended when you are in Togean islands. Swimming in this lake will give you a wonderful experience as you can swim with pungent jellyfish that are pink, blue, and white in color.
This unique experience can only be enjoyed in three places around Indonesia, and Mariona Lake in Togean islands is one of the places that offer this unique attraction.
Thousands of years ago, the lake was closed from the sea due to sudden geological changes. Many jellyfish trapped and as time passed, they lost their stings. Thus, it is safe to swim in the lake.
Moreover, it is also popular as a fantastic snorkeling site. So, make sure to bring anything you need for an underwater photo.
Besides Mariona Lake, there are many other beautiful lakes that you can visit in Indonesia. They are magnificent lakes in Sumatra, lakes in Bali, lakes in Jambi, and lakes in Bogor. Make sure to check them!
2. Interacting with Orang Bajau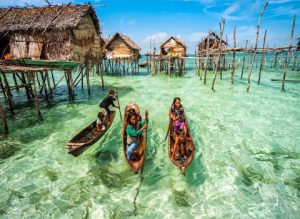 Besides finding peace in the nature, you can also find a peaceful experience while interacting with Orang Bajau, the local people live in Togean Islands. Interacting with Orang Bajau will make you count all the blessings that you have and understand about how happiness can be found in many ways.
The word Orang itself is derived from Bahasa Indonesia which means people. The Bajau is often called as the Sea Gypsy. They traditionally live in villages that were built on stilts of coral reefs. Since they live by the sea, most of them work as fishermen.
3. Climbing Mount Una Una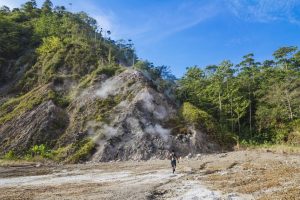 If you want to spice up your vacation to be a bit adventerous, then climbing Mount Una Una is an exciting thing to do when you are in Togean Islands. It is located in Una Una Island. Mount Una Una is relatively low with about 238 meters high above sea level.
Even though it is not so high, it is safer for you to climb the mountain with a guide or a local person who will guides you to the top. It takes around 2 hours to reach the top, so make sure to charge your energy first and bring some water to keep you hydrated.
4. Interacting with the beautiful sea creatures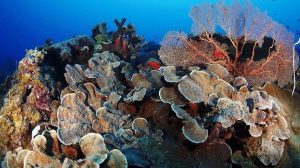 Besides the unique experience in Mariona Lake, you can have another round of water activity in Togean Islands by diving or snorkeling where you can interact with the beautiful sea creatures that inhabited the islands' sea.
Togean Islands is one of the most exciting spots of diving in Indonesia. The water is crystal clear and the sea creatures are diversed. You can find black-tail barracuda, turtles, sharks, colorful fish, and many more.
The coral reefs are also wonderful. Diving or snorkeling is the best way to enjoy the sea and interact with the sea creatures.
5. Enjoying local foods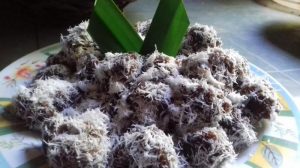 Well, you might know that Indonesia is also diversed in culinary. From tasty Maluku foods to North Sumatran foods, all are here in Indonesia. Therefore, when you are in Togean Islands, you will also find the local foods. Make sure to give them a go.
The foods are mostly seafood since the islands are surrounded by sea. However, there's also sago, the main food typically served in Eastern Indonesia, roasted or boiled.
In Togean Islands, you will find sago served as a sweet snack that is balled into balls and mixed with brown sugar and granted coconut, creating chewy, sweet snacks that could lift up your mood.
6. Closing the day with a sunset at Karina Beach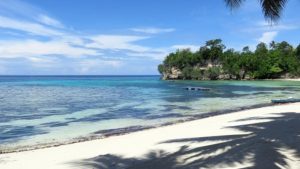 As a closing for your wonderful day in Togean Islands, you can wrap it up with a relaxing afternoon by sitting on the white and clean sand of Karina Beach. The beach is fairly quiet, making it perfect as a spot to rest up after an adventerous journey.
You can sit on the sand by yourself or with your loved ones, sharing about anything you have in minds while waiting for the sun to set. What a wonderful thing to do to end the day.
The incredible view will make you realize how beautiful the islands are and how nice nature is by providing you with this beautiful scene.