Jakarta is a capital city that never die. We can find everything easily in Jakarta. The capital city that accommodates millions people who compete their luck, start from employees until open their own business in Jakarta. This life fatigue makes people, especially youth look for ways to relax their bodies and minds from their nonstop work. One of excursion for refreshing is visiting cheesy rooftop that can be found in Jakarta.
Best Rooftop Bars and Sky Lounges in Jakarta
The fatigue of living in Jakarta usually can be passed with fun activities, such as hang out with friends and eating together, or dating spouse. Jakarta tourist attractions such as culinary will be an endless activity in our capital city. Currently there is some places that provide a good view beside a good savor. Who says that a rooftop restaurant always juxtaposed with expensive? Let's notice names of Jakarta Cheesy but exclusive Rooftop you can visit!
Awan Lounge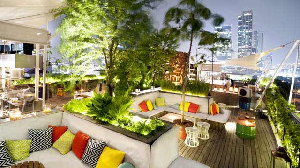 Awan Lounge is a restaurant situated in 9th floor of Kosenda Hotel in Tanah Abang, on its rooftop exactly.
This place is supported by cosines, sofa availability, and soothing colorful view. Some spots are need to be reserved and minimal payment depends on the spot you choose, for example sofa area.
This place can be used for consolation as relaxing to see a beautiful view with good price. You can eat and drink with budget for two persons between Rp 100.000 until Rp 200.000 depending on the food that is ordered. Here more best places: Things to Do in Kemayoran Jakarta.
2. Karumba Rooftop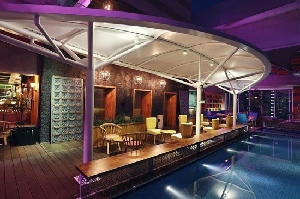 Here's the best rooftop bars and sky lounges in Jakarta. Karumba rooftop spot as an eatery offers a romantic rooftop view, located in 19th floor of Mercure hotel in Simatupang area, South Jakarta. Karumba, besides used to be restaurant for mind relaxation, also used for Jakarta photo spot.
Karumba rooftop is an option of those Jakarta cheesy rooftops you can visit. The foods and beverages cost are various from Rp 50.000 to Rp 200.000.
Karumba rooftop is an elegant rooftop that shows a magnificence of Jakarta at night. With a strategical place in Simatupang that surrounded by offices area, you can take an opportunity to relax for a moment or dinner together. In addition, you can capture photos to celebrate your togetherness and enjoyment with your colleagues. You can also come to Karumba to avoid the traffic jam. Here more best places: Instagram Worthy Restaurants in Jakarta
3. Skye Restoran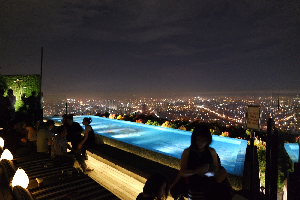 Skye Restoran is one of the pioneers of Restaurant with a dining view from rooftop. Skye Restoran that founded by Ismaya group is situated next to Grand Indonesia in Thamrin zone.
Rooftop view can be seen at 56th floor of BCA tower, where Skye Restoran is placed. According to its name, sky, this bistro gives a pretty view of Jakarta, seen from that 56th floor.
Except that, this bistro has policy such as dress code, i.e formal dress and it does not allow to wear shirt and slippers. With the sight of lounge outdoor area, we can see the night atmosphere of Jakarta with splendor of colorful lights. The foods and beverages costed from standard to high priced for aperitif. You can trick it by order common drinks and dessert.
4. Cloud Lounge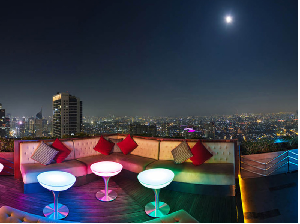 Cloud Lounge is one of classy restaurants that provide enchanted view in Thamrin area, Central Jakarta. It is one of Jakarta night culinary that offers romantic outlook from the 49th floor.
For access Cloud Lounge, you can pass The Plaza towards 49th floor by changing the lift from The Plaza. The foods' cost are various from the cheapest to the most expensive like aperitif.
You can hang out to Cloud just for assembling together, treating your eyes, and capturing photos. So, you can eat snacks, such as nachos or just try the drinks. Interestingly, you can see the beauty of lights and Jakarta at night from the 49th floor with elegance impression. You can trick the foods and beverages by order the rollicking menu. Here more best places: Romantic Garden Restaurants in Jakarta with Affordable Outdoor, Fine Dining for Your Special Date!
5. The Edge Lounge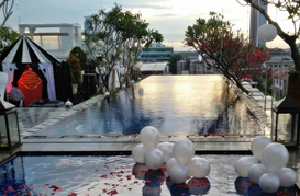 The edge is the next inexpensive rooftop bistro in Jakarta that located in Kemang, South Jakarta. The area is divided into several floors with a pool area that presents a beautiful outlook to see the sunset.
The offered menu is similar with the menu cost of pasta restaurant in the mall commonly. This culinary place in Jakarta dishes up hang out atmosphere with the various western cuisine i.e pasta.
To enjoy the atmosphere of hanging out is not only obtained from the mall. Then you can try to assemble together for enjoying the beauty of Kemang whilst you are relaxing at the pool side. With the similar cost to culinary at the mall, you can try new things.
6. BART
BART is an abbreviation from Bar at the Rooftop that located in Menteng, Central Jakarta. BART is a lounge which is dominated by black and white as the main feature.
BART can be made up as a place for new year in Jakarta besides a place for hang out with friends.
BART is located on the 7th floor of Artotel Hotel in Menteng. BART itself serves foods such as snacks and beverages that can be bought at a price for a hotel class.
You can whip up Rp 100.000 to Rp 200.000 each person for hang out with friends. Don't forget to try its favorite food by asking the waiter. Here more best places: Jakarta Restaurants with Outdoor Seating
7. 33 Degree Sky Bridge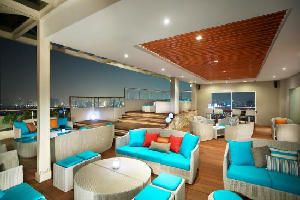 33 Degree Sky Bridge offers a sensation of eating at the rooftop with Ancol view and Jakarta city over Marina hotel. It is located at Aston Marina hotel in Ancol.
So, in addition of seeing the beauty of Jakarta from the sky, you can feel the sea scent whilst you savor the dish. You'll find the standard cost of hotel' foods ad beverages here, so you can trick it by ordering the medium menu and eat together in between you are taking picture.
The prettiness that offered by 33 Degree Sky Bridge such as the unique of Ancol atmosphere at night with the lively Jakarta city. For the beverages' cost, especially for alcoholic one is priced with expensive price indeed, so you can anticipate it by ordering non-alcoholic drinks and rollicking foods together. The domination of lue will relax your eyes and heart from the rush of your works that day. That's the the best rooftop bars and sky lounges in Jakarta.
8. Hause Rooftop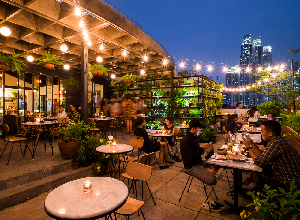 Hause Rooftop is an inexpensive hang out place in Jakarta that situated at Setiabudi. You can hang out in between lie in wait for the dusk with your friends. It offers various dishes, for example Asia and Western menu such as pasta with the similar cost to the restaurants at Jakarta malls.
You can try the shared dishes with friends or mate. You can try pasta or just drink at Hause Rooftop.
Setiabudi area certainly is a strategic place in South Jakarta that crowded with kinds of offices and malls. Besides, you can try to enjoy the night by hang out together in Hause Rooftop for refreshing. With the unique of lamp decorations, you can enjoy to wait for the twilight with friends or your couple and taste the pasta. You can find Hause Rooftop at MD Place in Setiabudi.
9. Shy Rooftop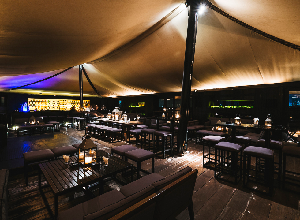 This rooftop at Kemang area is a rooftop with music concept. With the tent inside, you can feel the different nuance from the other rooftop.
You can find the address at Papilion in Kemang. The foods' cost is in the same range of the other rooftop. Don't worry, you can anticipate it by ordering the shared foods.
This Shy Rooftop is located in the crowded urban area in South Jakarta. Comes with the fresh concept of music from the band can add the splendor to be enjoyed together.
This hang out place is adjusted to the youth who needs an entertainment from the fatigue of works at Kemang and the surrounding places. This hang out plce can be used for alternative so you don't get bored by just spending time or culinary at the mall with your friends.
10. La Vue Rooftop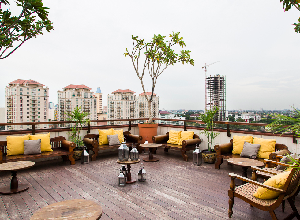 La Vue is one of those cafe restaurant concepts that located in Menteng. At the 9th floor of Hermitage hotel is the address of La Vue Rooftop that you can find. Comes with the outside orientation concept in order to be able to notice the center of Jakarta. You can also enjoy the twilight at this rooftop whilst you relax and converse. To anticipate the fee of the foods, you can share together with your friends.
La Vue Rooftop shows us the clear outlook of Jakarta that can be enjoyed when it is dusk or night. The unique concept of this Hermitage hotel is made by the combination of restaurant and cafe concept that can be used for hang out place with friends.
With the foods and beverages' cost started Rp 60.000 to Rp 100.000, La Vue can be used for dining and enjoying the night atmosphere of Jakarta by relax. From the outdoor decoration you can get the benefit and relax the afternoon fresh air of Jakarta at once.
11. 8 Lounge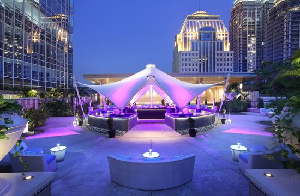 8 Lounge is lied on the 8th floor of Jakarta Ritz Carlton hotel with the indoor and outdoor concept. You can come over there when there is a special moment you don't want to forget immediately and can be memorized.
8 Lounge is the right choice for seeing the outlook of Jakarta atmosphere from this skyscraper . Other than that, you can spend your time with your mate to see the relaxed feeling while you're taste the dish of Ritz Carlton hotel.
8 Lounge is one of those elegant area that offers the beauty of Jakarta that seen from Ritz Carlton hotel. You can anticipate the cost of foods by ordering drinks only or lager beer just for the sake of relaxing. You can also enjoy and taking picture  to celebrate every moments in Jakarta. Here more best places: Things to Do in Pantai Indah Kapuk Jakarta
12. Lucy in the Sky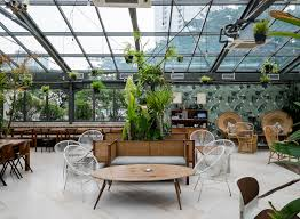 Lucy in the Sky addressed in Central Business District Jl. Jendral Sudirman in South Jakarta offers hang out air for youth. After coming back from work and wait for the jam, you can relax in one of the Jakarta rooftops that offer natural and eye-catching atmosphere.
The foods in Lucy in the Sky priced from Rp 100.000 to Rp 200.000 / person, depends on the ordered menu.
Lucy in the Sky can be used for photo spot to fill Instagram post or Path. Other than that, the snacks and drinks can be found here to be enjoyed with friends whilst waiting for the dusk or just for the sake of relaxation. You can invite your mate to celebrate special moment in this restaurant.
Culinary tours for Jakarta rooftop area above can be an option for weekend or when return from work. You can try other tours like Angke Kapuk tourist park as another alternative place to enjoy natural atmosphere of Jakarta. Or you can try Cikole graphic tour and come over Lemang when long weekend to enjoy the fresh air of Lembang.