Mamuju is the capital city of West Sulawesi province. Many people favor this regency due to its stunning beaches which are located mainly in the west part of the region. You can surely have a peaceful vacation at these beaches.
Exploring Sulawesi Provinces is fun as it is home for a lot of interesting places, such as mountains to hike in North Sulawesi and beaches in Bulukumba, South Sulawesi.
Let's get ready for sunbathing at these 4 beautiful beaches in Mamuju, West Sulawesi.
The first beautiful beach you can visit in Mamuju is Manakarra Beach. This beach is located not far from the downtown and even part of the famous Mamuju Cape! It is also the villagers' favorite spot to spend a relaxing family vacation during weekends.
The first thing you will notice once arriving at this beach is the unique monument along with the big gong. Then, you will see the big name sign of the beach resides near it. As these objects are the prime allure of Manakarra Beach, many visitors never miss a chance to take some photos in front of them.
In the horizon, visitors may see Karampuang Island easily along with the exotic sea. At night, visitors will be able to see numerous lights coming from passing by ferries. It is really wonderful for sightseeing and relaxation.
There is no hotel found nearby, so you can build your tent and have a camping here. The sunrise looks really wonderful in the morning, welcoming you away after waking up.
Manakarra Beach is also listed as one of the tourist attractions in Mamuju. So, it is a must-visit for everyone!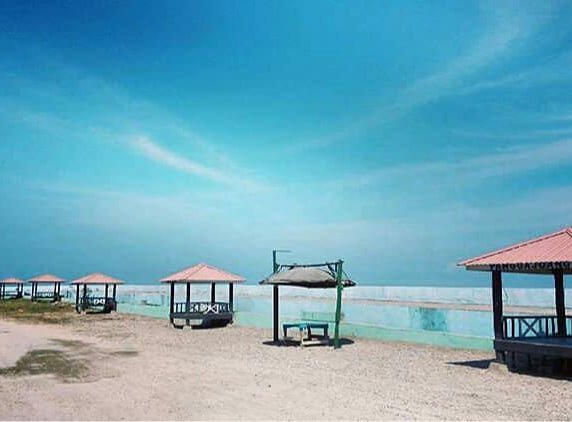 The next beautiful beach located in Mamuju is Babana Beach. Babana Beach is located in Bebana Village, Budong-Budong Sub-District. Due to its location, this beach is easy to access by everyone.
Not only having easy access, Babana Beach also offers comfy atmosphere to enjoy a relaxing vacation both by yourself or with you family. Doing some casual water sports, such as swimming is also recommended!
Babana Beach has a soothing atmosphere along with the beautiful sea scenery and satisfying accommodations. You will notice some gazebos formed along the shoreline. The best thing about it is visitors can use these accommodations freely!
Besides the beautiful scenery of the beach, visitors can also enjoy the view of the lush mangroves near the port. Along the shoreline, you will also notice white and black sand. The texture is soft, so it is comfortable even when you go barefoot.
Tapandullu Beach is located in Sumare Village and has become one of the locals' favorite spots for spending their weekends and holidays. The good thing about this beach is its accommodating facilities, so it is perfect for a family recreation.
Most tourists visit this beach because of the complete facilities, such as gazebos and fun boats. No wonder everyone will be able to spend a relaxing family recreation here.
The beach comes with a white sandy shoreline along with the calm waves. That's why it is considered safe for swimming and playing water here, even for children (but make sure they are accompanied by their parents). There are some banana boats and speedboats as well!
During weekends, this beach can get very crowded. You can see many local people and tourists as well spending their family recreation here. You can also stay at the gazebos for relaxation.
Sit on the gazebo and watch the stunning scenery of the sea. Beach walking is also recommended as the white sand is quite smooth and comfortable enough for beach walking.
Another wonderful beach waiting for you to come in Mamuju is Tanjung Losa Beach. This beach is located in Labuang Rano Village. While you're heading to this beach, you will pass some fishing villages including Sumare, Tapandullu and Rangas. You can even drop by in those settlements to try some delicious local foods and even meet the friendly locals!
When you arrive at the beach, the beautiful shore will welcome you. The most noticeable feature of this beach may be the big coral reef with some growing plants on it. The water at this beach is also considered calm, so it is suitable for you who want to enjoy some water sports, like swimming and snorkeling.
Besides enjoying the beautiful panorama, photography will be another fun activity you can do here. As mentioned before, there are some interesting spots here, such as the big coral reef with some plants growing on it. You can even get into the reef easily, however, be careful as the surface might be a bit slippery and rough.
Lastly, don't miss doing water sports here. Not only swimming, but you can also go snorkeling and diving! Enjoy the stunning corals and fishes located only 5 meters apart from the shoreline. Unfortunately, if you wish to go snorkeling, you must bring your own snorkeling gear as there is no facility available to rent those items.
Not only in Mamuju, there are also some stunning beaches nearby. You can check best beaches in Sulawesi. Besides beaches, you can also try exploring tourist attractions in Pinrang.