Indonesia never runs out of amazing attractions, from lakes, mountains, river, forests and many more. No wonder, this country is always successful to attract tourists, both the locals and foreigners.
Many people love to spend their weekend getaway with both friends and family in a relaxing and rejuvenating way, especially after they spend a long tiring week of work. Getting a vacation to a mangrove forest is a good idea for healing.
Java island has some beautiful mangrove forests which are recommended for your weekend getaway. Let's take a closer look at each of these 6 dense mangrove forests in Java which are perfect for your healing!
Wana Tirta Mangrove Forest, Kulon Progo
Wana Tirta Mangrove Forest is one of the beautiful mangrove forests in Java. Though it is quite small, it is brimming with some Instagrammable photo spots and its enchanting views. While you're here, make sure to stroll down the Siapi-api Bridge to enjoy the enchanting scenery of the lush green mangrove canopies and the refreshing river.
Take some pictures at different photo spots too, such as bamboo walkways, gazebos, canopies and some ornaments. You can take some great photos when you explore the river by a boat too.
If you plan to visit this mangrove forest, make sure to wear comfortable, light and vibrantly colored clothes so that your photos will be stunning!
Muara Bengawan Solo Mangrove, Solo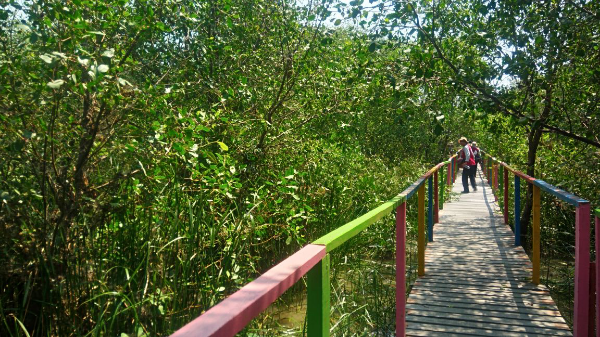 Let's move to Solo where there is the legendary Bengawan Solo, the longest rive in Java. This river flows through two provinces: Central and East Java. If you visit Muara Bengawan Solo Mangrove, you will get a chance of sailing up the river. You will enjoy both the peaceful mangrove forest and a beautiful and diverse marine ecosystem.
If you wish to go across the river, then you will use a boat. You will be required to wear a safety jacket so that you will be safe during the trip. Enjoy the view of green shells and the peaceful ambience of the forest while listening to the bird whistle.
While you're in this city, make sure you also feed yourself by tasting the delicious foods in best restaurants in Solo.
Edupark Mangrove, Semarang
Edupark Mangrove is located in the Maron Beach area. It is one of the worth-visiting mangrove forests in Java island. This mangrove forest offers beautiful panoramas along with the fresh air.
While you're here, you can watch the airplanes flying over the forest and take some interesting photos with the airplane as the background. Furthermore, if you wish to get the best panoramic view of the surroundings, you can climb up a 10-meter-high tower in the forest.
Mangrove Forest of Kadilangu Sand, Kulon Progo
Located between Kulon Progo regency and Purworejo regency, Mangrove Forest of Kadilangu Sand offers fresh air and immense view of the surroundings. This mangrove forest is considered as one of the most congenial place for healing.
Besides the scenery, you will also get a chance to take a lot of photos with several interesting backdrops, such as love anchors, swing decorations and heart-shaped bridges.
Interestingly, you can also explore the mangrove while enjoying the sunset view. Get a romantic moment with your partner by enjoying the mesmerizing view of the sunset.
You can then visit some tourist attractions in Kulon Progo nearby that will make your vacation more interesting!
Wonorejo Mangrove, Surabaya
Another mangrove forest in Surabaya is Wonorejo Mangrove. This mangrove forest is located near Juanda Airport. It is far away from the city's hustle and bustle with an area of approximately 200 hectares. This place will give you a quiet and peaceful ambiance with an amazing view of mangrove trees and canopies.
Explore the mangrove forest by strolling around the wooden walkaway which leads you to a pavilion by the pier. From here, you can find a boat to take you to the heart of the forest.
While you're exploring the forest, you will spot some wildlife, such as chattering birds and crab-eating macaques which hang cheerfully on the branches of the trees. You can even learn to plant mangroves too!
Java island is full of amazing places to explore, such as elaborated in mountains in Java for beginners and 7 national parks located in Java island. If you love visiting mangrove forests, get ready to explore these mangrove forests in Indonesia and get healed!