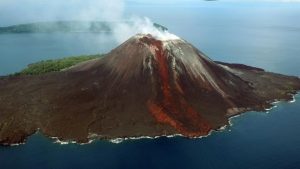 Do you want to try different tours but want to save on expenses? Try for a backpacker-style holiday to Krakatau. Yup, an area between the Sunda Strait is known as Anak Krakataunya Mountain is still active as a volcano in the middle of the sea.
However, not only Mount Anak Krakatau alone. In one of the tourist attractions in Bandar Lampung, you can travel nautical and enjoy the natural beauty of the sea Sunda Strait.
In this article, we will give some backpacker tips to Krakatau. Guaranteed after you follow the tips from us, your holiday will be fun and spending is not swelled. Do not belong, following Krakatau day trip tips for backpacker from us:
Transportation to the Peacock
To reach Krakatau, you have to cross first in Merak Port. Well, there are several transportation options that you can use to get to Merak from Jakarta. However, the cheapest transportation option that you can use for a backpacker-style holiday is to use public transport. Some of the tips below will explain some of the public transportation you can use towards Krakatau.
The first option is the DAMRI bus majoring Lampung. The pool bus is located behind Gambir Station. The bus fare is Rp 145.000, -. The price includes ferry tickets to the majors of Merak – Bakauheni. This option you can take if you depart from other cities on the island of Java by train. Because it is included in the intermodal transport system managed by the Ministry of Transportation. Our advice, if you use the DAMIR bus from the Gambir Station pool, book your ticket at least 2 days before departure to prevent you from running out of tickets. Especially if you leave with a group.
The second option is to use public buses using Jakarta – Merak route. Estimated ticket fee to be incurred is Rp 30.000, -. Of course, the price does not include the Merak – Bakauheni crossing ticket. This option is suitable for you who depart from another city by bus.
The third option is to use rail mode. If you depart from another city on Java by train, get off at Jatinegara Station. Next, go up KRL Commuter Line destination Jakarta City. Then, transit at Manggarai Station to board the Jatinegara Commuter Line KRL (The point is not back again. Route route is turning to North Jakarta). Furthermore, transit in Tanah Abang to board the Commuter Line KRL destination Rangkas Bitung. Then from Rangkas Bitung Station, you board the Peacock destination train. For ticket price from Rangkas Bitung to Merak itself ranges Rp 8.000, -.
Also read: Things to Do in Bandar Lampung Indonesia
Take the Marine Ship to Bakauheni
The Krakatau day trip tips for backpacker – After arriving at Merak Port, then you will board the ferry. To cross to Bakauheni Harbor, Lampung, you will be charged the ticket price of Rp 15.000, -. Travel duration ranges from 2.5 hours to 3 hours.
During the trip, enjoy the atmosphere of the Sunda Straits that you will enjoy when you arrive at Krakatau. Even though, you should get ready to enjoy the facilities of Merak – Bakauheni crossing that need improvements, such as bathroom quality, safety equipment, and others. Think of it as "coloring" your journey.  
If you want to rest during the trip, you can enter the business classroom, at an additional cost of Rp 10.000, -. You can rest on the soft sofa and air-conditioned room in the room. If you want to save money? Well, you can only enjoy an economy class. Also read: Backpacking Guide to Indonesia
Transport from Bakauheni to Krakatau
Once you arrive at Bakauheni Harbor, you can go to Krakatau by boarding the bus majors Bakauheni – Rajabasa. Then go down at Simpang Fajar to continue the trip with motorcycle taxi to Pasar Inpres. From Pasar Inpres, take an angkot to Canti Port. Arriving at Port Canti, you can rent a motorboat to Krakatau. The rental price ranges from Rp 450.000, – to Rp 800.000, -.
Or if you go with a group, you can charter public transportation to the Port of Canti from Bakauheni Port at Rp 150.000, – to Rp 200.000, – for 10 people. Or if you want to charter for a round trip, prepare money Rp 600.000, -. The fee includes a fee for pick-up from Canti to Bakauheni. Travel duration ranges from one to two hours. Also read: Best Places in Indonesia For Backpackers
Find Cheap Lodging
If you want to save money on lodging, go to Sebesi Island. On this island, there are several cheap lodging options. As a rule, the price of Rp 300.000, – for lodging that can be occupied 10 to 16 people is a reasonable price.
Well, additional information for you, electricity on the island is only lit from 18.00 hours until 00.00 WIB. If you plan to stay up late, undo your intention if you do not want to stay up in the darkness. 
Backpacker's with Group
If you notice, some of the tips above include fees if you go with a group. There's a reason why we've listed it.
The reason, because the cost of vacationing to Krakatau will feel heavy if borne by the solo backpacker. For example, the total cost of renting a vessel for hopping islands (moving from one island to another) is around Rp 4.300.000, -. Then, the cost of charter angkot to go home is Rp 600.000, -. And the cost of lodging for overnight around Rp 3o0.000. If you add up, your expenses have reached USD 5.200.000.
Not with other costs, such as meals, admission, and more. You can save the cost of lodging by bringing your own tent and paying money Rp 50.000, – and using public transportation from Bakauheni Port to Port Canti. However, when compared, spending on vacation with a group is smaller than spending on a backpacker-style holiday alone.
Therefore, invite your friends, relatives, or family for a backpacker-style vacation together. The more people you invite, the smaller the costs incurred by each person. The number of people you can take a maximum of 30 people because the maximum capacity of chartered boats is also 30 people. Also read: Best Spots for Scuba Diving in Indonesia
Bringing Food Supply
This is a backpacker tips to Krakatau that you should follow if you want to save expenses. Since logistic supply to Krakatau relies on ships that depend on weather conditions in the sea, the prices of logistical needs in Krakatau can be more expensive than in Sumatra or Java. Therefore, bring food from home. Also, prepare a snack to accompany your trip to Krakatoa. Preparing food supplies is also one of the preparations for the holidays to Krakatoa.
Do not Buy Eating on the Ship
The journey across the boat is practically exhausting. You definitely need energy intake. But during the trip on the ship, you should not buy food on the boat because the price is less friendly in the bag. You better eat first before boarding the ship, bring a stock of food from home, or wait until you arrive at the Port of Bakauheni.
Cheap Traveling in Krakatau
Time to find out the existing tourism activities in Krakatau. Well, although arguably not too cheap, but if you travel with a group, the cost you spend can be suppressed as cheap as possible.
When traveling from Canti to Pulau Sebuku Besar and Kecil you can see the ecosystem of the tropical rainforest of Krakatau. As one of the marine tourism destinations in Indonesia, the underwater beauty of both islands has become the target of many tourists who come to Krakatau. Try to snorkel. You can rent snorkeling equipment with rental price Rp 60.000, –
Next, go to Umang Island in the morning to see the sunset there. The view when the sun sets on the island can complement the backpacker-style holidays you live after a day enjoying the underwater beauty of the Sunda Strait.
In the morning, it's time to greet the sun on Mount Anak Krakatau. Entrance ticket to Krakatau is Rp 500.000, -. However, you are not allowed to reach the peak because the sulfur content present at the top of the mountain is harmful to your breathing. Also read: Indonesia Packing Checklist for Woman Traveler
Bring the necessary Goods
This is the key to a backpacker-style holiday. Bring your luggage as needed. If necessary, carry your items in one bag only. You do not need to have to carry a lot of stuff while on vacation to Krakatau. Important items that you should carry are toiletries, prayer utensils, change clothes, shoes, sandals, cash, and personal medicines. Well, the equipment that brought almost the same as the tourist equipment to the beach.
To avoid additional expenses due to buying goods in Krakatau, prepare all the items from home. Included also cash, because there is no ATM there.
That's the Krakatau day trip tips for backpacker. Hopefully, your backpacker-style holiday to Krakatau can be successful and fun yah. Happy backpacker's!