Indonesia is rich in interesting sights. Sometimes we want to travel to a place in Indonesia but hit the cost problem. Well, for those of you who want to vacation to various places of interest at a low cost, the solution is a tourist-style backpacker. Friendly pockets and can enjoy the beauty of a tourist destination without spending deeply.
Here are some destinations that fit for the backpacker, namely;
1. Bali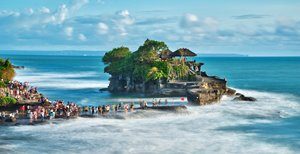 Bali tourism in Bali become one of the tourists interests. The destination of the island resort is worth entering the list of backpacker holidays. The island of Bali is a very popular tourist destination among domestic and foreign tourists. (Read: Hidden Places to Stay in Bali )
Most of the tourist attractions in Bali can be a tourist destination for backpackers. For example, Kuta Beach, Nusa Dua, Gianyar, Besakih Temple, Lake Batur, Jimbaran, Tampak Siring, Sanur, and so on.
Even more fun again, now there are bus trans sarbagita as a means of transportation around interesting places on the island of Bali. Traveling on the Island of Gods is very fun because nature is fascinating and rich in culture.
2. Karimun Jawa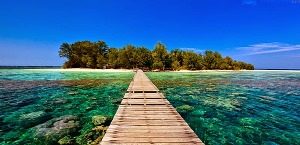 Karimun Java, located in Jepara, Central Java, became one of the famous places and favorites for tourists, especially backpacker.
Beautiful beach and exotic with underwater scenery that is not less beautiful plus the cost is cheap. Everything we can find in this place. (Read: Things to Do in Karimun Jawa Island Indonesia )
Javanese karimun tourism is in great interest by the young people, because the dominant tourism with this sea has the beauty of the underwater is quite fascinating, so the tourists feel at home for long and back to this place.
3. Lombok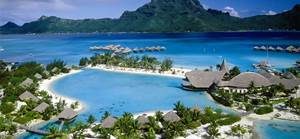 Lombok Island Lombok, another favorite backpacker. To reach the island of Lombok, from Bali we can ride the ferry with the distance for 4 hours with a fairly affordable cost of around Rp 40.000, -. (Read: Sunset Viewing Points in Kuta Lombok )
Some places we can staying while on vacation in this island include Senggigi Beach, Batu Layar, Batu Bolong, Sekotong Beach, Gili Island, Rinjani, Sendang Gila Waterfall, Gili Nangu, Tamana Nardama, and so on. 
4. Komodo island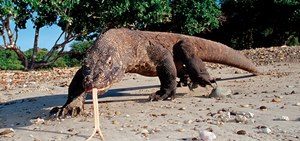 Komodo Island Island name taken from the name of animals that exist only on the island is very fitting for those of you who want to do backpacker tours while adventuring. Yes, like in the movie Jurassic Park, you know. (Read: Things to Do in Komodo National Park Indonesia )
Komodo Island, including one of the wonders of the world. Here we can find a giant lizard. However, must be careful because saliva that contains many bacteria. So if bitten by this giant lizard, can be very dangerous to us.
And the island of Komodo is including the extreme tourist attractions in Indonesia are worth a try.
5. Tanjung Pinang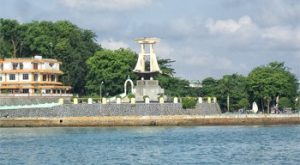 Here we can enjoy various treats from unique and interesting Malay culture. A variety of typical Malay cuisine with beautiful tours is very fitting for backpacker tours. (Read: Things to Do in Tanjung Pinang Indonesia )
Tanjung Pinang is the capital of the Riau archipelago, which is on the island of Bintan. Tourism pinang is not booming other marine tourism but has a diversity of beautiful places that become tourist icons in Riau archipelago.
Therefore, marine tourism in this region is more dominant because it is located in the island and international areas, such as easy access to Malaysia and Singapore, and other interesting tourist attractions such as trikora beaches, stinging islands, and Bintan islands. 
6. Palembang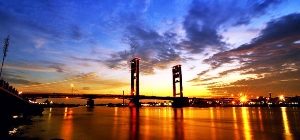 Palembang lot of interesting attractions in Palembang. In this city empek-empek, there are remnants of the Sriwijaya Kingdom and Ampera Bridge is very beautiful. (Read: Things to Do in Palembang  )
In addition to cultural tours, we can also explore the Musi River by boat. If you want culinarian, can eat under the Bridge Ampera.
The city of Palembang is famous for the typical freshwater fish culinary that has a diversity in processing, no wonder if the typical food Palembang in many meet everywhere because it has captivated anyone who has tasted it.
7. Alor Island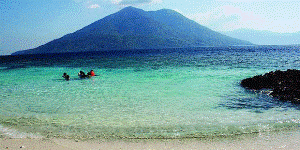 Alor Island island located at the tip of the archipelago has a charming beach and still original. Coral reefs are still very well preserved and attractive tourist destinations for tourists. This is an island that has the nickname of a hidden surge. (Read: Things to Do in Alor Island )
Alor island tour is located at the eastern end, in the islands of East Nusa Tenggara, which is limited by sea Flores. This tourist place has the beauty of the sea which is also decorated with mountain scenery.
Because alor island is on the border of other islands, such as south-western Maluku, lomblen strait, and ombay strait and Timor leste.
8. Malang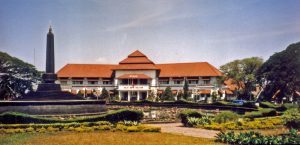 We provice the backpacking guide to Indonesia. Backpacker would love to be in Malang. The green landscape mesmerized the eyes, accompanied by apple plantations stretching here and there.
Including Mount Bromonya, a fitting tour for backpackers who like a challenge.
Malang which is part of this eastern Java, got the nickname as the city of East Java Bogor because the city is quite cool and there are many mountains like the peak in western Java.
9. Yogyakarta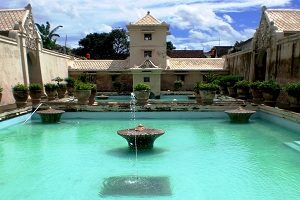 Yogyakarta which has the nickname Gudeg City is suitable for backpacker tours because in addition there are various tours (ranging from nature tourism, religion, shopping, culinary, etc.) holidays here also do not drain the bag.
(Read: Instagramable Places in Yogyakarta Indonesia )
We can explore the city as much as possible with a low cost. Especially now there are already trans-Jogja, a kind of trans-Jakarta with a very affordable price. So no need to worry bag hole. Thus, now let's check out the backpacking guide to Indonesia!
Backpacker Travel Tips
Here are the backpacking guide to Indonesia:
Prepare the camera to take pictures
For backpacker photos are the main souvenir. Because we travel backpacker style, no need to buy souvenirs that are expensive. Simply buy souvenirs at cheap places and if budget is not enough, try to bargain. If lucky will definitely get the souvenir desired. Oh, yes, keep your vacation pictures well as your backpacker-style holiday documentation.
Clothing and footwear should be comfortable
Choice of clothing should be comfortable and footwear so. Comfort is the main thing for backpackers, not styles. So better choose clothes that easily absorb sweat and dry quickly. Because the backpacker will use more public vehicles and on foot. Prepare also clothes that suit the weather in the targeted destination. For footwear, you should not use a new one because it is prone to blisters.
Street Food
Street food is certainly cheaper when compared to eating in restaurants. Then this is perfect for backpackers. But you have to pay attention to food hygiene, yes. Search for street culinary references on the internet or can also buy instant food and cook it yourself.
Choose cheap places, rarely visited, but has an attraction
One principle for backpacker travelers is low cost, including transportation. So it takes a long time to find a place like that. It would be better if the place is rarely visited by tourists, so our journey feels special and different from others.
Guidebook
Guidebooks and maps are very important if we travel especially abroad. Select a complete and trusted guide book. 
Bring essential equipment
Backpacker is traveling with a backpack alone without large suitcases which is certainly very troublesome on the way. So select only the important items and bring clothes dry fast, just a few pieces. Do not forget to leave a little place for souvenirs.
It is important to plan before traveling
Yes, travel plans are essential before doing cheap tours. We can create expenditure budgets, look for cheap lodging references, culinary, appropriate attractions, and more. Listen also the experience of others who have been vacationing to the place of the previous tour so we know what to prepare.
Search for transportation in advance
A special backpacker who want to travel using air or airplane transportation, you should book from long distances in order to price cheaper tickets.
Stay at friends' house
Staying at a friend's house can be an option to save on hotel expenses. But during his stay at home, we must keep the ethics and should not be inconvenient, especially if he had to spend money for us. Bring a gift for her and do not forget to make sure from the far day about your plan to stay at home to get certainty.
Choose a landline
Landline becomes the main choice for backpacker because the price is quite cheap and the bonus of beautiful scenery that we can see along the way. Unless it is not safe to use land routes, consider other transportation.Actually, every city has a tourist place suitable for backpackers. What's wrong with backpacker, cheap tours without making a pocket hole. Can experience interesting, refreshing, and certainly create its own satisfaction.