Ah, holiday is finally coming again this year. Do you have your own schedule? It's good if you have it. But if you don't, we are right here to help you to find all the beautiful attractions in Indonesia. This time, we go to Java island again, to find the beautiful pearls of Java, the beaches. It's one of so many good unusual things to do in Java Island Indonesia, to enjoy them.
If you want to find the exotic, wonderful and yet stunning beaches, maybe Java is one of the perfect locations to do it, because in here, there are a lot of them, like things to do in Pacet. So, without further do, let's go to the first beach of most beautiful beaches in Java island. Let's roll!
1. Pangandaran Beach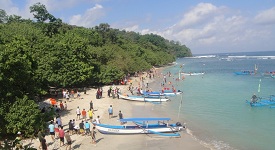 Moving on to the first beach on our list of most beautiful beaches in Java, there's this Pangandaran Beach that we want to introduce to you. This beach is actually quite popular for the locals, some foreign tourist also know this place as well.
Pangandaran will serve you the beautiful view of a beach, and the sometimes complete with the fishermen boats passing by during the evening. That package will only cost you for so little money, you just need for about Rp5.800
Location : Pangandaran, West Java
Tips : You can also rent a fisherman boat for maybe hanging around in the area.
2. Parangtritis Beach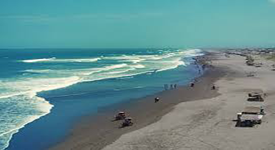 The next  beach located inside the area of Yogyakarta, the Special Region of Yogyakarta to be exact. If you go from the first beach on the list, you'll need so much time to do so. However, the name of this beach is also popular and familiar for the people around Java.
Just like the beaches around things to do in Tegal, Parangtritis also has its own unique myths. Especially the myths about the Queen of the Sea. In here, you can do basically all the things that you can do on the beach. Plus, you can also hop on a horse cart ride there. To enter, one needs to pay for about Rp3.000,-
Location : Yogyakarta
Tips : You should bring some money, for renting the cart maybe
3. Karimun Java Beach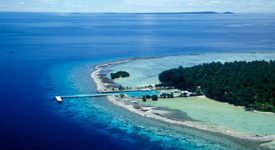 The beach that is also located in the area of Central Java, is this Karimunjava beach. The name of Karimunjava is of course already so familiar in the ears of the divers or swimmers around the world because of its amazing sea world that exists deep beneath the sea.
The tourists can enjoy all the good things that available in there, like the white sand which is so soft, the sea breeze that can always be so relaxing, and also the wonderful view of the vast blue sea. All of them you can get for only Rp7.500,-
Location : Jepara
Tips : You can bring your own swimming or diving equipments
4. Plengkung Beach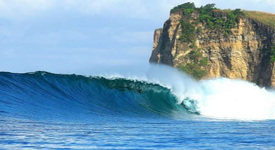 Many people love doing watersports. And watersports are coming with so many different activities. One of them is surfing. Some tourists really love for having some surfing in the beach. One of the best places to do that, is this Plengkung Beach.
This beach also has the other name, G-Land. One thing that many people love about this, especially the surfers, is the waves that are very much favorable for surfing. No wonder there are also some shops that will rent you some surfing equipments. For entering, the people need to pay about Rp5.000,- each person.
Location : Banyuwangi
Tips : Renting board will be more expensive, you can cut the budget by having your own board
5. Anyer Beach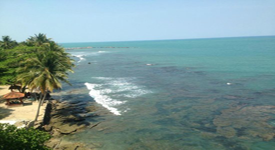 Living inside a big city is sometimes stressing. Every human needs a refreshment if facing that condition. One or two things to do it, is to visit the natural attractions possible, that can give much relaxaton for the visitors. The best place to do it, is the Anyer Beach, with its things to do in Anyer.
This Anyer beach is like one of the best beaches on the area of western Java. For the people who live in surrounding big city, they can come in here and have like the exotic beach that looks like a beach in Raja Ampat, but still within the area of their island. To enter the place, the tourists need to pay the parking ticket starting from Rp25.000,-, and more. 
6. Bale Kambang Beach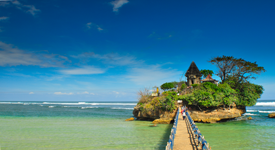 From the western part of Java island, we will switch on the east side of Java island, on the province of East Java. In this province, there's this city called Malang, that completed with its things to do in Malang. One of them, is this Bale Kambang beach.
This Balek Kambang beach is actually little hard to reach, because you'll need some efforts to go there. First, you need to go to the area of Turen, and then just following the road that leads to this beach. Even though it's hard, the beach itself is very satisfying. Everyone who wants to enter the place should pay the Rp15.000,- entrance ticket
Location : Malang, East Java
Tips : You should go back to the nearest city in the evening to avoid the darkness on the night (because mostly there are not so many lights on the street)
Other Best Beaches in Java
Wait a minute. Those locations are still not enough. What a beast you are. But don't worry, we'll back you up with another list filled with choices of place that maybe you want to visit too. So here it is, the other most beautiful beaches in Java, just for you.
Banyutibu Beach
Peh Pulo Beach
Klayar Beach
Jungwok Beach
Karangbolong Beach
Buyutan Beach
Pulau Merah Beach
Tanjung Lesung Beach
Watukarung Beach
Sawarna Beach
Yep, our list done here. That is all the most beautiful beaches in Java that already included in our article for today. So what do you think? Are they worth to visit for this holiday? There are so many reasons to say yes for them.
By visiting Java island, you can save a lot of budget for travelling (because you're gonna stay in Java only), and of course the facilities in here are mostly already complete. So, by visiting Java island, you can still enjoy all the great things in here without taking backward steps.
Best Beaches in Java