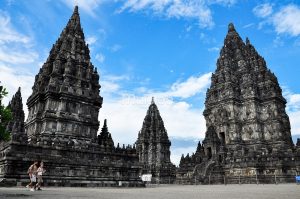 Hello, The Traveler! You are wanting to vacation to Jogja but the time you have limited? In this article, we will provide tips for you who want a day's vacation in Jogja. Although only a day, you can enjoy some tourist attractions in Jogja. Here are the travel tips to Yogyakarta from us:
Take the Morning Arrival
In order for you to enjoy Jogjakarta with enough favours and stamina, you should choose the transportation that jamn arrival in Jogjanya in the morning, either train or night bus. The reason is that you can rest the first while on the trip. So, when you have arrived, your body is ready to vacation in Jogja for a day.
Depart at Night.
The above points explain for those who use public transport. So what if you use private transportation? Our suggestion, stagnate since the afternoon or evening. Because usually, traffic to Jogja highway at that time is not too crowded. However, you should be careful during driving due to limited visibility at night. Make sure your vehicle's headlights are not damaged or dim.
These tips also apply to those who use public transportation services to Jogja. Because usually, all scheduled arrival of public transportation that arrival in Jogja in the morning usually have a departure schedule at night.
Bring enough cash
Next travel tips to Yogyakarta – Since you are only on vacation for days, then you should bring enough cash. However, set up a spare deposit in your bank account. So, bring your ATM card. In addition to security, you do not need to bother looking for an ATM first when it arrived in Jogja.
Try to bring in cash with small fractional nominal (five thousand, ten thousand, or twenty thousand). It aims to shorten the transaction time when you buy from local merchants in Jogja.
Do not Bring Too Many Goods
Remember, you are on vacation for a day. So, try not to carry too many items that are not really needed when you vacation. Bring only the necessary holiday items. It is also to minimize your hassles carrying your luggage.
If you do not want to carry a lot of your luggage even though the amount is not too much, you can leave items that are at least not important when you are travelling around Jogja.
Visit the Palace of Jogja
Next travel tips to Yogyakarta – After we give you the tips of preparation before you go to Jogja, now we will give you tips on tourist spot that you can visit in Jogja in one day.
You can try to visit the Palace of Jogja. The place is thick with the cultural elements of this can be a reference to your vacation while travelling around Jogja. You can see the typical Jogja cultural atmosphere while visiting in this region. 
Visit Prambanan Temple
Prambanan Temple is one of the Jogja tourism icons that you should visit if you want to vacation in Jogja for a day. In Prambanan Temple area, you can visit some Hindu royal heritage temples, starting from Kelir Temple, Apit Temple, Patok Temple, Perwara Temple, and other temples. In addition to travelling around to see the temple, you also get to know the art of literature and Hindu stories, photo hunting, buying souvenirs, to watch Ramayana ballet performances.
Here's the lists:
The temple complex that has been established by UNESCO as a world heritage site in 1991 has an inherent folklore, the folklore of Roro Jongrang. It is said that Roro Jongrang, the royal princess who is known for her beauty, gave a condition to Bandung Bondowoso to make a thousand temples in order to marry her.
However, when Bandung Bondowoso has managed to build 999 temples with the help of the genie, Roro Jonggrang thwart his efforts by pounding rice agat chicken rooster. Bandung Bondowoso became confused and afterwards became angry after knowing it was just a trick Roro Jonggrang to thwart his business.
Thus, Bandung Bondowoso also condemned the princess to be a temple to complete the number of temples requested. Candi Dewa Siwa, the main temple in the temple complex, is believed to be the embodiment of the condemned Roro Jonggrang.
To get there, you can use TransJogja bus A1 route from Jalan Malioboro. A trip to get there takes an hour.
Smart Park
You want to travel in Jogja while adding knowledge? You can visit Taman Pintar. This park is a park that contains educational models that combine education with the game through interesting media so as to provoke the curiosity of children and provoked the creativity of children to the world of science and technology.
This park is an integrated area of various learning rides in one location that has its own characteristics. So this park has become a favorite tourist attractions for tourists and an icon of educational tourism in the region of Yogyakarta. 
Walk around Jogja with Trans Jogja
In point 6, it is explained that public transportation to Prambanan Temple is using Trans Jogja. Well, what is Trans Jogja?
Trans Jogja is a public transport mode based on bus rapid transit (BRT) which became the leading mode of transportation in Jogja. The system is the same as the BRT system on Transjakarta. With this bus, you can go around Jogja for your first time to Jogja.
Do not worry, the Trans Jogja route reaches several places of interest and other important places in Jogja, such as Prambanan Temple, Adi Sucipto Airport, Malioboro Street, Smart Park, Gembira Loka Zoo, Beringhardjo Keraton Jogja Market, Gadjah Mada University, UIN Sunan Kalijaga, and elsewhere.
Kota Gede
In this place, you can visit some interesting places that thick Jogja culture typical of her, such as Kotagede Market, King Mataram Cemetery Complex, Great Mosque, Ruins of Fort, and traditional Jogja house. You may also enjoy the Things to Do in Kotagede Yogyakarta
ParangTritis Beach
This beach has been known as a popular tourist destination for tourists who vacation in Jogja because the scenery is very beautiful. On the beach, you will find a stall trader who sells food and young coconut water. You can rest here while enjoying the delicious and fresh coconut water and see the waves pounding on the beach. There you go: 17 Most Beautiful Beaches in Yogyakarta Indonesia 
Try to Eat at Angkringan
Not to Jogja if you do not try to eat at Angkringan. What is angkringan? Angkringan is a place to eat that provides side dishes with low prices. The typical menu here is cat rice, rice wrapped in small pieces that may be suitable for a cat. Then, side dishes there are fried Tempe, fried tofu, and others. The price is also very populist really, can range from Rp 3.000, – only. There you go: What to Buy in Yogyakarta Indonesia?
Buy By-By at Malioboro and Beringharjo Market
Do not forget to buy souvenirs in Malioboro before returning to the residence. Malioboro is known as a famous souvenir place in Jogja. Here are available typical souvenirs Jogja. In addition, you can also visit Beringharjo Market because the second distance is quite a deat place. In this market, you can buy various batik souvenirs, ranging from clothing, shoes, bags, sandals, and more.
If you are hungry, you can stop by for a while enjoying Jogja gudeg sold here. In addition, this place is also strategic for those who want to go home using rail transportation, as it is close to the railway station of Jogja. We got the lists of Yogyakarta Shopping Streets
How are the tips of a day's holiday in Jogja from us? Has it become your important note before the holidays to Jogja? Hopefully our article this time can be your reference when vacationing in Jogja. Have a good vacation and don't forget about those travel tips to Yogyakarta!