Finally, finally the Christmas comes again in this year. After that, comes the end of the year and we should welcome what's new on the door, the year 2018. 2017 is a fun year indeed, full with so many attractions and fun things on our list. For example, there's this things to do in East Java which also great to be done in this your weekend.
But now, we're heading to the next holiday upon us. This one is a very long holiday. So, are you prepared already? Or you already made some lists of the attractions that interested you? If you haven't, we're right here to help you out with this list. Not the list of things to do in Tanjung Benoa which also very interesting, but with this new list of the best things to do in January 2018. Be sure to take some notes!
1. Borobudur Temple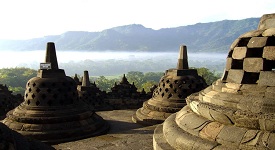 The first on the list, is of course one of the seven wonders that came from Indonesia. This Borobudur is the biggest Buddha temple in Indonesia, even in the South East Asia. Many people really feel amazed by how great it looks, even up till this time. However, this wonderful temple is located in Central Java, Indonesia.
They came from so many places, including the area inside Indonesia to learn more about the history of its kingdom, which known as the great Majapahit Kingdom. Even for foreign tourists, this temple is full of curiosity about so many things. How can they made this in that time? What is the origin of this temple? And the other questions to be solved. Well, you can try come to this temple yourself to understand.
Entry Ticket : Rp40.000,-
Opening Hours : Always opens
2. Tanah Lot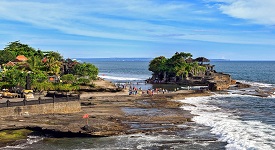 After going to Central Java, it's time to go the heavenly island of Bali. Like you should know already, there are so many fun things to do in here. Surfing, swimming, snorkeling, tanning, whatever you want. All you can get in one pack called Bali tourism.
After doing all the things you want, it's kind of nice to bring some souvenir to your homeland, right? So, here we are, in the Tanah Lot, Bali. In here you can find so many Balinese stuff, like clothes, masks, and the others. But beside that, you can also visit the exclusive temple in there. Sounds good, right?
Entry Ticket : Rp20.000,-
Opening Hours : Opens every day from 7 am – 7 pm
3. Prambanan Temple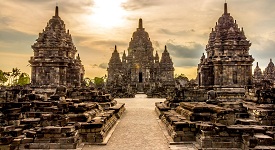 After visiting Borobudur temple, you can continue your journey to the next wonderful temple that also located in the same province, called Prambanan Temple. This one is not the Budha temple, but the Hindhu temple.
There's a myth that tells us about the story of Roro Jonggrang, believed as the origin of the temple itself, the temple that was named thousand temples. In fact,  you can see the remains of the thousand temples in there, sadly, they already became ruins. In Prambanan, there's also a theater once in a while. You should see it too!
Entry Ticket : Rp40.000,- (the same as Borobudur's)
Opening Hours : Always opens
4. Ulun Danu Bratan Lake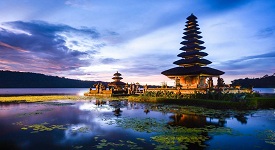 This is one of the best things to do in Munduk Bali. The temple itself became an icon of Indonesia, mainly used in entertainment and business purpose like advertisement, commercial program, and also printed in money. The reason is, it looks so amazing.
Not only the temple itself that looks incredible, but the combination of both the lake and the temple that is a rare sight. This is like a must visited place beside the other good things you should visit in the island of Bali.
Entry Ticket : Rp10.000,-
Opening Hours : Always opens
5. Komodo National Park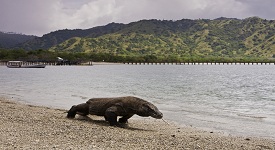 Serving as a great spot and exclusive island of Indonesia, this one is also included as one of the best places in Indonesia for backpackers. A National Park that inhabited with the very rare Komodo dragon, that can only be found either in this conservation park or the two islands called Rinca and Tadar, located around the National Park.
It'll be a shame if you haven't visited this one while doing your journey in Indonesia. It' s one of those rare times, you know. To see the Komodo dragons directly is not the thing you can see every day. Be sure to mark this spot in you January holiday list!
Entry Ticket : Rp90.000,- (including the tickets for Rinca and Tadar island, also trekking cost)
Opening Hours : Always opens (trekking closed in the evening) 
6. Bromo Mountain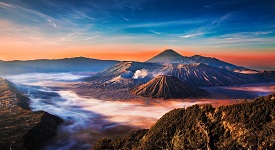 In the sixth spot, we have this magnificent Bromo Mountain. This mountain is very famous, either in the eyes of travelers or the hikers, as one of the wonderful mountains in Indonesia. Located in East Java, this Bromo Mountain crowned as king of the mountain because of its greatness.
Starting from the beautiful green view of this unique hill, called Teletubies hill. And in the opposite, there's this sandy plains too in this mountain. Beside that, there are other things you should discover for yourself, just start with this list of things to do in mount Bromo.
Entry Ticket : Rp27.500,- (Rp217.500,- for international tourists)
Opening Hours : Always opens
Other things to do in Indonesia for January
Not just those spots of interest in Indonesia that needed to be "done" with, here's another places to go!
Kota Tua Jakarta, learn through histories of Batavia (Jakarta)
Lawang Sewu, the thousand doors in Solo await you
Maliboro Street, legendary icon of Yogyakarta
Raja Ampat Papua, find your heaven only in here!
Yes, we're done here. Those are the full list of the best things to do in Indonesia in January 2018, in early 2018 spirit. Hope you can get all the best things in this end of year, and having fun till your heart content in this beautiful Christmas. Don't worry about the places you haven't visited in this year, there are so many chances in the next year for you to get. That's from AllIndonesiaTourism.com for today, see you next year!