Nowadays, beach is one of favourite place for all peoples that need a holiday with friends, partner, or family. With travel to the beaches can give a fun holiday vibe, because in here you can take a selfie, swimming, and culinary. Here is the things to do Indonesia in October.
Tulungagung is one of city in East Java that actually better known as a marble producing city. But at Tulungagung, there are so many things to do, and beaches can be an option to spend a holiday. Visiting beaches is one of the things to do in Tulungagung. There are familiar beaches, but also hidden beaches. So there are some recommendation of beaches in Tulungagung that can make you amazed.
1.Kedung Tumpang Beach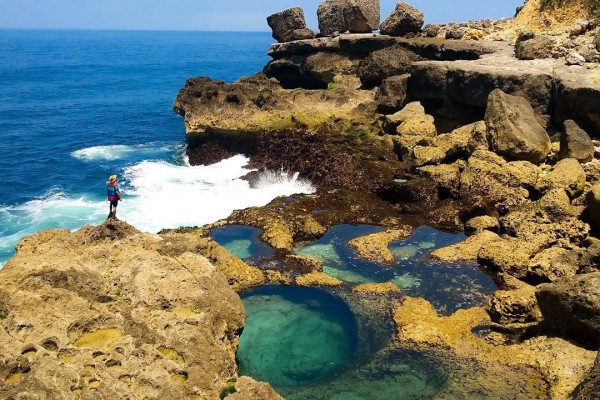 It can be said that this Kedung Tumpang beach was significant rising, because its beauty is spread in cyberspace. This place have uniqueness, that is there are many corals that form small pools on the beach. There are at least 8 lagoons with varying areas. These pools are often used for bathing or swimming.
Beside that, beach that located at Pucanglaban Tulungagung, has road access that quite difficult, because it has to go through a permanent staircase and a rocky dirt road, that about 300 m. And also provided a rope as a handle, because the dirt road is quite slippery when traversed.
2. Popoh beach
Popoh beach is another favourite beach that has quite waves, so you can playing at that beach. At first glance, the appearance of Popoh Beach is not inferior to Tanah Lot, one of iconic landmark in Bali. This beach is located at Watulimo-Besuki, Tulungagung.
When the holiday season arrives, this beach is always filled with visitors. Because beside the ticket is very cheap, just Rp 3000, the white clean sand also can be used to play sand.
3. Coro Beach
One of exotic beach is Coro Beach that located at Gerbo-Besuki, Tulungagung. This beach have very beautifull view, but you must avoid to visit it when its rainy, because the access is quite difficult.
The best time to visit this beach is in the morning, because the sea is still receding. And when enters at noon, the sea will rise and rise, so it is not advisable to swim in the sea because the waves are big and fierce.
4. Lumbung Beach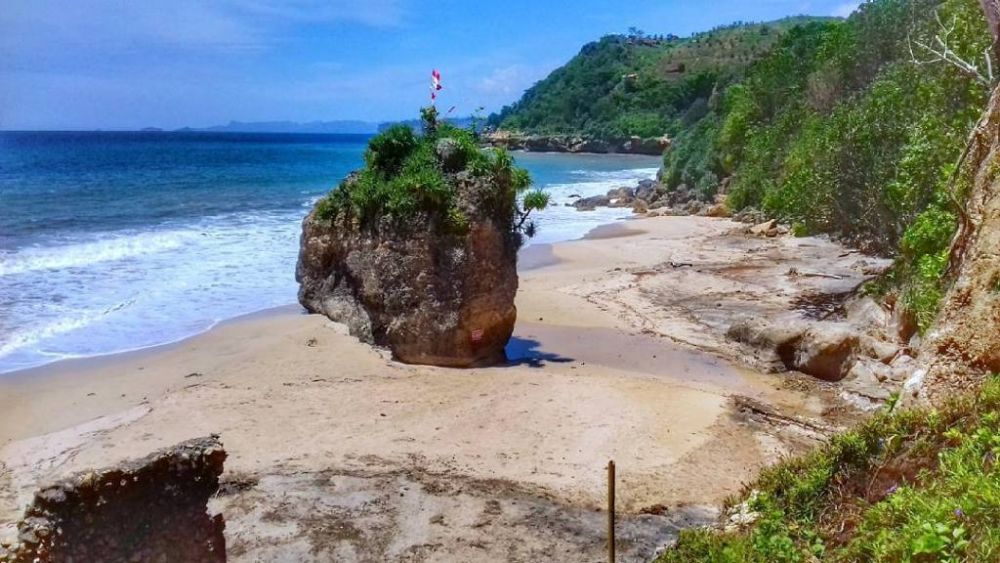 Lumbung beach is located at Pucanglabang, Tulungagung. This beach is named Lumbung because there are big coral reef that in Javanesse is called "watu lumbung". And that big coral reef is usually being background for take some photos.
Usually peoples will make this place for camping. Because the beautifull view and quite place, and also you can grilled fish and corn at this beach. And the white sand is very clean and occasionally looks sparkling because of the sun's rays.
5. Ngalur Beach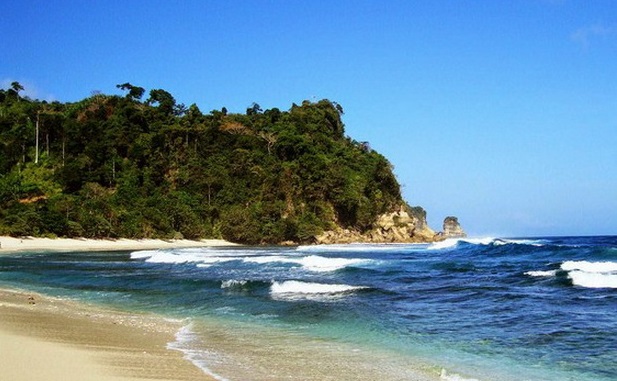 Ngalur beach have a beautifull view that make peoples spellbound. This beach have a large smooth sand, and can be used for picnic or play beach volleyballs. And its free to enter the beach that located at Jengglungharjo-Tanggunggunung, Tulungagung.
The waves on this beach are so quite and calm. So it is safe if you want to play water on this place. And if you like to enjoy the view and this breeze, this place is right for you because there are gazebo for sit back.
5. Pathok Gebang Beach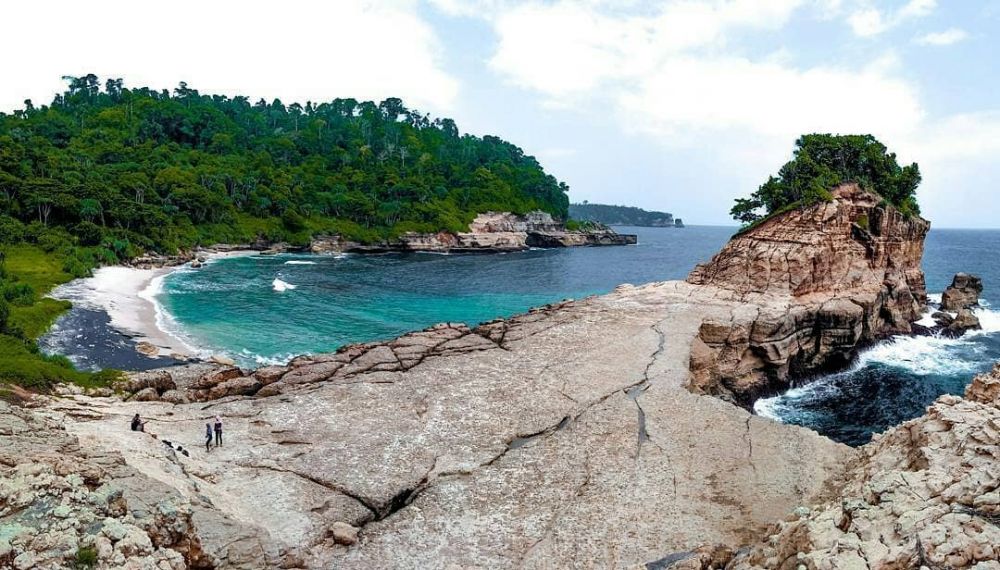 Pathok Gebang is one of beaches that little difficult to reach, so this place is not many visitors yet. This beach is one location with pantai Ngalur, but in large coral cliffs with a flat surface.
The entrace ticket is just Rp 5.000. When you arrive, you will see beautifull view with the sound waves that crashing against the reef. And if you want to see more beautiful view, you can sit back and relax on the cliff surface while enjoying the cool breeze. But always remember to careful and prioritize your safety first.
6. Kali Pucung Beach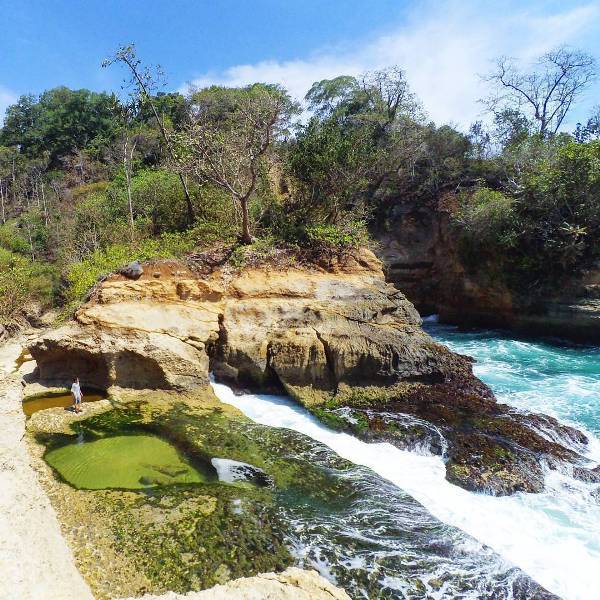 You want to enjoy natural jacuzzi? you must visit Kali Pucung Beach. Like Kedung Tumpang, Kali Pucung beach also have a lagoon. There are 2 lagoon with clear bluish green water. And visitor can take the time to relax and soak at this natural pool. But, if you don't want to get wet, you can relax on the cliff above the lagoon.
This beach is located at Jengglungharjo-Tanggung Gunung, Tulunagung. And to visit this beach, you can rent a trail motorcycle taxi with Rp 100.000 price every person.
And when on the way will pass through thickets and also branches that cross in the middle of the road. And entrace ticket to this beach is Rp 5.000.
7. Banyu Muluk Cliff Beach
Banyu Muluk Beach is located at Besole-Besuki, Tulungagung. For enter this place, you must pay only Rp 5000. When arrive at that place, you will see cliff and often in certain circumstances you will see rainbow.
8. Pucang Sawit Beach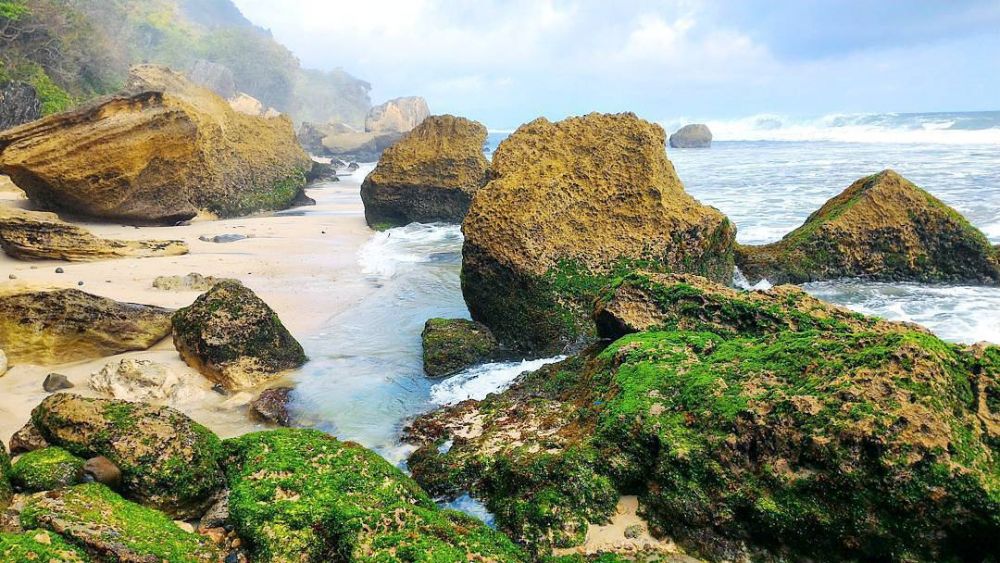 The beautifulness of Pucang Sawit beach is located at Pucanglaban-Tulungagung, that has that not less beautifull than best beach in Bangka Belitung. Main characteristics of this beach is there are small beach rocks. And the cleanliness of that beach make visitors feel at home there for a long time.
9. Sine Beach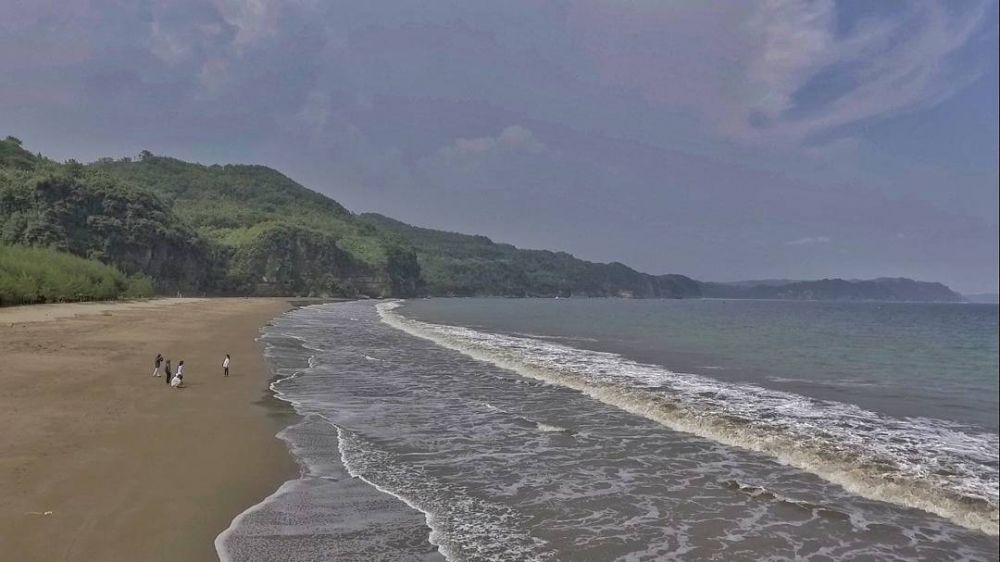 Now, you don't need to go all the way to Bali to enjoy Sanur beach that one of things to do in Sanur, Bali. Because Tulungagung has Sine beach that is similar with sanur beach, and be the best place in Tulungagung to watch the sunrise. So, usually visitors will come from dawn, so as not to be left behind the sunrise.
10. Molang Beach
Another beautiful beach in Tulungagung is Molang beach, that located at Pucanglabang, border area beside Tulungagung and Blitar. This beach have white sand beach, and the waves are calm enough so it is safe for swimming there.