As promised before in all you need to know before you hike Semeru, on this day, we want to give the information about hiking on a phenomenal mountain called Krakatoa. The Krakatoa was erupyted many years ago. Because of the eruption, a mountain called Anak Gunung Krakatoa was created. And this is the mountain that we're gonna explain.
Many years later after the eruption, the mountain became a popular attraction aside from the things to do in Bandar Lampung. Many people would spend their days in here to reach for the top of Mount Anak Gunung Krakatoa. Of course, before actually departing for it, you need some important information that contained inside all you need to know before you hike Krakatoa that you can find on the section below. Let's get on to it.
Basic Description of Krakatoa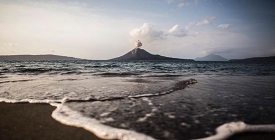 Let's continue the journey by talking about the description about this Krakatoa Mountain as one of the best things to do in Krui. The mount Krakatoa is a great and active mountain that located in a strait between Java and Sumatra Island.
The eruption of the Anak Krakatoa recently made a devastating effect to all people who live around Banten. Many people are dead because of the disaster, and they still recovering up to this day. Hope and pray for them.
However, the Anak Krakatoa is the result of Mount Krakatoa's eruption many years later. The eruption was really disastrous, making the sky dark for days. It's also effecting not only Indonesia, but also the countries nearby.
Based on some geologist like Simon Winchester and friends, it's likely that the Mount Anak Krakatoa can actually erupt like its predecessor. They've made a forecast about it, saying that the same thing could happen to this mountain in between 2015 to 2083. Wether it's really true or not, we can do nothing except preparing for the worst.
The Location and Routes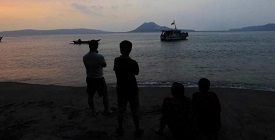 So,as you may know already that this mountain is surely included inside the things to do in Lampung. We want to give you the most important information of all the sections in this topic, which is the location and routes to Mount Anak Krakatoa.
Basically we want to tell you about the three different routes that can take you to the mountain, let's start with the first one. The first route you can take is going via Port Canti. If you're going from Java island, you'll take a ferry from Port Merak to Port Bakauheuni. Then, you continue your journey by using cars to Port Canti. The final road is to Sebesi. The ship that will take you to the Sebesi island, which is an island that nearest to the mountain, only sails once per day. However, you can also sleep in the local houses before your departure to the Mount Anak Krakatoa.
The second one is going through the fish port. This one you'll take if you're going from Lampung. In the first port, you need to look for a boat ride that can take you from Port Pendaratan Ikan in the area of Kalianda, South Lampung.
And the last one is going via Anyer. This one is suitable if you're bringing heavey stuff like machinery, compressor, or diving equipments, because the road will be much safer, but the price is of course higher. With taking this route, you don't need to go for Bakauheni. You can just go straight to Anyer Port in Banten.
Important Things to Bring
Anothe thing in all you need to know before you hike Krakatoa that should be mentioned is the important things you need to bring on your journey. We're gonna mention some here, so you can add some thing later.
It's always necessary to bring more tha one pieces of clothes, especially when you're gonna spend days outside your house. Make sure to bring the most comfortable clothing for you, and they should be suitable for your hiking activity.
Also, things like passport, identification card, and the others are really important to bring, especially if you're a foreign tourist. This is very important to identify you, so you'll not get recognized as illegal person who entering the country.
You can also bring a swimming suit if you're planning to swim somewhere near the mountain. Around the area of Krakatoa, you can also do diving or snorkeling.
Make sure to bring a decent camera in your trip in ordet to capture all those wonderful moments in your journey.
Who doesn't love to eat snacks? While waiting or spending your time in a resort or hotel, you can just relaxing, watching television, and enjoy some snacks.
Several Appliable Tips
Aside from telling you all the best thing about things to do in Tanjung Puting National Park, we also want to share some tips that you can use in your trip to Mount Anak Krakatoa, such as :
Do a small research for transportation
Travelling with friends will be much fun
Don't buy foods in the ship
Visit all the affordable attractions around Krakatoa
Bring only important stuff
Bring your own foods
Search for the best and affordable hotels around the area
Current Condition of Krakatoa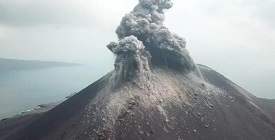 It's not safe anymore to visit the Mount Anak Krakatoa, at least for now. Recently, tsunami happened and was destroying Banten province because of its eruption. The activities of this mount are showing devastating effect. The mountain that first has about 338 meters of height, decreased to 110 meters because of that very eruption.
Because of the status of the mountain that still active, for now, it's clearly not safe to visit it. If you want to visit it so badly, with any purpose you have, you need to understand that it's very dangerous, at least for weeks or months ahead. Let us wait and see for it to get better in the future if it's possible.
So that's the information about all you need to know before you hike Krakatoa. Hope you can grasp the information thoroguhly so you can be prepared and ready for the hiking. However, as you may grasp for the explanation above, the status of Mount Krakatoa is still in the red zone. You need to wait for some time for it to get better and safe for the hiking activity. While waiting, you can also prepare some stuff and schedule your holiday. Good luck!