After visiting some other famous spot located in Java or Bali island, now we will go to the other island of Sumatra. There is one province in here, considered the newest province in the Indonesia, called Lampng. We talked about the attractions on its capital city on things to do in Bandar Lampung.
But now, we're not going there once again to exploring some more of it. In that province, there is one area or island called Pahawang island. Well the island surprisingly can be a very Indonesian paradise islands you should totally visit, maybe also in this country. So what's inside of it? Let's explore all the things to do in Pahawang island that included on the information below :
1. Tanjung Putus Island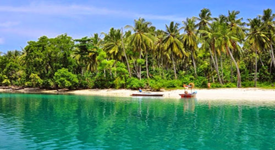 The first location that exists near this lovely island of Pahawang is the other island called Tanjung Putus. This island looks so unreal with its very green environment that everyone loves, and also added with the locals that still use their own way of life.
Everything is like perfect in there. The water, the vegetatons, even the culture of people is really worth to check out. Also, if you interested of going in to this island, you only need to rent some boat for just about less than Rp50.000,-. You can even bargain or negotiate the price if you want.
Location : Punduh Pidada
Tips : Well, because everything just looks so magical in here, strolling around can be the best thing.
2. Kiluan Bay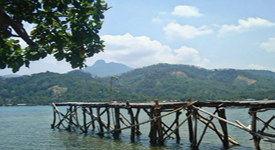 Near the island of Pahawang, you can find so many different places in here like modern places of restaurants, cafes, or even malls that look so contrast with the natural attractions provided by the nature, which also look very good like things to do in Krui.
If you want to try to visit one of the natural spots available, you can come to one bay in this island calld Kiluan Bay. This bay is really suitable for hunting either sunrise or sunset. Without any administration ticket, this could be one great choice for your vacation.
Location : Lampung
Tips : Better bring some snacks
3. Kelagian Island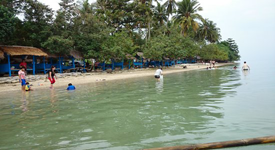 Just several minutes til hour from the Pahawang island,you can do another island jumping to an island callrd Kelagian Island. Why Kelagian island? Because it's famous for itsb beach that everone loves. As you can see on the picture, many people love to come in here because the clean condition of the water, also it's very affordable.
Once entering the place, you'll be charged with like Rp20.000,-or more, which is considered really affordable. For either the casula tourist or maybe backpacker, this place is one place thta you should go when visiting Lampung.
Location : Lampung
Tips : If you want to swim, you should bring your own swimming suit
4. Timbul Lampung Beach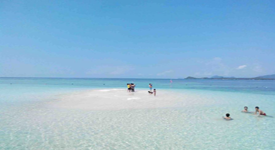 In the area with so many things like things to do in Lampung, it's no wonder that one can find so many tourist areas that have so many watery locations like beaches, rivers, or maybe lakes. And people usually hunt for the easiest place to reach, the beach.
In the island of Pahawang, there's this location called Timbul Lampung Beach, that looks so magnificent. Even thoguh the beach itself looks so simple, but the things that provided in there like the crystal clear water, very soft sand are the things that people usually hunt.
Location : Padang Cermin, Lampung
Tips : Come here early if you want to avoid some crowds
5. Sari Ringgung Beach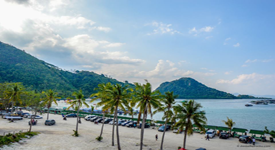 If the beach above is consideredas quiet place to enjoy the full benefits of a beach, than this one is slightly different. The Sari Ringgung beach is always been a crowded place since the beginning. Now, look at the location, it's filled with so many people from different areas.
No wonder that people really love visiting the beach, beside having affordable entry ticket like Rp20.000,-, people can enjoy the good maintained condition of the bech, even though there's some visitors swimming in there too.
Location : Pandan, Pesawaran
Tips : Avoid visiting in the weekend.
6. Mutun Beach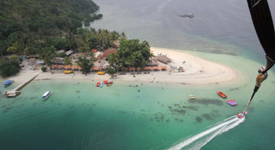 Surpringly, the Mutun Beach can be considered as one beautiful beach just looks like the beaches in Manado Indonesia, because it's like the perfect place for people who like doing water sports. If you want to have the exact experience of vacatoning in the area like Tanjung Benoa, then this beach is really recommended for you.
Located in a very strategic place, in the tip of Pahawang island, the Mutun beach is very easy to reach, especialy if you bring your four wheel vehicle. So many water sports that can be choosen in here, so you better pick your favorite one now. With the entrance ticket less than Rp50.000, it would be all worth it. 
Location : Lampung
Tips : Bring some more money beacuse you can try almost everything in here !
7. Butterfly Park of Gita Persada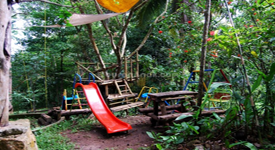 Next one is very educational place, and yet attractive in some ways. The Butterfly Park of Gita Persada will always blow us with their best butterfly collections. Visiting this place during weekend is recommended, because it can be a refresher for you busy work days.
With the entrance ticket for about Rp20.000,- you can enter the place without worry. Of course, at the beginning, you'll be warned with some restrictions that you shouldn't do in here. Overall, this butterfly park is suitable for the people at all age.
Location : Wan Abdurahman, Hutan, Lampung
Tips : It's more fun if you bring your family
As usual, we want to provide some more information regarding the things to do in Pahawang island. The list containts mainly beaches, homestay, and another small island. Se the full places on the small list we have provided below :
Sebalang Beach
Klara Beach
Bathstone Beach
Malik Ibrohim
Pahawang Indah Homestay
Port of Pahawang Besar
Lok Island
Laguna Beach
Kelapa Island
So, that is our information about the things to do in Pahawang island. So what do you think about this place? Is it good for your next vacation? We hope so. Beside providing some other best beaches in Sumatra island, the places is also crowded with many supporting facilities.
Then, if you interested enough to come in here next time, you can see first the best ticket for going in the Sumatra island first, either by plane or boat. And then, you just need to go to the most South area of Sumatra, and then coming to Lampung to check the island directly.