As an archipelago country, Indonesia really has big potency on beaches attractions since it has countless of beautiful beaches that are spread on every region in Indonesia. One of the region that has beautiful beaches is Lampung, a province on the southernmost part of Sumatra Island.
The beaches might not be well-known worldwide compare to the ones in Bali, but one thing for sure is that the beaches are so beautiful that they could boost your mood as soon as you arrive there.
The geographical position of Lampung that directly faces the ocean is the reason why it fills with lists of beautiful beaches.
The beaches are beautiful with picturesque view that could surely light up your day. Visiting the beaches is one of the things to do in Lampung that you will never regret.
There are wide selections of beaches that you can visit in Lampung. Here, we have provided you with a list of 9 beaches in Lampung that could boost your mood. Check them out!
1. White Sand Beach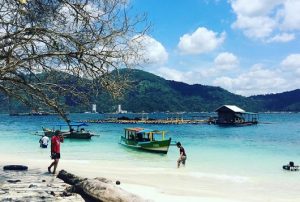 As the name, White Sand Beach offers clean white sand that is perfect to sit on while enjoying the view of clear blue water that lies in front of you. Located in Tarahan, South Lampung, White Sand Beach can be accessed in around 30-45 minutes from the city of Bandar Lampung.
The location that is accessible makes this beach a popular spot for the locals especially during the weekends. Therefore, if you want to have a quiter moment in the beach, you can come on weekdays.
Coming in the late afternoon is highly suggested since you can also enjoy the beautiful view of the sunset in this beach.
You only need to pay around IDR20,000 in order to enter the beach. There is also a small island in the middle of the sea in this beach.
You can rent a boat for around IDR150,000-IDR200,000 in order to go to the small island and enjoy the beauty of the beach from the small island.
2. Klara Beach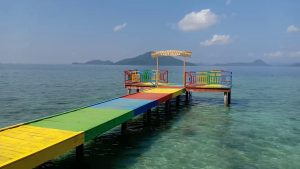 Located in Gebang, Padang Cermin, Pesawaran, Klara Beach has a unique name origin. The locals around the beach named the beach as Klara in reference to Kelapa rapat which literally translated as coconut trees that grow closely to each other.
The name refers to the massive numbers of coconut trees on the coast line that line up in close proximity. This creates a great scene on the beach and vibrants tropical atmosphere that is perfect for relaxing and boosting the mood. It is perfect to sit under the coconut trees that grow tightly while gazing to the crystal clear water before your eyes.
Klara beach is well-managed since it is also equipped with many facilities that could enhance your day in the beach. There is a gazebo where you can sit and enjoy the view of the sea right in front of you.
To enjoy this beautiful scene, you only need to pay IDR10,000 as the entrance fee and another IDR15,000 for parking fee if you bring a motorbike, or IDR25,000 if you bring a car.
3. Sari Ringgung Beach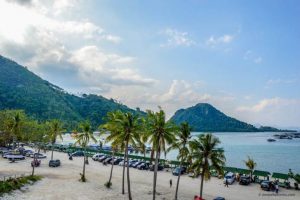 Sari Ringgung Beach offers a majestic view since it has a hill and a line up of coconut trees as its surroundings that give a scenetic view to the beach.
Located around 22 kilometers or 50 minutes from the city of Bandar Lampung, this is one of the things to do in Bandar Lampung that you definitely need to do.
As soon as you arrive there, the view of blue sea will welcome you. Not to mention, the beauty of green hill and coconut trees will also give you a warm and pleasing welcome. The blue water offers you an opportunity to see what lives under it since you can go snorkeling in this beach.
4. Mutun Beach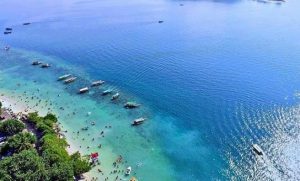 Situated in Padang Cermin, Pesawaran, Mutun Beach is a popular destination among the locals since it offers clear, blue water, clean, white sand and calm waves that are perfect for underwater activities, like snorkeling. This beach might be added to your list of snorkeling spots in Indonesia.
You can access this beach in around 30-60 minutes since it is near the city. And since it is a popular destination, the access to the beach has been built nicely, making it an amazing beauty that can be access immediately.
5. Marina Kalianda Beach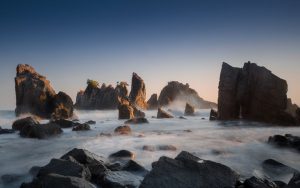 Located in South Lampung, Marina Kalianda Beach is an amazingly beautiful beach that attract many people to the point that it entrance fee becomes the most expensive one among the others since you need to pay around IDR50,000 in order to enter the beautiful beach.
Marina Kalianda Beach has relatively strong waves since it directly facing the Hindia ocean. Some big coral reefs sit around the shoreline and function as waves breakers. When the waves hit the coral reefs, a majestic view occur. This majestic view is the one that attract many to come.
6. Ketang Kalianda Beach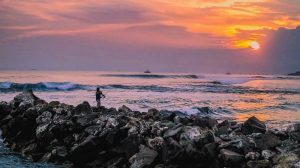 Situated in the same area as Marina Kalianda Beach, Ketang Kalianda is another beautiful beach that you can enjoy while staying in South Lampung.
It offers great scenery of clean, white sand and clear, blue water. Similar to Marina Kalianda Beach, Ketang Kalianda Beach also has some coral reefs in some spots, but they are smaller compared to the ones in Marina Kalianda Beach.
The sunset view in this beach is one of the best that you can enjoy in Lampung. Since it is close to Marina Kalianda Beach, you might spend a day visiting both of these beautiful beach.
A unique attraction offered in this beach is a beach tour in a traditional horse-drawn carriage, which is locally known as delman. You can have an enjoyable and unique beach tour with the delman by paying only IDR10,000. What a nice way to enjoy the beauty of the beach!
7. Kelagian Island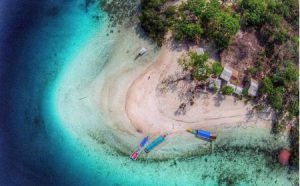 Kelagian Island is a small island that can be access by boat from Ketapang Port for 20 minutes. If you are staying in Bandar Lampung, you can go to Ketapang Port in around two hours. The beauty of the small island is no joke since all your efforts will be paid off and your mood will boost up immediately right after you arrive there.
It has clean, white sand and clear, greenish blue water that is great for underwater activities. No wonder, it is also one of the greatest spots for snorkeling in Lampung. The small island is usually quite quiet, so you can enjoy your time here and admire the beauty of the universe.
8. Balak Island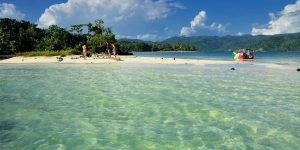 Another small island that you can visit is Balak Island, that can be accessed through Ketapang Port. It has similar characteristics with Kelagian Island since it also has clean, white sand and clear, greenish blue water that is perfect for snorkeling or just swimming.
Balak Island, despite its beauty and amazing view, is rather unpopular and is considered as one of the less-visited attractions in Lampung.
Therefore, travelling to this island will surely give you a me time where you can enjoy yourself with beautiful surroundings and get your mood boost. It is just like having a private island in low budget.
9. Kiluan Bay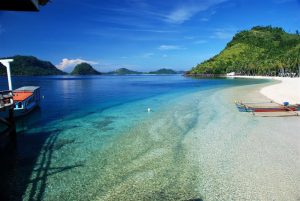 Located in Kelumbayan, Tanggamus, Lampung, Kiluan Bay offers another level of beach attraction. You can go swimming, snorkeling, or just immersing yourself with the beautiful scenery of the clear water of the beach by sitting on its white sand.
An extra attraction that you can have in this beach is dolphins watching. It is the main attraction of this beach that makes it stands out among others. You can rent a boat from the local fisherman by paying around IDR150,000-IDR300,000 and then you can enjoy the wonderful experience of watching the dolphins jumping and swimming in the ocean.
Lampung surely has plenty of beaches to visit that could light up your day and boost your mood. Since there are many beaches that you can and probably want to visit, it is best to spend more days in Lampung to have a more thorough exploration.
If you want to visit other beautiful beaches from other regions in Indonesia, then you can visit beaches in Gorontalo and beaches in Sumatra. Have a wonderful holiday in Indonesia!