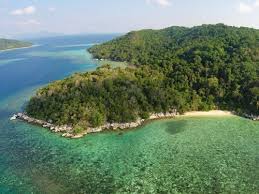 Natuna Islands is one of Indonesian paradise islands you should totally visit as it contains a lot of natural resources. This islands is part of Kepulauan Riau province. It is also located in the international marine area towards China and Japan.
Its borderlines are also near some other countries in Southeast Asia, those are Cambodia, Vietnam, Thailand, and Malaysia. Besides its plenty of natural resources, you can also find so many tourism objects which are very attractive. These are 6 beautiful places you can explore in Natuna!
1. Pulau Serasan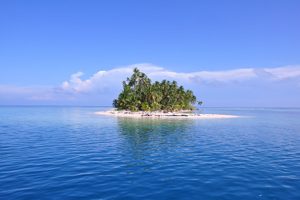 Pulau Serasan is one of the famous island in Natuna. There are many beaches in this island, such as Pantai Resan, Pantai Jodoh, and Pantai Sisi. The most popular beach in Pulau Serasan is Pantai Sisi because of the clear sea water and the white bright sand. This beach is also utilized by local fishermen to lean their boats.
This island is the furthest island in Kepulauan Riau province. To reach Pulau Serasan, you can go by Pelni's KM from the capital of Natuna. If you go from Penagi Port, you are able to go by pioneer ship. It will take about 10 to 12 hours until you arrive at Pulau Serasan.
There is no limited time to visit this island, you can come whenever. There is also no entrance ticket being sold to the tourists. This island is one recommended places to visit in Indonesia for bachelors, workers, and everyone!
2. Semitan Mangrove Tourism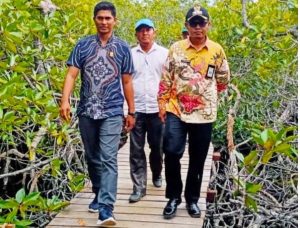 If you are seeking for beautiful forest or best botanical gardens in Indonesia, Semitan Mangrove Tourism might be the best choice. It is located in Pengadah Village, Bunguran Timur Laut.
You will see a forest with full of mangrove. Besides that, you can also enjoy walking around river there and seeing the diversity of fauna along the journey. You may hear the sound of cricket there. It is also one of the best fishing spots in Indonesia.
It will be interesting if you can keep some pictures there. You are also supported by a spesific area for taking pictures. To visit Semitan Mangrove Tourism, you don't need to prepare any money because it is free! Furthermore, it is easy to reach this place. You only need 30 minutes from Ranai City if you go by motorcycle or car.
3. Pulau Setai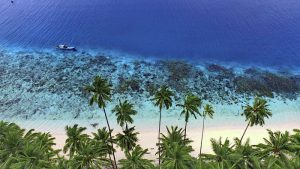 Are you curious about other islands in Natuna? There is one more interesting island, Pulau Setai. It is located in Pulau Tiga Sub-district, near Pulau Sentanau. This island is one of the most favorite destination of the tourists from Natgeo Orion Cruise. They love to do snorkeling or diving. You can also do fishing here because there are so many fishes here.
To visit Pulau Setai, you can rent pompong (a kind of traditional boat) from the local residents near Lampa Strait Port. You need to pay about Rp 400.000 to Rp 500.000. It is the price for round-trip. In only 30 minutes, you have arrived in Pulau Setai.
4. Batu Sindu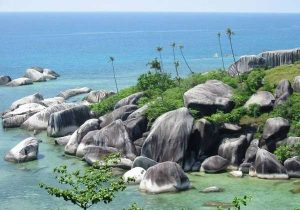 Do you want to see a unique place in Natuna? Remember to visit Batu Sindu! This place is located in Ranai City. As its name 'batu', it contains many stones. Those stones spread all over the hill. Sitting above the stone, you may see a beautiful scenery of the ocean. The wind that is blowing also makes you calm and comfortable.
Batu Sindu is not just a tourism object. Moreover, it has a legend inside. Once upon a time, there were a couple who got tragedy before married. Somebody said a horrible thing about the food that was served for the wedding party there, so the party was cancelled and their love story didn't have a happy ending.
This place opens from morning to night. There is no entrance ticket, but tourists need to give donation Rp 5.000 for the maintenance. It is also easy to find Batu Sindu because the location is only about 4 kilometres from Ranai City, or about 10 minutes.
5. Pulau Senua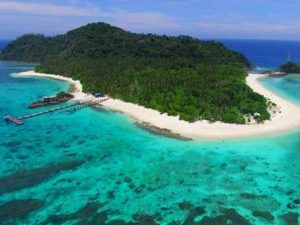 Another island near Natuna is Pulau Senua, where is located in the east of Natuna Islands. The most favorite activity to do in Pulau Senua is snorkeling. If you have no time or do not like to snorkel, you can just enjoy the beautiful scenery in Pulau Senua.
One of the attractive spots here is swallow's nest where is located in the cave near the sea. If you go to the upside of the cave, you can see Mount Ranai, Batu Sindu, and Pantai Tanjung.
Visiting Pulau Senua is quite near from Sepempang Village. You can rent a pompong from local fisherman with Rp 400.000 for round-trip journey. In 15 minutes, you have arrived in Pulau Senua. Along the journey, you will see the clear see water and beautiful corals.
6. Masjid Agung Natuna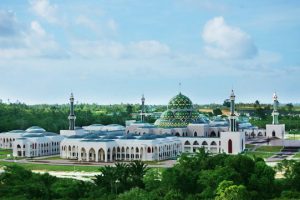 Seeking a place for religious tourism? This is the best choice in Natuna, Masjid Agung Natuna. This mosque is located in Ranai City, Bunguran Timur. It takes only 10 minutes from Raden Sadjad Airport, Ranai.
Most people who has come here call it as the Taj Mahal of Indonesia because this mosque is so beautiful like Taj Mahal in India. There is also the view of Mount Ranai you can see from Masjid Agung Natuna.
The attractive part that makes this mosque looks so magnificent is its main building, with a big dome, 6 small domes, and 20 doors. There are also 4 towers with 17 metres height that represent the 17 rakaat during 5 times of Moslem's prayer. The highest part of the main dome represents charity, while 6 small domes represent 6 Islam's pillars of faith.
Those are 6 beautiful places you can visit in Natuna. Natuna Islands can be the best place for vacation with family, and also one of the best places in Indonesia for backpackers. Which one do you like the most?