So, usually, when writing articles in AllIndonesiaTourism.com, we usually think about the best locations that perfect for a vacation in many places around the country. Usually, the attractions that we mentioned are generally for all age, which means starting from kids to adults can always visit them without worrying about age restriction, like things do near Besakih Temple Bali for example.
But on this article, this time we're going to tell you a piece of exclusive information, for men. We want to help those poor men out there who desperately need to find their loved ones. Of course, meeting the love of your life is sometimes tricky. You can't meet that someone at the places that you never guess before, library, restaurants like best Japanese restaurants in Grand Indonesia, supermarket, or even on the street. But of course, the chance to meet the one is not that high.
That's why, bars and cafes can always be great places to go. Bar is known to be an entertainment and social-building place. People come there with different purposes.They can just exploring them just to satisfy themselves with some drinks and friends, some also come specially for looking "potential" girls.
And if you life around Batam and still having no clue where to go, here's the list of where to find ladies in Batam:
1 – De'Patros Cafe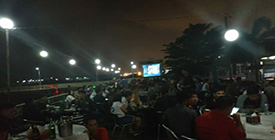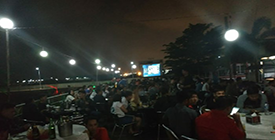 The first location in our list "where to find ladies in Batam" is De' Patros Cafe. We can say that this one location in Harbor Bay Batam is really suitable for meeting new people because it has one of a kind concept, which is an outdoor cafe. On outdoor, you can more active to meet new girls and greeting new people that you like.
This open cafe opens from 11 am to 2 am in the morning. So, you can have a lot of time and opportunity there. However, this cafe is actually located close to the neighbor country, Singapore. That's why, you can also see view of that country right from the spot. Aside from the outdoor, this cafe also has indoor interior that can be use instead.
Location: Harbor Bay street, Sungai Jodoh, Batam, Riau
Tips: The most crowded time is during the night, that's the time you should come in.
2 – Anchor Cafe and Roastery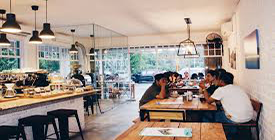 Second location that also looks as great as things to do in Riau Islands is the Anchor Cafe and Roastery. So what's special about this place? This cafe is a special one for all coffee lovers. So, you can expect to see the best coffees here to enjoy with your new friends. The visitors can directly see the process of coffee making from start to end.
You can say that the coffees that served here are always fresh from barista. This cafe that located around Dermaga Culinary, Batam is owned by an American who wanted to make a simple coffee shop but with a nice environment. Aside from the coffee, Ancho Cafe also has several American snacks.
Location: Dermaga Culinary Paradise, Block RF number 11, Batam
Tips: Because the price is very affordable, you can treat some girls with some of their favorite snacks or coffee
3 – Socialites Crib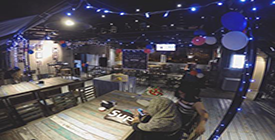 Next place in where to find ladies in Batam is the Socialties Crib, which looks really simple on the front, but wonderful things await you inside. The cafe has this vintage concept that combined with many colorful decorations and accesorries like the unique lamps, and also the green vegetation on the ceilings.
Many girls would like to visit it because of its cute decorations alone.But aside from the cozy environment, the Socialites Club also served the customers with its best Indonesian and Western Foods. You can get the Indonesian meals only in evening, and Western meals excslusively during the night.
Location: Komp. Royal Singon, Block C/18-19
Tips: If you want to meet the girls, make sure you come here on evening
4 – Habit Cafe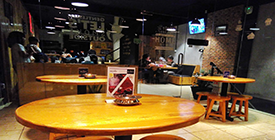 Next location is Habit Cafe as one recommended place beside the things to do in Batam Indonesia. Make sure to show your best habit at the Habit cafe, if you want to meet the new girls. There's a nice place in the area of Bunga Raya street number 6 of Baloi Tanjung, Batam. The cafe is really nice to take and meet new people.
The Habit cafe's size is not that big. In the cafe, you can only find some tables , straight from the barista counter. However, it has two main floors. The second floor is the place where you should take your girl. Aside from the coffee, western foods also present.
Location: Bunga Raya street number 6, Baloi Tanjung, Batam
Tips: The prices of foods are really affordable
5 – Cikidiw Mini Cafe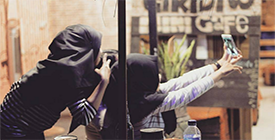 A favorite for all girls in Batam. Usually, people want to come to a cafe just to enjoy the coffee. But, in this cafe, the customers can also take some selfies with the unique decorations and nice interior inside the Cikidiw Mini Cafe.
Yes, it's mini, but rich. With all the unique features that this cafe has, an hour or two will be like seconds. It opens everyday from 1 pm to 11 pm. And the good thing is, most visitors of the cafe are the girls.
Location: Koplimas Kiosk, Block D-46
Tips: Try to build comfortable atmosphere, the environment around also supportive
6 – Lee's Cafe and Bar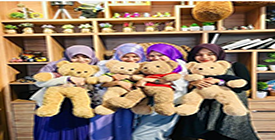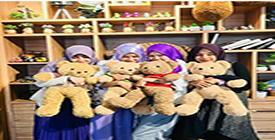 Let's see Lee's Cafe and Bar that can be better than best cafe in Kemang Jakarta. With it's nice and clean looking exterior, Lee's Cafe and Bar is can always be a favorite place to be. The place is homey and really cozy for all the teenagers out there who want to spend their beautiful Sunday night at a special place.
The cafe also has some instagrammable spots for the people who would like to fill their phone's memory with nice pictures. Also, there's a unique spot, which where the big Teddy Bear sits. Lee's Cafe and Bar also offers dart game, for only a small price.
Location: Penuin Center, Block JA number 1-2, Batam.
Tips: You should take your girl for some selfies with the Teddy Bear there to make a memorable experience in the end of the visit.
Because Batam is actually known as an area that lives brightly in the night, you can find some notable bars and cafes here. That's why, the six bars above are actually not enough to represent all the bars on the city. Here's another list with the other bars in where to find ladies in Batam.
1. Warunk Upnormal
2. De Lozzo Resto Cafe
3. Chemistree Cafe
4. Public's Cafe
5. Noname Bar
6. Planet Holiday
7. Newton
8. Pacific Place
9. Sphinx Discotic
So that's the total fifteen bars in where to find ladies in Batam, we hope you have a good luck to find the most suitable lady for your life. Even though you fail once, that doesn't mean you completely out of luck. A fine lady comes with fine requirements. That's why you need some confidence to ask them out if you found your target. You're the man of the night, good luck!