In the previous article, we saw how interesting the Bandung in is Bandung worth visiting. We can see that Bandung is indeed a great city to visit. You can visit all the things that exist there, from the popular icons to the most quiet places possible. Even the city itself known as a place for fun, because it has so many hangout locations.
But aside from the interesting Instagram worthy cafe in Bandung, if you prefer to go to quieter places, there are some recommended locations. These locations are great to seek the calming atmosphere for stressed minds. They are also can be used to looking for an inspirations because of how calm the locations are so you can be more focus. So, what is the most inspirational place to visit in Bandung? Here they are:
1 – Dago Pakar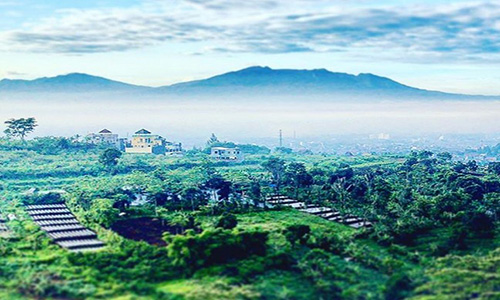 The first place in the article of what is the most inspirational place to visit in Bandung? Is a famous location called Dago Pakar. It's said to be the most popular natural attraction in Bandung and always visited by many people who want to feel the nature around Bandung. In this wide area of Dago Pakar, you can find so many things like caves, lakes, rivers, and the hangout natural spots. You can just sit down and enjoy a sip of a warm black coffee while seeing witnessing the beautiful environment.
Location: Dago Pakar or Ir. H. Djuanda Forest Park
2 – Rancabali Tea Garden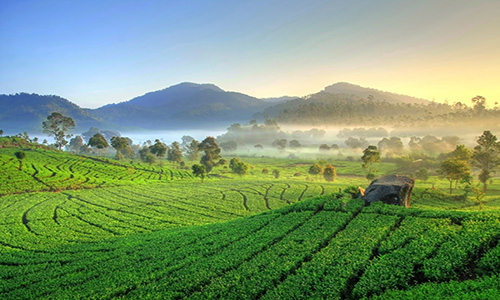 Because the area of Bandung is somewhat cold, it's suitable for planting some vegetations like tea or coffee. No wonder that in the high areas around the city, you can find wide areas covered with either tea or coffee. One example is this Rancabli tea garden. It's the biggest tea garden in the country, with the super huge area covered with only one color that will calm your eyes, green. They also produce their own tea, Walini Tea that is also can be bought nearby.
Location: Patengan, Rancabali
3 – Kawah Putih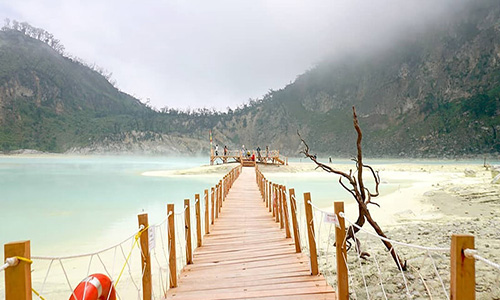 Aside from enjoying the best places to enjoy sunset in Bandung in the city, you can climb up a bit to go to a higher area called Kawah Putih. The Kawah or Crater itself is a center of Mount Patuhan. The eruption that happened more than a hundred years ago created this known attraction. Many people visiting it in order to witness the beautiful landscape with the legendary light blue lake. Some even take their chance to get as many pictures as they want.
Location: Ciwidey, Bandung, West Java
4 – Situ Patenggang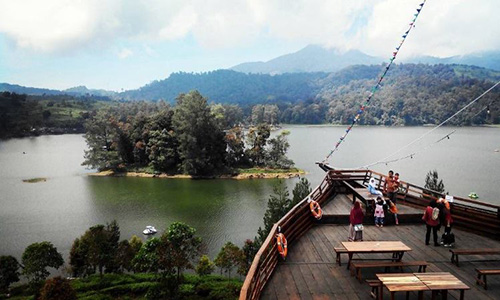 There are some nice attractions you can find all around Ciwidey. Aside from the White Crater or Kawah Putih, you can also have a chance to meet the Lake Patenggang, located below the crater itself. The location of it, which is in the center of a tea garden totally makes it perfect. It blends nicely with the green color around it. With the breeze and the tea aroma all around you, no wonder that it must be one of the best for looking an inspiration.
Location: Ciwidey
5 – Farm House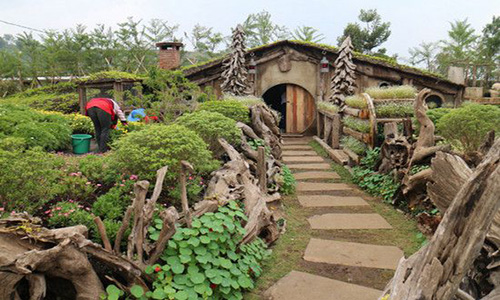 Another option to answer the ultimate question, "what is the most inspirational place to visit in Bandung?" is the Farm House, located in the area called Lembang. Just like its name, this place is the result of a combination between a farm and garden with the European style to make it more aesthetic. Aside from the landscape itself, you can also visit the iconic small houses or as they call as Hobbit Houses. There you can take your cute pictures with them, and becoming a Hobbit after all these years.
Location: Lembang, Bandung
6 – Keraton Cliff (Tebing Keraton)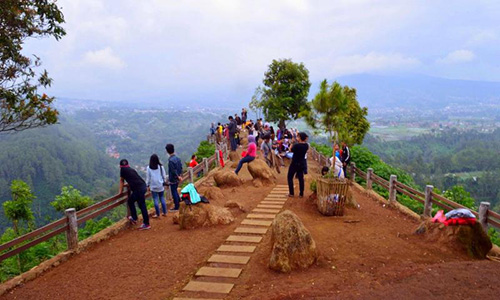 Just like its name boldly stated, Keraton Cliff is a cliff located in the forest-ey area of Bandung city. As you can see from the picture, there's a great distance between this location and the nearby populated area-that is possibly the city itself. With that distance, you can't hear the sounds from vehicles and engines. There are only sounds from nature and speaking tourists. Just find a nice spot for you, and enjoy the scenery.
Location: Ciharegem Puncak, Ciburial Village
7 – Moko Hill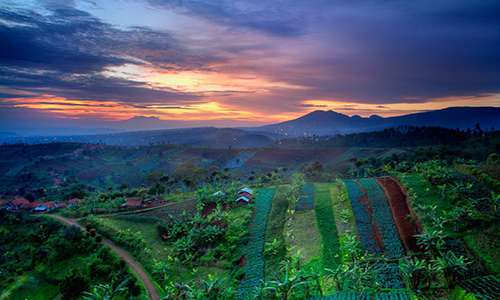 The place that is always loved by photographers besides the things to do in North Bandung is a simply hill called Moko Hill. During the morning, the view of Bandung is really captivating when seen from a perfect spot in Moko Hill. In the calm season like this month, the visitors are not so abundant. Use this opportunity to use Moko Hill as your place to seek inspiration. Just make sure to find a nice spot to protect you from the sun.
Location: Bandung, West Java
8 – Bambu Village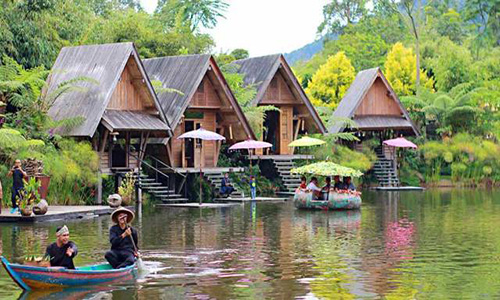 If you ever visited the country before, you may realize that this country has large areas of villages. Usually, a village located near a city where the economy is good and all. But in this Bambu Village, which is the name of the attraction, things are different. It's way calmer and really nice compared to the city. Even though it's not an official village, many people would still interested to visit it in the future.
Location: Kertawangi, Bandung
9 – Floating Market Lembang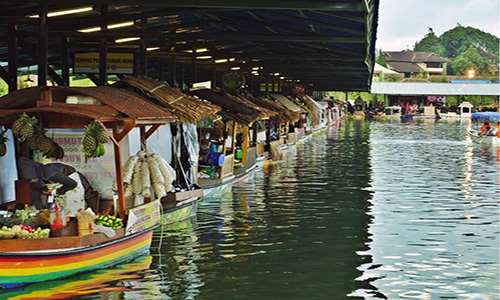 This is one of those non-boring markets. If you ever saw the floating market before, then this market should be very similar. The difference, the main difference that you can easily witness is the green environment it has, plus the lake. There's also an additional content added recently called Kyotoku. There you can see the Japanese culture like dance, arts, and even wearing traditional clothing as you desire.
Location: Lembang, Bandung
10 – De'Ranch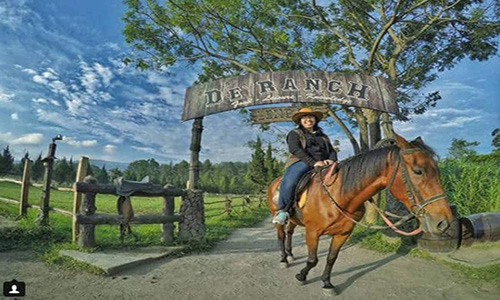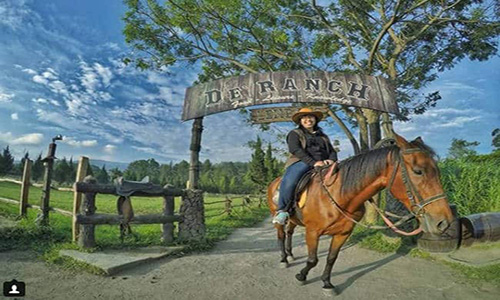 One thing that should be included on this list besides things to do in South Bandung is De'Ranch. Developed under the same management as the Farm House, De' Ranch provides the experience of living inside a farm, with the corps and farm animals that live within. The restaurant, cafe, and souvenir store are exist as well, alongside with the additional features like flying fox and horse riding that making it more than a usual farm.
Location: Lembang, Bandung
Explore Bandung!