Welcome to Bandung. If you come to Bandung, don't forget to visit tourism places. There so many place that you can visit, but first, you can explore in South Bandung. These are things to do in South Bandung.
Situ Patenggang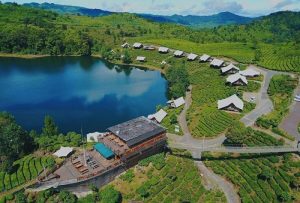 The location of this lake is situated at an altitude of 1600 meters with fence. The fence of this lake is from the tea gardens that make the atmosphere more serene. This beautiful lake has an area that is about 45,000 hectares.
This place has beautiful scenery and fresh air. Moreover, its location close to other tourist areas that make Situ travel is always crowded with tourists, especially on weekends. Originally this lake is a nature reserve or national park. Then since 1981, Pehutani began to manage Situ to become a tourist area.
Until now this place filled with interesting legends and myths that make this place always crowded by local and foreign tourists. This place has a beauty that is very attractive with many spots that are quite photogenic.
Other than enjoy the scenery of this lake, in this place also have many interesting things to do. You can walk around the lake on foot while looking for the best photo spot to serve as a memento or you can also rent a mat and have a lunches at the edge of Situ Patenggang Ciwidey. On the edge of this lake, there are plenty of gazebo and mats that can be rented for Rp. 10,000,-
You may also visit and enjoy all the List of Best Restaurants in Paris Van Java Bandung
You also have the opportunity to hire a boat to explore Situ Patengang. You also can visit the Love Stone.
Ticket Price:
Rp 18000/ person.
National day Rp 20500/ person.
Parking for bus or truck Rp 22500.
Parking for a motorcycle Rp3500 and Rp11.000 for a mobil.
Open Hours:
Every day 08.00 a.m. – 08.00 p.m.
Situ Cileunca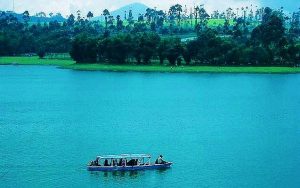 Situ cileunca pangalengan is a tourist place in pangalengan Bandung very remarkable.
The combination of panoramic nature beauty is lush and green with clear blue water. You can feel breezy gusts of wind felt cold on your face. You may also visit and enjoy all the Things to Do in Bandung for 3 Days
A lot of the visitors or tourists come here try to feel or enjoy the beauty and charm of Cileunca. Other than enjoy the scenery, you can enjoy other things such as:
Many tourists come to this place to coming. They know very well how to enjoy the exotic area of Cileunca pangalengan at night. You can feel the atmosphere is romantic and cool. When in this place, you will get the sensation of camping in the beautiful conservation areas. You may also visit and enjoy all the What to Do in Bandung for 4 Days
The benefits of cileunca pangalengan are not only used as a clean water source and PLTA, this place also can be used as a rafting place. This is very challenging. Rafting activity in pangalengan cileunca is use the air from the Cileunca dam which is very pretty swift, that is also very challenging.
In this place, you can also go to strawberries garden. You can take fresh strawberry straight from the plant. To get to the location of Strawberry Gardens, visitors must use the boat Rp.5000 / person.
Ticket Price:
Rp 2,500/ person
3.000/ person + car parking
White Crater Ciwidey
White Crater Ciwidey is a crater that resulting from the eruption of Mount Patuha. White Crater name refers to the land which is actually white. The white color of the soil caused by several elements mixed with sulfur. What is unique about this crater is its water, where the water in the crater is not translucent, but greenish white. This place is one of tourist attractions in Bandung. The color of the water can be changed according to its sulfur content, temperature, and weather that occurred at that time. You may also visit and enjoy all the Things to Do in Bandung For 4 Days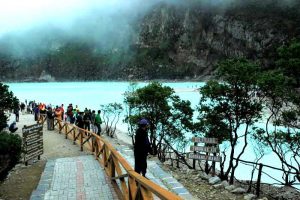 White Crater Ciwidey is located in the highlands of a mountainous region located approximately 2,400 dpml. Because this place in in high plateau, it makes the temperature in the crater is very cold. Average temperature in this place is 8 to 22 degrees Celsius.
Because of its beauty and romance is very charming, the crater is often used as background photography, movies, painting, and also pre wedding. One example of a movie use this place as background is the movie "Heart" played by Irwansyah, Acha Septriasa, and Nirina Zubir.
Not only as a place of romance, but the white crater also make more challenging activities such as hiking and horseback riding.
This facility is provided so that every visitor who comes to this place will feel comfortable and able to enjoy the panoramic beauty of the crater. These are the facilities such as
Information Center
Islamic Prayer Room
Food stalls and Restaurant
Toilet
Transport from the gate to the site
Parking area wide 
Open Hours:
Hot Spring Ciwalini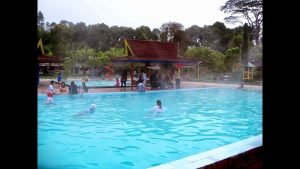 This is a place Hot Spring Walini. This is a place for tourists who want to pamper their body by bathing in the warm water. This could be an interesting place to visit because it is located at the foot of the mountain Patuha or Ciwidey Walini tea plantations where the air is still very cool. The swimming pool is visited by tourists from different cities because of the warm water in the pool comes from mountain springs Patuha.
Because it comes from the mountains. This water contains sulfur, this is certainly the one of the reasons visitors come. The sulfur content, according to some people is believed to cure various diseases outside or inside, especially skin diseases. You may also visit and enjoy all the Things to Do near Padma Bandung
In this place also provide various other facilities such as waterboom, a center for rest, showers, restaurant and more. With this facility, it is expected the visitors could be more comfortable and feel at home in this tourist spot.
Ticket prices:
| | |
| --- | --- |
| Category | Price (Rp.) |
| Admission / person | Rp 20.000 |
| Motorcycle | Rp 3,000 |
| Small car | Rp 5,000 |
| Bus or Truck | Rp 20.000 |
Open Hours
That's all the things to do in South Bandung Indonesia, we hope you enjoy Indonesia from every beat!