Camping is always a fun thing to do and can be an alternative for your holiday. People mostly spend time camping on mountains, hills or beaches. There are some great places for you to go camping.
One of the great cities providing you lots of campsites with interesting features is Yogyakarta. If you plan to visit Yogyakarta, you can follow this itinerary of What to Do in Yogyakarta for 3 Days – A Guide to Explore The City.
If you plan to visit Yogyakarta to spend your holiday, then consider taking these campsites and put them on your list! They will not only give you comfort, but also amazing view of the nature.
Most of them are surrounded by big and green trees, and they are perfect for relaxing! Here they are: the 6 recommended campsites in Yogyakarta for camping lovers!
The first recommended campsite in Yogyakarta is Puncak Kosakora. Puncak Kosakora is located at Ngestirejo Village, Tanjung Sari Regency, Gunung Kidul, Yogyakarta.
This campsite has been one of the campsites in Yogyakarta you must try as it serves you the breathtaking view of the beach. That's one of the reasons why tourists love to have camping here.
While you're in Gunung Kidul, spend time to consider these 15 Things to Do in Gunung Kidul, Indonesia (Most Beautiful).
Puncak Kosakora was named as Bukit Ngrumput by the locals before.It is because all you can see is only grass or in Bahasa Indonesia "rumput". There is no other type of plants here.
From the top of the hill, you can enjoy the beauty of Drini Beach, Yogyakarta. You can also enjoy the sunset here and it is amazing! There are some facilities provided too, such as food stalls, public toilet and parking lots.
To reach this place, you need to put a lot of effort as you have to go trekking up the hill. It will take several minutes to reach the top. But, you surely won't regret when you reach the top as all your effort will be paid with the amazing view you can enjoy!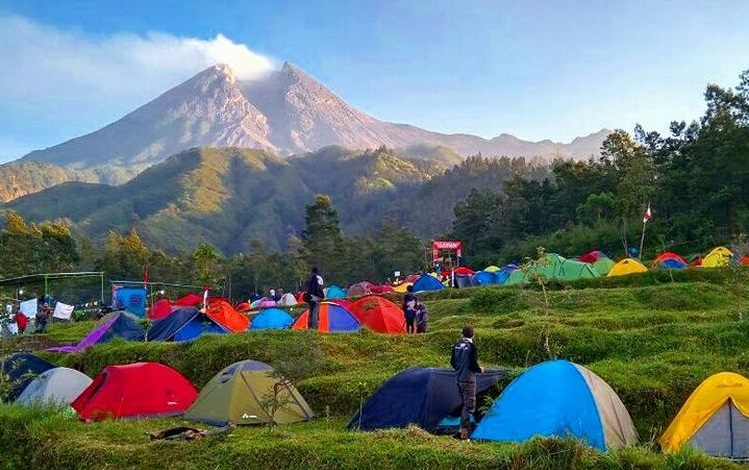 For those who visit Yogyakarta often, you must be familiar with Bukit Klangon. Bukit Klangon is one of the-must-visit places in Yogyakarta. Bukit Klangon is located in Glagaharjo Village, Cangkringan, Sleman, Yogyakarta.
From this place, you can see and enjoy the view of Mount Merapi as it is located around 5-6 kilometers away. If you want to get the best view of Mount Merapi, then you can consider going camping here.
Besides, if you really love cycling, Bukit Klangon is also a great place for cycling downhill or MTB. There's a route of 20 km long that will surely test your adrenaline! The cycling route here is also used for some official cycling competitions.
What makes this place so special? Bukit Klangon is located about 1,000 meters above the sea level, so you will surely be able to enjoy the view of the hills and farms right in front of your eyes. You will also be able to feel the fresh air and the green view that make you feel relaxed.
Besides mountains and hills, beaches can also be the best campsite. Just like Greweng Beach in Jepitu Village, Girisubo, Gunung Kidul, Yogyakarta. If you prefer to stay at the beach, then you can consider Greweng Beach as the spot for camping.
Besides Greweng, make sure to visit the other 17 Most Beautiful Beaches in Yogyakarta Indonesia too!
This beach is famous for having an outstanding panorama. The carpet of the white sand and the amazing waves seem to greet you while you arrive here. This kind of atmosphere will make your camping experience become unforgettable and memorable for sure.
While you are here, don't forget to spare time to enjoy the sunset and sunrise too! There are some great places near this beach too, such as cave and some culinary spots where you can enjoy the local food.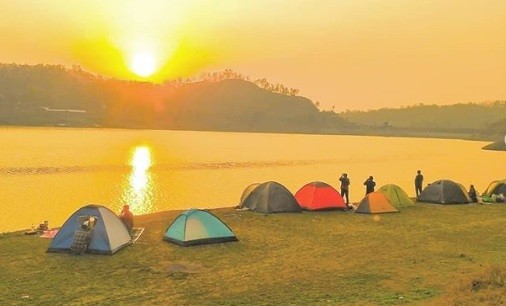 Waduk Sermo is a great campsite located in Kulonprogo, Yogyakarta. If you have a low budget on camping, then you can consider visiting this site. Waduk Sermo has a potential as a tourist attraction and an educational spot as well.
It has a very clean lake surrounded by green trees that give you shade from the sun and provide fresh air as well. Kulonprogo is considered as one of the 16 Best Villages above the Clouds in Indonesia (Simply Astonishing). It is cool!
While you enjoy camping, you can also enjoy the exotic view of the lake, specifically when it comes to sunset time. That's one of the reasons why lot of young people love to take pictures here. You can also explore the lake by renting a small boat.
If you don't have any tent, don't worry. You can simply rent a tent here by paying around IDR 50,000 and the tent can hold up to 4 people.
The last but not least campsite in Yogyakarta is Bukit Pengilon. Bukit Pengilon is located on the feet of Mount Api Purba, Gunung Kidul, Yogyakarta. To reach this place, you have to do trekking. The trekking route will serve you the natural beauty of the rice fields and farms. The route is kind of testing your adrenaline too!
Gunung Kidul is full of amazing tourist attractions, that's why it is considered as one of the Best 6 Extreme Tourist Destinations in Indonesia.
The trekking route is quite small and rocky. You need to be very careful while passing this route. It will take around 40 to 60 minutes to reach the top but you don't have to be in a hurry. Just enjoy the moment and the view and you will not realize that you reach the top already!