Triwindu Antique Market is a famous landmark of Solo. It is definitely worth a visit whether you are a collector of antiques or just a backpacker tourist. If you look for attraction to spend your time while you are on a shoestring budget, then Triwindu Antique Market is the place. Let's find out the unique things to do in Triwindu Antique Market Solo..!
1. Hunting Traditional Toy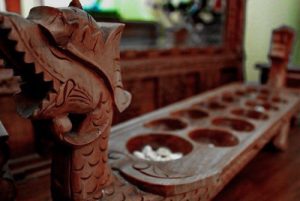 Nowadays children prefer to play Play Station or X-Box. The games they play vary from adventure to sports. In addition to spending time in front of the TV, they love to play RC car or Lego.
If you want to give your children a different experience, it must be a good idea to introduce them with Indonesian traditional toys. Toys like dakon and wooden dolls that used to be popular before the arrival of Play Station. Playing traditional toys will teach children how to socialize because traditional toys are usually played by more than one person
2. Hunting Old Books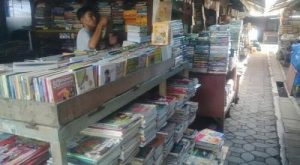 If you are a book collector, you should take the time to drop by Triwindu Antique Market. Here you can find various old books with high value. Amazingly, most of the old books still look good physically.
Some of the books that are often sought by buyers are Javanese primbon books, comics of Indonesian authors, and Dutch books printed in Indonesia. There is no fixed price for the old books. So it's time to practice your haggle skill. Anyway, after you master the art of haggle, you can use it for street shopping in Yogyakarta
3. Making Imitation of Antiques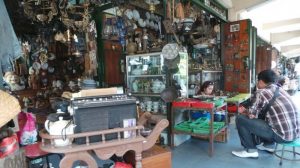 Anything from good old days is hard to forget. Take the legendary VW Beetle as an example. Until now people still love it and look it as the icon of flower generation. VW Beetle is still the world's most famous car.
So if you crave for goods from the old times and can't find it anywhere, stop by Triwindu Antique Market. Some merchants at the market offer services to make old goods. For example, if you like the old chandelier which you see in a magazine, you can make a copy of it in Triwindu Antique Market. Isn't it amazing?
4. Barter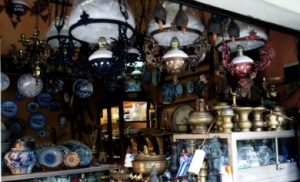 Triwindu Antique Market is one of the few markets that still use barter system. If you have antiques at home, such as old radio manufactured in 1930s, you'd better take it to Triwindu Antique Market for bartering.
Barter also makes it easier for merchants to get antiques. The difference of price between goods can be settled with cash. So there is no need to worry, everything is negotiable.
5. Strolling around the Market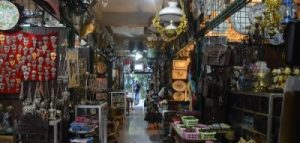 Triwindu Antique Market is one of Solo's flagship attraction. Its popularity is not inferior to the Solo Palace. The unique atmosphere of Triwindu Antique Market makes visitors happy to linger.
Strolling in the market hall will make you feel like passing through the time tunnel. For a moment you are brought to look a glimpse of old time glory and free from the hustle and bustle of life.
6. Taking Pictures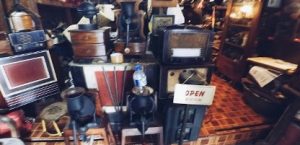 Triwindu Antique Market is definitely instagramable. It's heaven for instaholic, amateur photographer and even professional photographer. Every corner of the market can produce stunning pictures.
The clean market, the classic atmosphere, goods that are displayed neatly and the vibrant color will be the basic ingredient of wonderful pictures. Creativity and imagination are the key to get the perfect angle.
7. Culinary Tour: Soto Triwindu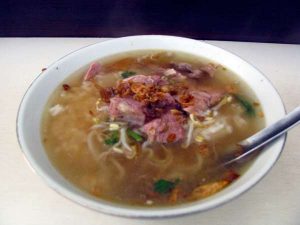 Soto Triwindu is the legendary culinary of Solo. Previously Soto Triwindu was located in Triwindu Antique Market. However, due to the arrangement in the market, Soto Triwindu was relocated. Fortunately, Soto Triwindu moved not far from Triwindu Antique Market.
Soto Triwindu is made from beef and has a savory taste. It is usually eaten with tempeh, shrimp bakwan, quail eggs and fried lungs.
How to Get There
Soto Triwindu is located at Teuku Umar Street, No. 41, Solo. Opening hours is 8 am – 3 pm.
8. Culinary Tour: Omah Sinten Restaurant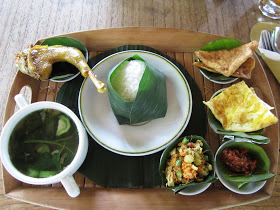 Omah Sinten Restaurant is also located not far from Triwindu Antique Market. The restaurant is made of wood, predominantly brown and has a classic design. Most of the furniture is also made of wood.
Omah Sinten Restaurant serves a variety of Solo food ranging from fried chicken to vegetable. Although the restaurant provides spoons and forks, you are allowed to eat by hand. After all, Indonesian food is better enjoyed by hand.
How to Get There
Omah Sinten Restaurant is located at Diponegoro Street, No. 34-54, Solo. Speaking of Indonesian food, you must try local foods in Yogyakarta.
9. Culinary Tour: Ice Cream Tentrem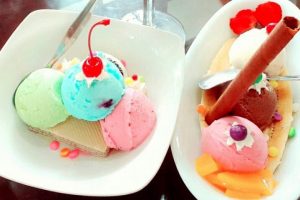 Ice Cream Tentrem has been around for decades. It has also become an icon of Solo. So it makes sense if you take the time to feel the delights of Ice Cream Tentrem. In fact, it's one of fun things to do in Solo.
Ice Cream Tentrem is just a stone's throw away from Triwindu Antique Market. Its building has an instagramable look. No wonder it's often used as a hang out place by young people. Ice Cream Tentrem serves a variety of flavors that you would never have imagined.
How to Get There
Ice Cream Tentrem is located at Brigjen. Slamet Riyadi Street, No. 132, Solo. Opening hours is 8 am – 10 pm.
10. Visiting Pura Mangkunagaran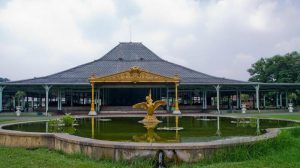 Pura Mangkunagaran is located across the street from Triwindu Antique Market. It is the palace of Prince Mangkunagara of Solo. The palace was built in 1757 and has Javanese-European architecture.
Solo is actually a fraction of the Kingdom of Yogyakarta. Therefore, at a glance Pura Mangkunagaran looks similar to the Yogyakarta Palace (find out things to do in Yogyakarta Palace). The palace is filled with high artistic goods. Keep in mind, visitors are only allowed to take pictures in certain spots.
How to Get There
Pura Mangkunagaran is located at Ronggowarsito Street, Solo. The admission for locals is Rp 10,000 while for foreigners is Rp 20,000. Opening hours is 9 am – 2 pm. It's closed every Friday.
More unique things to do in Triwindu Antique Market Solo
11. Hunting old coins
12. Hunting ancient keris
13. Hunting accessories for souvenir
14. Exploiting free wifi
15. Hanging out with friends
16. Visiting Ngarsopura Market across the street
That's all guys. Now you know the unique things to do in Triwindu Antique Market Solo. It's fun to explore every corner of Triwindu Antique Market. Even if you have no idea what to look for, most likely you will end up buying one thing or a few things. Have fun..!