Surabaya is the second largest city in Indonesia. Thus the city can not escape from the image of metropolitan cities such as high rise buildings, traffic jams and malls. But apart from everything, Surabaya can be a fun holiday destination. Let's see the crazy things to do in Surabaya Indonesia.
1. Running across Suramadu Bridge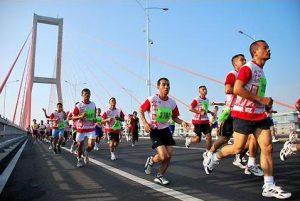 Suramadu Bridge, which connects Java island and Madura island, is the pride of Surabaya. The bridge was inaugurated in 2009 and has a length of about 5.4 km.
In November, commemorating the Heroes Day, Surabaya will hold a race running across Suramadu Bridge. The event is always crowded by both local and professional runners. So why don't you try it?
How to Get There
Suramadu Bridge is located in Tambak Wedi, Kenjeran, Surabaya. Once you cross the Suramadu bridge, there is no harm in exploring Madura. There are various things to do in Madura.
2. Horse Riding at Mount Bromo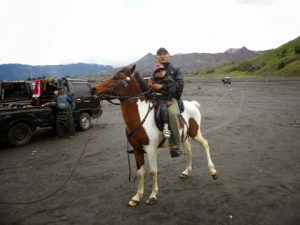 Mount Bromo has been renowned as one of the best sunrise viewing points in Indonesia. To enjoy the beauty of sunrise, visitors must start their ascent in the middle of the night.
After the sunrise, visitors can try horse riding, a fun yet challenging activity. Even though you ride a small local horse, there is always a possibility it overthrowing you from its back.
How to Get There
Mount Bromo is located in Bromo Tengger Semeru National Park, Probolinggo Regency. Besides horse riding, you can try other things to do in Mount Bromo.
3. Spicy Challenge at G-Walk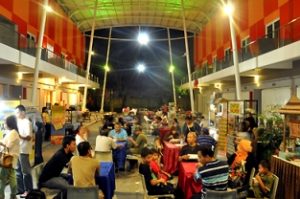 G-Walk is a popular culinary center among Surabayan young people. In addition G-Walk is also one of the favorite hangouts in Surabaya.
For those of you who love spicy food, G-Walk is your heaven. Here you can taste various mouth watering spicy menu such as taichan satay, Korean tteokbokki, Sundanese seblak, fried rice, fried noodles, etc.
How to Get There
G-Walk is located at Niaga Pura Street, Citraland, Surabaya.
4. Seeing the Other World at Hotel Majapahit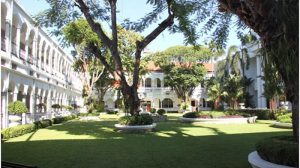 Hotel Majapahit, which is established in 1910, is a five-star hotel that has a colonial-style building. For people of Surabaya,Hotel Majapahit is considered as a haunted place.
It is said that there were guests who saw the sightings of a Dutch girl in one corner of the hotel. There were also guests who saw the sightings of a girl in white dress crying. Locals believed that the girl was the spirit of the Javanese girl who was killed by the Dutch army.
How to Get There
Hotel Majapahit is located at Tunjungan Street, Genteng, Surabaya.
5. Monkasel Tour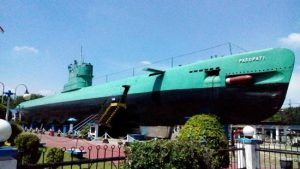 Who would have thought in the middle of the city of Surabaya there is a Russian submarine docked. The submarine was released from the navy duty in 1990.
In addition to touching it, you can also see the inside of the submarine from the captain's room to the torpedo room. But if you are a claustrophobia, do not ever get into the submarine.
How to Get There
Monkasel is located at Pemuda Street, Genteng, Surabaya. The admission is Rp 10,000. Opening hours is 8 am – 10 pm.
6. Culinary Tour at Atum Market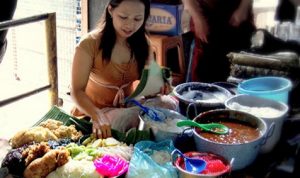 Atum Market is a place that sells quality goods at affordable prices. Various items can be found here, from home appliances, fabrics to electronic goods.
In addition Atum Market is also known as a culinary center. Most of the stalls here serve Indonesian food, Chinese food and traditional snacks. Some of the foods you need to taste are Madura porridge, Madura salad, lontong noodle and cakwe.
How to Get There
Atum Market is located at Bunguran Street, Surabaya. Certainly local food in Surabaya has different taste from local foods in Yogyakarta.
7. Watching "El Clasico" at Gelora Bung Tomo Stadium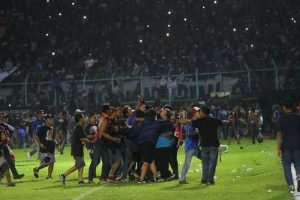 El Clasico between Real Madrid and Barcelona is probably the most watched football game. However, Surabaya also has its own El Clasico.
The most awaited match in Surabaya is Persebaya Surabaya against Arema Malang. Hostility and hatred between the two club supporters is part of the off-field story. You can bet that the match will feature drama, tension and sometimes unrest.
How to Get There
Gelora Bung Tomo Stadium is located in Benowo, Pakal, Surabaya.
8. Ignoring Health Advice for Rawon Setan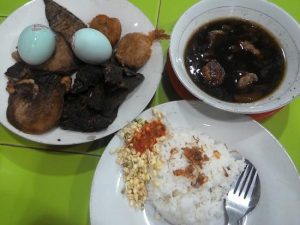 Rawon is a typical Surabaya food made from beef. There are many rawon sellers in Surabaya, but the most famous is Rawon Setan.
Rawon Setan is usually eaten with innards like lung and tripe which are considered not good for health. Well, probably it won't hurt you to eat them occasionally.
How to Get There
Rawon Setan is located at Embong Malang Street, Genteng, Surabaya. Opening hours is 8 am – 11 pm on Sunday – Tuesday and 8 am – 5 am on Wednesday – Saturday.
9. See Your Fortune at Sanggar Agung Pagoda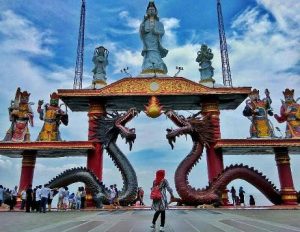 Sanggar Agung Pagoda is a real proof of the diversity in Surabaya. Apart from being a place of worship, the pagoda is undoubtedly an instagramable photo object.
One of the uniqueness of pagoda is visitors can see their fortune forecast. The forecast is done by shaking 100 sticks of bamboo. The falling stick will show a certain number that will be interpreted by the pagoda guard.
How to Get There
Sanggar Agung Pagoda is located at Sukolilo Street, Kenjeran, Surabaya.
10. Tipsy at Colors Pub and Restaurant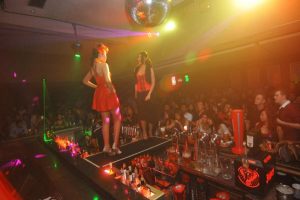 Colors Pub and Restaurant is a popular hangout for young people in Surabaya. It always holds events with unique themes.
In addition to music performances by home bands, Colors Pub and Restaurant often invites famous singers and bands to entertain its visitors. And most importantly, it is a place where you can get liquor legally.
How to Get There
Colors Pub and Restaurant is located at Sumatera Street, Gubeng, Surabaya. Opening hours is 5 pm – 4 am. Colors Pub and Restaurant is obviously not inferior to fancy clubs in Bali.
More crazy things to do in Surabaya
11. Having fun at Ciputra Water Park in Citraland, Sambikerep, Surabaya.
12. Culinary tour at Ayam Penyet Bu Kris on Tenggilis Utara Street,Surabaya
13. Splurging at Galaxy Mall on Dharmahusada Indah Timur Street, Surabaya
14. Seeing bull races in Madura Island
15. Visiting Bratang Flower Market on Bratang Binangun Street, Surabaya
16. Buying souvenir at Genteng Market on Genteng Besar Street, Surabaya
Allright, as you can guess, big city like Surabaya has lots of attraction. A day won't be enough to explore the city. So take your time and try doing some of crazy things to do in Surabaya.