Ah, back to Lombok again. For you who don't know where it is, Lombok is actually a part of West Nusa Tenggara province, known by many people for having such a colorful natural attractions, like things to do in Tanjung Lombok for example. Many people, especially divers and surfers love this place because of those great spots that not so many people known.
One other example is this things to do in Lembar Lombok. But there's one area in here called Baturiti Lombok. Baturiti is located in South Lombok area, and also near the known location of Kuta. Not  Kuta Bali, but Kuta Lombok. For knowing the difference between both of them, let's see what is this area has first, in this things to do in Baturiti Lombok :
1. Tanjung Aan Beach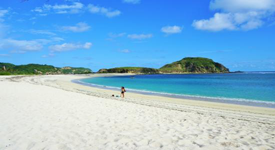 The first one is the Tanjung Aan Beach. Tanjung Aan Beach is located around the area of Lombok 83355, which is can be found easily if you follow the instructions on some navigation sites, google map included.
However, in this beach you can do so many stuff like casual swimming, snorkeling, or even hike the hills around it and just relaxing by having a great view of Baturiti Lombok area. With the entrance ticket of Rp10.000,-, it's worth to visit.
Location : Lombok 83355
Tips : Be sure to have your swimming or snorkeling equipment
2. Merese Hill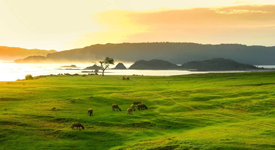 Next location which is not less beatiful than places in things to do in Lombok with family is Marese Hill. This hill is not the ordinary hills you can find on mountain areas out there. Located near the location of Tanjung Aan Beach, this hill is also becoming an option after visiting that beach.
For the people, especially the cameramen who want to capture the beautiful moments of sunset in Tanjung Aan Beach, this  can be a perfect spot, because you can see it clearly from here. Nothing between you and the sunset.
Location : Kuta Lombok, Pujut, Lombok
Tips : It's okay to bring some snacks or foods here
3. Sade Village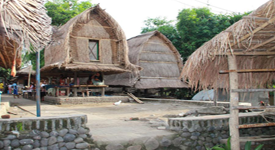 After visiting the natural attractions, then we can switch to another one spot in the Lombok area near Baturiti called Sade village. We talked about this village in the previous articles on our website. But for you who don't know, let us introduce you to it.
This can be a great place for studying the culture of Lombok, especially the people and their creations in the form of ornaments, musical instruments, dance, and also house decorations. Also, you can prepare your money for buying all of those souvenirs.
Location : Rembitan, Pujut, Lombok
Tips : Prepare some money to buy souvenirs
4. Kuta Lombok Beach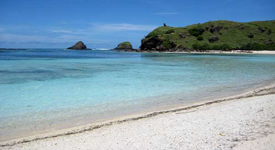 Next location is called Kuta Lombok Beach. Hey, it's not the Kuta that everyone knows already in Bali. This is totally different one than that. If, Kuta Beach in Bali is really full with tourists, who want to enjoy the beach with their own activities.
The thing is, that Kuta beach is really crowded with people. Some people don't like that. So, they can switch to this place instead. They will have a virgin beach that completed with its natural features like corals and natural stones on the sand. To enter, one needs to pay for about Rp10.000,-
Location : Lombok
Tips : Don't forget to bring some money to have some meals on there
5. Mawun Beach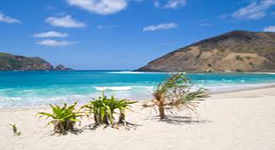 For you who want to feel an exclusiveness of a beach, a private beach that is so empty, you can visit this beach called Mawun Beach in the part of Baturiti Lombok. This is definetely the best thing in Baturiti, aside from the beaches on othes locations like sunset viewing points in Kuta Lombok.
The beach has this kind of hills, two of them that flank the area of Mawun Beach. It's like they say hello to the newcomers. The natural things of this beach are really interesting. The waves are not that high, they are pretty calm, and also completed with such a soft sand. To feel this exclusiveness, you can enter by paying the parking ticket for about Rp10.000,-
Location : West Nusa Tenggara, Lombok
Tips : Better go here with 4W vehicle
6. Novotel Beach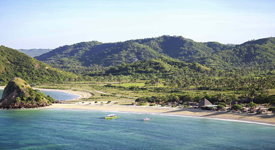 The sixth attraction on this list of things to do in Baturiti Lombok is Novotel Beach. This beach is included as one modern beach because of the great supporting facilities around it. The condition of this beach is pretty neat, there some people here and there.
The thing is, the area around Novotel is basially perfect for travellers. Why? Because around it, there are some best resorts or villas that can be suitable for them. Visitors can enter the beach with only Rp5.000,- parking cost. 
Location : Kuta, Pujut, Lombok
Tips : You can book your favorite villa or resort first if you're planning to stay for a night.
7. Batu Payung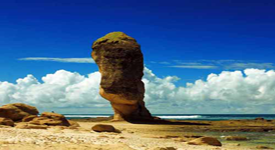 And for the last place on this list, we want to give you the unusual beach that exists in the area of Baturiti. This place is actually located near Tanjung Aan Beach. If you're planning to visit this location from Tanjung Aan beach, it'll be a 30 minutes journey.
It looks more beautiful like things to do in North Lombok, because of the unusual appereance of it. You can't find any sand in here, neither black or white. But there are stone everywhere in here, and the big one is becoming an icon thanks to the TV commercials that used this place in their advertisements. You can enter the place by only paying parking ticket for Rp5.000,-
Location : Kuta Lombok street, Pujut, Central Lombok
Tips : It's so slippy in here, be careful.
Other Things to Do in Baturiti Lombok
Beside the locations above, we also want to include the other spots inside the area of Baturiti Lombok, 9 of them to this list. Starting from Great Mount of Rinjani, here's the special places that also included inside the things to do in Baturiti Lombok.
Mount Rinjani
Gili Trawangan
Selong Belanak Beach
Mawie Beach
Ashtari Yoga
Kura Kura Surf Camp
Monkey Surf Shop and School
Aloevera Spa Kuta Lombok
Blue Mouth Surf
So, the list of Baturiti attractions ends here. The sixteen locations above is a proof that Lombok area, still has its charm. Starting from the natural places to the special ones like spa and yoga spots making Lombok advancing towards Bali level.
But the good thing about this Lombok is, its more nicer and quieter in here than in Bali, even though Bali is more advanced than Lombok in business and technollogy. For the people who want to enjoy the calm and beautiful natural attractions, Lombok is a great choice.
Batu Payung Beach