As you can see, the provinces in Indonesia, almost all of them have their own special and unique attractions. For example, there's Lombok area with its things to do in Lembar Lombok that can be enjoyed by everyone. Lombok is also having some areas within, like Tanjung area. Maybe you still not familiar with this area of Tanjung. Then let us introduce it to you.
Beside having things to do in Lombok in 4 Days, this area named Tanjung that located near North Lombok, is consist of the industrial area, and also, the natural attractions, so many of them. There are so many waterfalls that can be found in here, but beside them, there are also so many other things that you can visit. And here it is, the things to do in Tanjung Lombok.
1. Sendang Gila Waterfall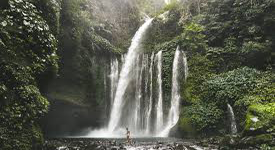 The first attractions that can be found in the area of Tanjung Lombok is the Sendang Gila Waterfall. Beside the things to do in Lombok with family, this waterfalls is also part of the the Mount Rinjani tourism area. The view around it is very beautiful.
For the people who want to get here, they need to walk for about 20 minutes from the nearest village, Senaru Village. But, if they depart from the nearest city, Mataram, they need for about 2 hours to reach this waterfall. Even though it seems so crowded, the waterfall doesn't have the entrance ticket.
Location : Senaru Village, Lombok
Tips : Always wear the proper shoe or sandal to prevent slipping
2. Tiu Kelep Waterfall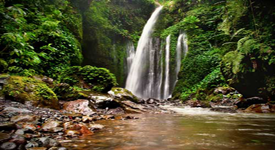 Well, the North Lombok area is very famous for having a lot of waterfalls. Aside from the one above, there's also one wonderful waterfall that you should check out called Tiu Kelep Waterfall. This one right here is the option for stress lifting attraction.
The tourists always go to this waterfall after visiting the waterfall near it, the Sendang Gila waterfall on the paragraph above. They only need to walk for about 1 km for reaching this waterfall of Tiu Kelep. No entrance ticket needed to enter the place, becaus it's also included in Mount Rinjani tourism package.
Location : Senaru Village, Lombok
Tips : Better wash your fach first upon arriving to this area
3. Gangga Waterfall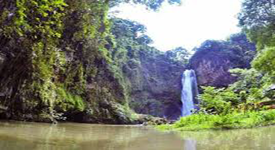 The next waterfall on the list is the Gangga Waterfall. This venue is known for having such a great view, which is the combination between the greenish tone from the vegetations that added with the bluish colour of the water.
Reaching here is also considered very easy, because the visitors can have their own vehicles to ride here easily and safely because the road is pretty smooth. Going to this attraction would be a great journey because you can see how beautiful the environment around it.
Location : Sasak Kerukak, North Lombok
Tips : Better going with four wheeled vehicle
4. Tiu Pupus Waterfall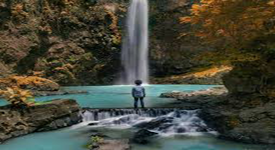 Aside from  the beautiful things to do in North Lombok, the Lombok area also has another attraction that is also looks great, always attracting anybody who sees it. The waterfalls is called as Tiu Pupus waterfall. As the waterfall above, access to this attraction is considered well.
The waterfall condition is good enough, still with its clear water and also very cozy environment. You can go here from either Gondang Village, or just going from the Sasah Keruak village where the Gangga Waterfall located. It's only half an hour from there.
Location : Gondang Village, North Lombok
Tips : If you love a challenge, trip from Gangga waterfall is recommended
5. Sire Beach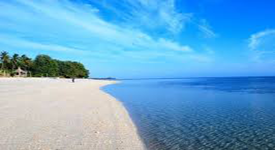 After talking much about waterfall, now we will switch to another attraction, which is the beach of Tanjung Lombok called Sire Beach. They are actually two beaches in here, this one and Lokok Piko. But let's talk about this beach first.
Many people know this beach either from the promotion or the experience of their friends. It's fantastic, the package of natural attraction with so many things to do is very good for everyone. Also, before reaching this beach, many people would rather have a golf first at the nearest area. You only need to pay the parking ticket in here, for only Rp5.000,-
Location : Sigar Penjalin, Tanjung
Tips : If you love golf, you can do it first on the way to Sire Beach
6. Lokok Piko Beach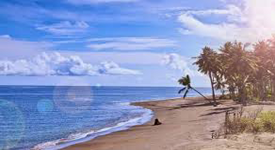 And then here's the second beach, Lokok Piko. This beach is less famous than the beach above, which is good because no one's gonna littering around. You shouldn't do it too you know. The difference between this and the beach above is the sand. In here, the sand is black, unlike the Sire's.
The place becoming way more natural without any supporting facilities and also visitors. So, if you come here, it'll be like the beach is your own asset, because you can rarely see anybody in here. If you want to swimming around, you should bring your suit first because there's no rental in here.
Location : North Lombok
Tips : The sea is safe enough for swimming or snorkeling, just be sure to bring your equipments
7. Gumantar Village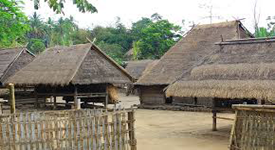 Unlike the things to do in Bangsal Lombok, we want to introduce you to another type of attractions, that is really important for the life of humans. A place with very thick ethnicity, culture, and also tradition. It's one village in North Lombok called Gumantar Village.
You can see so many things going on in here, like the people's tradition and rituals, dances, and so on. Also, this village saves the heritages of Islamic historiy. One of them is the ancient mosque, who looks really different than the other mosques in Indonesia.
Location : Kayangan, North Lombok
Tips : Always respect their culture and tradition, they will give the exact same thing to you.
Other Things to Do in Tanjung Lombok
Beside the other seven spots or places above that already mentioned on the first part of this article we also want to introduce the rest of them, the 9 places left in things to do in Tanjung Lombok area. First one is the very famous mountain, the Rinjani.
Rinjani Mount
Segara Anak
Barujari Mount
Bayan Old Mosque
Gili Meno
Gili Air
Gili Trawangan
Cemare Beach
Batu Idung Mount
So that is the things to do in Tanjung Lombok. Not so many people know about this area yet, and that's why almost all of the attractions above are always having less people than the other famous attractions in Lombok.
If you happen to be a person who really love to have some calm atmosphere, relaxing situation, then the area of Tanjung Lombok is perfect for you. Places like waterfalls and also calm beach are really suitable for you.
View of Sendang Gila Waterfall