As the capital city of Indonesia, almost everyone knows Jakarta. It has a very high population and is one of the largest metropolitan city in Southeast Asia. It is the central of many activities, ranging from politics, business, and culture. Almost all big companies, be it public, private, or foreign companies, are established in Jakarta. As It has two airports, Soekarno Hatta Airport and Halim Perdanakusuma Airport, Jakarta can be reached easily from anywhere. In addition, it also has a port, named Tanjung Priok. That makes it one of the most visited city in Indonesia. As you know, there are many Top Attractions in Jakarta Indonesia
Apart from being the central of various activities, Jakarta also has many tourist sites for family holidays. A variety of child-friendly sites can be found in Jakarta. Below is 44 kids playground you can find in Jakarta. Check out the best playground in Jakarta!
1. Kidzania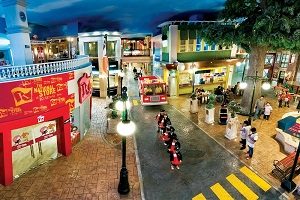 Kidzania is one of the options of kids playground in Jakarta. It is located in Jl. Jendral sudirman No. 52 – 53, in the Pacific Place Shopping Mall. This place is great for children as it has edutainment concept that allows children to gain knowledge while playing. This is an indoor playground, with a mini city as the concept.
Like a real city, the city in Kidzania has public facilities including hospitals, industrial estates, supermarkets, highways, and many other. Kids are taught about various professions, such as doctor, pilot, police firefighters, and around 100 more professions, and they even can try and act them out.
Kids will be directed to learn about the professions they are passionate about. That'd make them more active and happy. Apart from that they could also learn to interact with other children who have different profession. They are also given special kind of money called Kidzos, which they can use to make transactions inside the Kidzania. Just make sure to bring enough money with you when you visit this place.
Entrance ticket is 50,000 IDR for toddler, 150,000 IDR for kids aged 4 – 16 years, 100,000 IDR for adults aged 17 – 64 years, and free for elderly people. All activities in Kidzania, security bangle, boarding passes, and 50 Kidzos money are all included in the ticket price. Kidzania operates daily from 9 AM to 8 PM and is divided into two sessions.
2. Taman Mini Indonesia Indah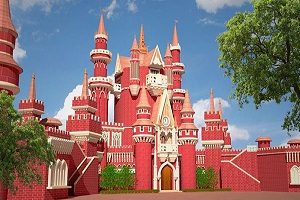 Taman Mini Indonesia Indah (TMII) is a greatly famous tourist site. It is located in East Jakarta, and has a vast land of approx. 150 hectares. The theme of this place is the cultural diversity of Indonesia. An overview of Indonesian culture and provinces can be found in Anjungan Daerah.
TMII is divided into 6 zones based on Indonesia's major islands, namely Sumatra, Java, Kalimantan, Sulawesi, Bali, Nusa Tenggara, and Papua. The 33 Indonesia's provinces are greatly represented by each of its unique traditional clothes and dance in Anjungan Daerah.
Beside the Anjungan Daerah, you could also find a lake that is a miniature of Indonesia's archipelago. This place has many educational tourist attractions that you can visit with your kids, such as museum. There are 13 museums inside of TMII. Apart from museum, there are also fauna and flora parks, theater, and Istana Anak-anak Indonesia. Istana Anak-anak Indonesia has many rides, including bunny train, swimming pool, bumper car, kiddy boat, dragon planes, etc.
Other recreation place inside TMII includes Snow Bay Waterpark, IMAX Keong Mas Theater, cable car, Titihan Samirono, mini train, and Sky World. Tickets are varied, depends on how many rides you would take. Entrance is 10,000 IDR per person. TMII operates from 7 AM to 10 PM WIB. This is one of joyful and best playground in Jakarta.
3. Pinisi Science and Edutainment Park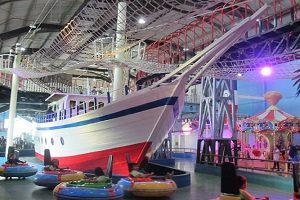 Pinisi Science and Edutainment Park is a playground located at Jl. Iskandarsyah II, in Pasaraya Blok M, Building B, on the 8th and 9th floors. This playground offers knowledge on culture, art, technology, environment, and anything that helps children interacting and exploring with the concept of play and learn.
This place is built with the feel of a traditional harbor. Various rides are provided here, ranging from classic rides, art & culture galleries, and science center. There are various indoor kid's games in the classic rides, like 4D stimulator, bomber boat, cyber games, etc.
If your kids have passion in art, there is a gallery that teaches a variety of arts, like drama, music, and traditional arts such as batik, wayang, and traditional dance. Not only they could gain knowledge, they also could try the kind of art they preferred. In addition to art, there is a science center with various technological developments.
To play here you only need to pay 65,000 IDR for children aged 1 – 3 years, 135,000 IDR for children 4 – 16 years, and 85,000 IDR for people aged over 16 years for weekdays. And for the weekend it's 75,000 IDR for 1- 3 years old children, 165,000 IDR for 4 – 16 years old children, and 125,000 IDR for people over 16 years old. Pinisi Edutainment operates from 10 AM to 5 PM on weekdays, and 10 AM to 7 PM on weekend.
4. Planetarium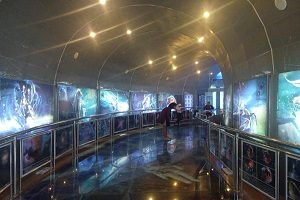 Planetarium is a good place for kids to play. This place is located in Jl. Cikini Raya No. 73 Menteng, Central Jakarta. Here children could see starts, meteors, planets, constellations, and various celestial objects. They will surely be happy because it feels like being in the night sky. There is also a star theater, observatory, and an exhibition of celestial objects. We could also observe the sky using a telescope.
The observation is usually done at a certain time, or when an eclipse is happening. There are rules you would need to follow when visiting this place. If you plan to visit with a group of minimum 100 people, you would need to book the tickets In advance by coming or calling to the office.
Planetarium operates every day, except on Mondays and on other public holidays. Individual visit can only be done on Friday at 4.30 PM, or all day on Saturday and Sunday. Entrance ticket Is priced 500,000 IDR per group of 100 students, and 1,000,000 IDR per group of adults.
While for individuals, it's priced on 12,000 IDR per adult and 5,000 IDR per kid. It is recommended to call them in advance before visiting, because they often do renovation works. Call them on 021-2305146, or 021-2305147. 
4. Miniapolis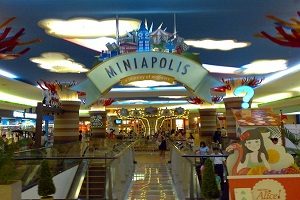 Miniapolis is a playground for kids aged 0 to 12. It has representatives in several cities in Indonesia. In Jakarta it is located in Jl. M. H. Thamrin No. 28 – 30 Menteng. It is designed like a child's dreamland with many types of rides.
Some of the rides available here are Fun Park, Art & Craft, Trampoline, Miniapolis Kids Club, and Baby Spa. Ticket's price in Miniapolis Jakarta is different for each play area.
It is 40,000 IDR for member and 60,000 IDR for nonmember for Crick Station and Crick Carousel, 60,000 IDR for member and 125,000 IDR for nonmember for Hide and Seek. To register as a member you only need to pay 150,000 IDR.
Also visit:
5. The Playground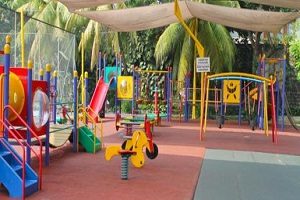 Located in Jl. Kemang Dalam 3B, The Playground is a good kids playground in Jakarta. It is really recommended to bring your child here. It has a vast outdoor space, and the most important, the place is clean, safe, and comfortable. The air here is refreshing since it is surrounded by trees. It has 2 main area, which is dry and wet.
Kids under 10 years old usually play in the dry area. This area provides slide, see saw, swing, spider web, mini flying fox, sand playground, bicycle and rollerblade track. Whereas the wet area has several water play like water shower, short and long slides, wet bucket.
The wet area can also be used as a place for celebrating birthday. Maximum capacity is 40 children, and they also provide catering. This place operates from 8 AM to 6 PM, and to enter, you only have to pay 75,000 IDR. 
6. Taman Impian Jaya Ancol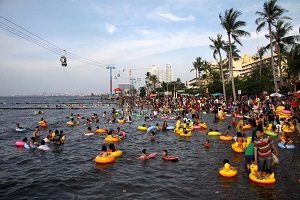 Taman Impian Jaya Ancol is located on Jl. East Lodan, Ancol, North Jakarta. This place has a wide space and provides many interesting games for children and adults. It has a beach and a park, Dunia Fantasi, Gelanggang Samudra, Atlantis Water Adventure, and Sea World.
Entrance ticket is 25,000 IDR per person, 20,000 IDR per car, and 15,000 per motorcycle. It operates from 11 AM to 6 PM on weekdays, and opens early on weekend at 10 AM.
Click here for further information about Things to Do in Ancol Dreamland Jakarta.
7. Giggle Fun Factory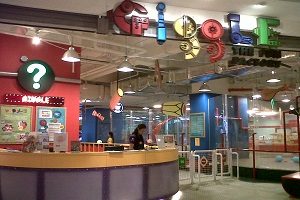 Giggle Fun Factory is one of the kids playground in Jakarta. It is located in Jl. Jendral Sudirman fX Lifestyle, 5th Floor. This is an indoor playground, and it has an indoor water play. Kids can play comfortably under the supervision of parents.
Although being indoor, this place has water shower and fishing area. Besides water play, this place also has little zoo. If your child is more than 10 years old, they can play in the Play Zone area, which is a small war zone. After the water play, they can take a warm shower.
This place has a good maintenance for cleanliness. The area of this place is around 4,000 m2. Giggle Fun Factory opens every day from 10 AM to 10 PM, and the price for entrance ticket is 100,000 IDR.
8. Bricks 4 Kidz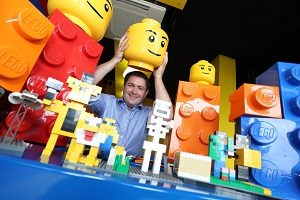 Who doesn't know Lego? Brick 4 Kidz is a place to play Lego for children aged 3 to 12 years old, located In Jakarta. The slogan of this place is "Logic, focus, and creativity with lego bricks". As one of the popular toys within kid nowadays, children can learn while playing with Lego. Playing Lego can improve the skill and creativity of each child.
Bricks 4 Kidz also sells various types of Lego. To play here, you only need to pay 80,000 IDR per child, while for the parents, it's free. It is mandatory for every kids playing here to wear socks. In this place there are two round tables on which there are pieces of bricks.
You could also find Lego cars and gigantic Legos. Not only Lego, they also provide children book, so that kids can learn and play. It is also available there a course for elementary school children, with the cost of 150,000 IDR per child per meeting.
Also visit:
9. Kidspace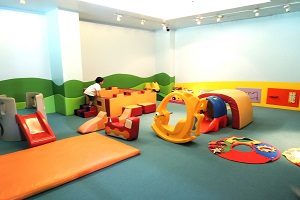 A kid's playground, Kidspace is located in Jl. Sultan Iskandar Muda No 7, across the Pondok Indah Mosque. It consists of several areas, like paperclip climber, imagination blocks, scandium, tot spot, and explotarium. This place is pnly open for kids aged 6 months to 12 years old. You could also find a children's gym here. Apart from that, this place also provides water play, named Aquadium, which children loves.
So if you want to visit here, make sure to bring a change of clothes. There is also a small cafe, and though there are not much drinks nor foods, it is surely enough to fill your child's stomach.
This place operates on Monday from 1 PM – 5 PM, and from Tuesday to Sunday from 9 AM to 5 PM. Entrance ticket is 75,000 IDR per day on Monday, 85,000 IDR on Tuesday until Thursday, and 125,000 IDR on Friday until Sunday and on public holiday. Parent's don't need to pay for entrance.
10. Ocean Ecopark Ancol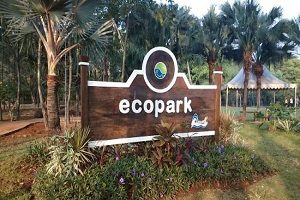 Ocean Ecopark Ancol is a kid's playground in Jakarta, located within the Taman Impian Jaya Ancol area. It has natural green environment, and it has a wide space of 34 hectares. Ecopark is a place to play, learn, and have adventure. It divides into several area, namely Eco Energy, Eco Care, Eco Nature, and Eco Art.
One of the facilities you could find here is the Bat Cruiser and Learning Farm. Boat Cruiser is a boat that parents and children ride to a small island, where they can feed deer, monkeys, and birds. Besides that, kids can learn to plant, or cycle around the Ecopark. For adventures, they can try the flying fox, paint ball, top tree walking, etc. Ecopark starts operating from 6 AM to 6 PM. Entrance ticket is 25,000 IDR per person. 
More Outdoor and Indoor Playground Around Jakarta
In addition to all these 11 kid playground in Jakarta, there are many more you can visit. Check out best playground in Jakarta below.
Dunia Fantasi & Atlantis Water Adventure.
Taman Lalu Lintas Saka Bhayangkara.
Galeri Indonesia Kaya.
Taman Suropati.
Monumen Nasional.
Waterboom Jakarta.
Sky Rink.
Istana Anak-anak Indonesia.
Museum Layangan.
Playtime.
Museum Wayang.
Atmosfear.
Museum Bank Indonesia.
Playparq.
Perpustakaan Anak Rimba Baca.
Kebun Binatang Ragunan.
Cibubur Garden Dairy (Cibugary).
Museum Bahari.
Sea World Ancol.
The Cat Cabin.
The Bunker Board Game Café.
Laser Game Indonesia.
Escape Game.
Museum Maritim.
Bounce Street Asia.
Jakarta Aquarium.
Buperta.
Wiladatika Recreation Park.
Museum Taman Prasasti.
Taman Indraloka.
Museum Seni Rupa dan Keramik.
Museum di Tengah Kebun.
Snow Bay Waterpark.
There you go. Now you can choose one and go have fun with your kid, on weekend or whenever you like!