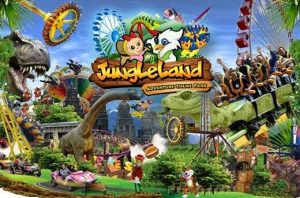 Have a vacation plan where this weekend with beloved family? If there is no plan, you need to consider the Bogor area as your family destination. Why in Bogor? Because, many interesting tourist destinations that are worth a visit and safe for children, such as 35 Jungleland Bogor spacecraft.
Tourism located in Sentul Nirwana area, Jalan Jungleland Boulevard no.1, Karang Tengah, Babakan Madang, Bogor, West Java has always been a prima donna of people around the city also residents of Bogor.
In addition to the playground provided a lot of up to 35 types of rides for children and adults, the scenery surrounded by forest and mountain air cool, making this tourist destination is always crowded to visit in weekdays and weekends. Although spelt out similar but not the same with Ancol Fantasy World rides (Dufan) in Jakarta, the rides presented at Jungleland Bogor Sentul not less interesting to trigger the beat of adrenaline. In addition, some children's rides are provided not only for exciting play area but also to educate the child. As we know that there are many Things to Do in Sentul, Bogor Indonesia.
Jungleland Bogor provides many rides that are divided into sections. There are special rides for children and adolescents as well as adults. Here's the list of enchanting things to do near Jungleland Adventure:
1. Daytona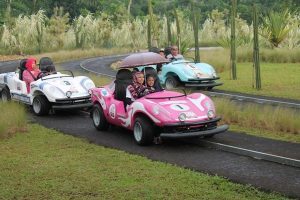 This rides can be played for children, teenagers and adults. But the most fun when played in a rush with friends or family. In this Daytona rides, you will be invited to act like an F1 car racer with a track length of 700 meters. And guaranteed you will feel the sensation of race compete for speed like in the original formula 1 race.
For family vacations, this vehicle can be tried to strengthen the inner bond between father and son, or brother and sister. This is a new vehicle for children who launched in June 2015.
The Texan train consists of 3 carriages that can accommodate 2 passengers of children and adults. This vehicle also provides 2 stations with different concept – different in each station, namely Tropicalia station and Mysteria station. Meanwhile, do more best Things to Do in Bogor, Indonesia.
2. Flight Academy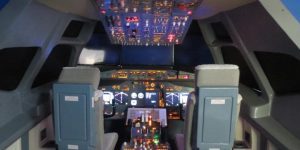 Like the name of the game, this vehicle is designed indeed to educate children, adolescents and adults about the pilot profession and info about the flight.
There are three kinds of options in this vehicle that you can follow with the family, namely the basic flight course & study tour, flight simulator academy and extreme games, as follows the description of three rides:
On a basic flight course, you will be educated about basic info about the flight, what tips to do when first doing a flight and much more important information delivered related to the world of aviation.
In the flight simulator academy, you will be introduced to the aircraft cockpit room, where the pilot and copilot in the aircraft actually work.
You will be introduced one by one info about the buttons in the cockpit and its purpose for what.
Quite exciting right for the baby. So this extreme games is a fun and funny game related to the aviation world.
Yes, it is worth trying for those of you who want one day your child will be a pilot. Flight Academy can be used as a first step introduction to the aviation world.
3. Mini Drop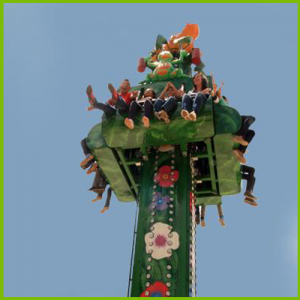 Although it sounds a bit creepy name, it is guaranteed by the Jungleland supervisor team if the mini drop area can be used by children and adolescents. For altitude issues, the Mini Drop rides are designed according to the height levels that are still safe for children and teenagers to play.
So do not worry too much if the mother wants the child to play on this mini drop rides. You just agree and keep an eye on it. Therefore, the security system in Jungleland is already following the international standards of the playground, and this is the reason why this game can be played by children.
As per the name of his wareya, Mini Drop is a special child play rides. Where children are not only free to play but also in education through various kinds of toys that stimulate the brain and body motor system.
In addition to the number of toys much, the rides are also very comfortable and very safe to play children.
Do not worry the child will fuss or whine take home. While you wait for other family members to enjoy the joyfulness of the rides in the Jungleland, you can invite your baby who is still above 5 years, to enjoy the excitement of playing while learning in the mini drop. After enjoying it, you can visit more Waterfalls In Bogor – Have An Awesome Experience Here!
4. Ferris Wheel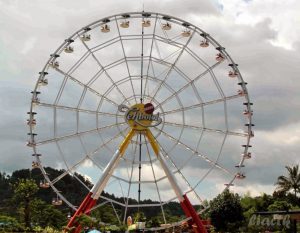 What's more things to do near Jungleland Adventure? Is a very large-sized bianglala ride. On this Ferris wheel rides, your eyes will be served by the scenery of the green and beautiful mountains along with the colourful lush forest. Actually, this vehicle is ordinary and not too thrilling because you just sit in the bianglala while enjoying thescenery.
However, because this bianglala is very large, thrilling heart sensation will be felt when the Ferris wheel spins up or down, as follows is the reason why this vehicle is a dream that is often visited by many people:
Like most other tourist destinations that provide a haunted house rides, Bogor Jungleland also provides the vehicle named Haunted House.
On the vehicle haunted house provided train that accommodates 2 passengers in each seat. Then you will be invited around haunted house rides to test your heart's guts.
And get ready to be surprised by this vehicle with a voice gripping him. For those who have a cowardly attitude and easily not confident, you must try this haunted house rides to arouse your courageous feelings to face the ghost face with a very creepy voice. 
5. Midway Games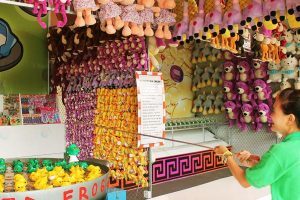 Ride midway games are certainly the most preferred rides children – teenagers to adulthood. Because in this vehicle is available various kinds of prizes such as in the play arena paid at the mall, which can be obtained by following various games, and some other uniqueness as follows:
These rides are designed only for children only. Where the trains are in the night market, children will be taken around the railway tracks with colorful trains. Of course, the trains are walking around followed by pleasant music sounds. Lots of games are provided in the midway games. You should try everything. The prizes offered were diverse, but most of the prizes were dolls. Hey there, visit more Best Shopping in Bogor for tourist.
6. Mini Swinger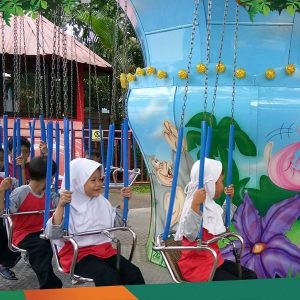 Is a spinning swing for children. In this vehicle the children will be invited to swing – swing then swings lifted and carried around. For your child who is a little bit timid and hard to teach independently.
It's good you invite the baby to play on this mini swinger rides. The perceived sensation would make the heart's heart pounding but very exciting. Here are some glimpses of the entry price of Jungleland that you should know as follows:
For security issues do not worry, because all security systems are already international standards. Jumpleland ticket price on weekdays (Monday – Friday) is Rp.165.000 per person, on weekend and his session (holiday season) Rp. 250,000 per person.
The price of admission Jungleland is already included to play in all Jungleland rides whether it's a child ride or adult rides. But the price of admission does not include the cost of parking the vehicle. For motor vehicle parking fee, the first hour is calculated Rp. 2000 and maximum parking 12 hours Rp. 10,000. And for the type of car vehicle, 1 hour first Rp. 3000 and maximum parking 12 hours Rp. 20,000. 
7. Carrousel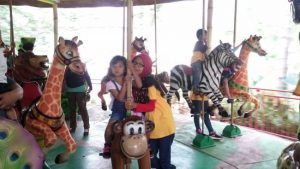 The rides are exactly the same with the swivel ride rides at the night market. Where the children are free to sit on the various animals the character he wants, then Carousel will spin to the sound of fun music, and some other uniqueness as follows:
Is a basketball playing arena with international standard sizes. Suitable for sports with family or beloved friends. For those of you who go scattered with friends, can spend time basketball sports game together in Jungleland 3-point basketball rides this.
This one rides for the children. Where in a jeep car can be boarded, 3-4 people. As the name of his wareya, you will be invited the convoy rollicking with a jeep car around a lane path that has been provided. The atmosphere created was very similar to a convoy of jeep cars on the streets. Guaranteed your baby will be a bit tacky, with shouting fun to feel the sensation of playing.
8. Mini Bumper Car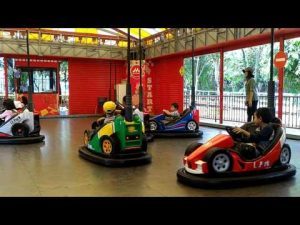 In other tourist attractions that provide this game is usually called his boom with boom car bomb. But in Jungleland, this vehicle is called a mini bumper car.
In this vehicle, the children will be invited to drive their own cars, rolling around with others, trying to control the steering wheel. And not infrequently collide with one bumper car with another because of the turn position that often collides with another car. This game is very fun to play, as follows:
But for your child whose legs have not reached to step on the gas pedal, it would be nice there is one adult who accompanied sitting and join the game by way of a driver. This stau ride is a mini version of the Ferris wheel that is a small cocktail special for children with limited seating capacity, only for 1 adult who accompany.
The mini Ferris wheel will give the sensation of spin up and down. Movement is also very smooth, with a level of medium height so it is very safe for children. It's just that the scenic view area is not as good as the giant Ferris wheel. Be advised to children. Is a fun and fun children playground, where the ship that ride resembles a sea animal. The vehicle gives the sensation of driving with a polar bear north. For you and the baby is ready to wet does not hurt to try this mini car excitement.
9. Ship Adventure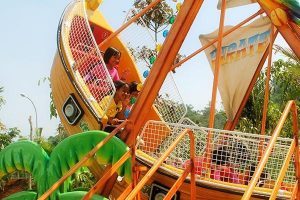 Kora – Kora rides for children. Where children are invited to sway on a pirate ship. Provides a thrilling sensation for the kids to not a few of them are screaming. But it is very safe for children because the level of swing height is still safe for children. With the safety level of toys that have been an international standard, and this is how to raise these rides:
This one rides can be used to make friends with friends or family. Where the sensation is left that is sliding fast in the watery area. It's pretty much an adrenaline test, too, because of the excitement when it's hurtling over the water until the water jumps over the clothes.
A very fun game to wet. Still in areas related to water-wetting. In the boat blaster, you will be invited to battle shooting with the water as if you are fighting on a pirate ship. This boat blaster playground is claimed as the first rides in Indonesia.
10. Mini Cooper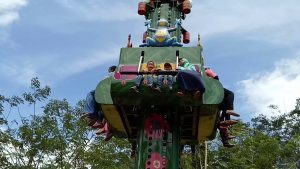 This vehicle is arguably similar to the hysteria rides Dufan Ancol. By sitting back and playing with friends or family, then put safety belt on the chest for international safety standards.
Then feel the sensation of the excitement mini tower, you will be taken up high and then slam sharply down repeatedly like this. Very challenging for the adrenaline test, and here's why it often becomes challenging as follows:
It is recommended for you who want to enjoy this when to release sandals because it is very dangerous to people who are in this game. The rides are very safe for children. Where the sensation of dino world, you will be invited adventure like in the movie Jurassic Park. All kinds of dinosaurs in it seem to be able to live again, can move and make a sound. Guaranteed this sensation will not be forgotten by your child. What a great things to do near Jungleland Adventure!
In addition to the excitement created by these rides, you can also insert your child's education about the dinosaur animals that once lived in ancient times and are now extinct. While inserted information when dinosaurs are not animals around your child, so your child understands and understands when in the world dino world is just a mere effect. Not an original dinosaur.
11. Air Race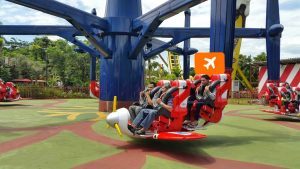 Claimed as the only rides in Indonesia. This water race invites you to test the adrenaline with the sensation of flying and spinning in space at high speed. The sitting position is both on one bench with safety belt chest on each person. Leaving the story if this vehicle is no less scary with the wave swinger, as follows:
This ride is a very high giant swing, with a sitting position one bench for just one person. Wave swinger ready to give you the sensation of spinning and swinging at a very high speed by moving up and down. When viewed from below, at first glance there is no heart-thrilling feeling.
However, if you feel yourself this excitement rides, ready – ready to go down in a limp condition with a hoarse voice. For those of you who are easily dizzy and vomiting, it would be nice not to participate in trying this game.
12. Disko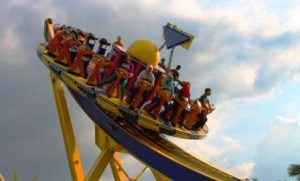 These plate-shaped rides are also claimed as one – the stages of the rides that exist in Indonesia. With a height of 15 meters, you will be invited to swing and spin very fast and test the soul there and others as follows:
For easy dizziness and vomiting, you better avoid this game. Because the stomach seemed shaken out. The rides are similar but not the same as the Dufan Ferris Wheel rides.
Where the thrill given you will be invited to swing on a giant pendulum with a dip of 102 degrees and a height of 20 meters more. Guaranteed, you will scream in fear and hope to finish the game. For those of you who have heart disease or easily startled and vomiting. It's good you avoid this game before your body feels weak with the stomach feel nauseated.
13. Hydrolift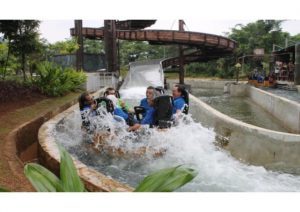 This is a new vehicle that was inaugurated in March 2016 ago. Although recently opened to the public, many visitors are willing to queue for hours to treat the curiosity of the sensation of what was created, following the reasons:
This hydro lift ride is a rubber boat with a capacity of 6 people, suitable for family entertainment, where the sensation he created the rubber boat.
You will be lifted by the elevator at a height of 15 meters and then pushed as fast as possible to pass through the path along the 250 meters with water rafting conditions are enough to make your whole family soaking wet.
These rides are like rafting games on the river waters. But that distinguishes, rafting rides are played in the middle of the theme park inside the Jungleland with a choppy rapids atmosphere but not too swift but enough to wiggle your rubber ship. The sensation is felt not much different from rafting in the river, it's just a fear for the ship upside down almost practically never happened.Wahana is also staying spelt out as the only rides that are inside the playground in Indonesia. 
More Tourist Attractions Around Jungleland Sentul
In addition to the rides that have been described as the uniqueness and beauty of this vehicle there are many other things to do near Jungleland Adventure that you should know as well as no less exciting others as follows:
Texan Train.
Kiddy Land.
Haunted House.
Rainbow Train.
Mini Swinger.
Caroussel.
3 Point Basketball.
Jeep Tour.
Flying Bike.
Jump Around.
Convoy 6.
Happy Swing.
Harvest Time.
Happy Train.
Mini Ferris Wheel.
The North Pole.
Water Flume.
Boat Blaster.
Dino World.
Fire Pots.
Mega Drop.
Swinger Wave.
Discovery.
Raraftingan.
Things to Do in Cibodas Botanical Garden Bogor
That was 35 Jungleland Bogor Sentul rides that must be your tourist destinations with family and friends. Guaranteed, excitement for the sake of excitement in each game will leave a lifetime of sweet memories. Do not forget to visit Jungleland to bring a change of clothes, prepare medicines in the wind, headaches or stomach remedies also do not forget to eat two hours before you play. To avoid stomach cramps also nausea.