Bandung is indeed memorable and fascinating place. In this place, you can go to many places where you can go shopping or go refreshing. However, because there are many places can make you puzzled what place you will visit first.
If you go to Bandung, you can come to Lembang. In this place, you can visit floating market. There are many interesting things that you can do in this place.  Those are things what to do in the floating market Bandung.
Food from the boat
If you go to the floating market Bandung, you can try many culinary. Differ with the other, you can try to buy food from the boat. In amusement parks or other tourist attractions, you usually buy food must be in the food court or in stalls that lined up neatly. Well, in the floating market will presents you a slightly different shopping experience. In this Floating Market Lembang, you will be able to buy directly from the vendors who all are in the boat.
If you don't know how to ride a boat, don't worry. All of the boat position is in the edge of the lake. So, you are just walking and then you can buy the foods. However, if you like to ride a boat, you can rent the boat to experience of buying food directly from the boat. Let's go and enjoy Happening Places in Bandung
2.      Walking tour around the floating market area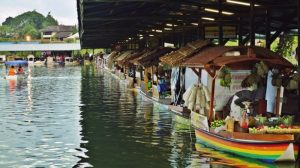 For you who work in the office, walking is an activity that is rarely done. Because every day, certainly you more spend your time by sitting and struggling in front of a computer all day.
Now, with a fairly wide area that have fresh air, Floating market is a pleasant place to walk.
You can see fascinating scenery while you enjoy the nature.  Let's go and enjoy Things to Do in Bandung for 3 Days 
3. Rabbit Park
If you enthusiasts rabbit, you can go to rabbit park. In this place, you can find many rabbits that you will like. This place is so suitable for you who come with family. It is not too difficult to find this park. Rabbit park location is not far from the miniature train. The surrounding rabbit's park was lined with fence to prevent the rabbit to get away. While inside the park, there are several mini house that sometimes used by rabbits to hide.
Visitors may enter the area of ​​the park and play with the rabbits after paying the ticket. This place is famous with the children. Many children come to this place to play with those rabbits.  In this place, adults can't enter the rabbit park area. If you want to come to enter the place, you will only pay an extra ticket for Rp 20,000.  Let's go and enjoy What to Do in Trans Studio Bandung
4. Railway Miniature Area
If you go to this place, you will find a railway miniature garden that rarely exists in Indonesia. In this place, you can find an area with lots of train tracks and a mini train run non-stop. This place is more fun because visitors can see and take the picture with a camera from close range.
5.      The boat ride
In the central area of Floating Market, there is a vast lake that can be used for rowing a boat. You can ride the boat that pulled by machine motor or you can ride a boat by using padle such as water bike, canoe, or boat.
For those who want to travel, you can rent water bikes that available at the Floating Market Lembang. You can rent it with Rp 50,000 for duration of 30 minutes. you can feel it that water bike or canoe with the family will make it more interesting.  Let's go and enjoy What to Do in Bandung for 1 Day
Feeding Fish
One activity that you must not forget is feeding fish. At the corner of the lake, there is a gathering place for many fish. Well, there is also a place where visitors can buy fish food and then given to the fish.
Mini cities,
One new spot at Floating Market has an interesting concept. You can see an area that is designed by using European style, ranging from the police station, cafe, baby care and others. In addition, the Mini City is also filled with flowers which make the surrounding environment more beautiful and cool. That make is more unique is the employees wear Europe clothes. To go here,  you will be charged an additional tickets fee for Rp 20,000.  Let's go and enjoy Things to Do near Padma Bandung
Rainbow Garden
This place has spacious area that is about 1 hectare. This place will presents you a colorful flower garden resembling a rainbow, 80% of the 100 kinds of flowers there are edible flowers. Other than colorful flowers, in rainbow garden you can also see other plants, such cactus. You can also buy organic plants that are still cultivated or are already in bloom in this place. If you want to visit here, you will be charged an additional ticket fee for Rp 10,000.
9. Kyotoku
If you want to dress up as a Japanese girl in kimono while enjoying the view of a beautiful lake, you do not have to go to Japan. You only need to visit kyotoku which became one of the newest attractions is Floating Market Lembang. For costume rental price starts from Rp 75,000.
Those are what to do in Floating Market Bandung. If you interested to come to this place, you can go with your family or friends.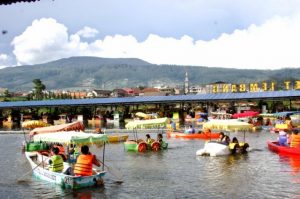 Important Notes About Floating Market Lembang:
Floating Market Lembang Bandung has a special currency in the form of colored coins. It is used for transaction here. So, before buying anything, it is better for you to exchange currency in advance.
Some areas are open space, if you do not want to expose to heat or rain, it is better for you to bring an umbrella.
The location Floating Market is Grand Hotel Street No 33 E Lembang.
Open Hours:
Monday – Thursday: 09.00 a.m. – 5.00 p.m.
Friday – Saturday: 09.00 a.m. – 8.00 p.m.
Sunday: 08.00 a.m. – 8.00 p.m.
Ticket Price:
Rp. 15,000,-  per person
Rp. 5,000, – for car parking.
Note: Tickets already purchased will be exchanged with drinks provided at the entrance.