As you can see, or even realize, inside a city like Jakarta you can find a lot of malls that work as places for shopping and also attractions for the weekend. You can see some examples of them like list of largest shopping malls in Indonesia. Inside them, you can find a lot of entertainment, starting from a place to do karaoke, up to the cafes and restaurants that can be the best place for having a precious moment.
However, now we want to tell you about the Grand Indonesia Mall with its things to eat in Grand Indonesia that located in the M.H. Thamrin street of Central Jakarta. It has about 7 different floors that each one has some things different to offer. However, we're not talking about the mall itself, but the list of restaurants in Grand Indonesia mall, like these ones :
1. Ninety-Nine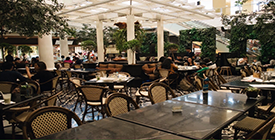 For the first of restaurants in Grand Indonesia Jakarta, we want to introduce you to the Ninety-Nine. The restaurant is right below Ranch Market 99. The Ninety-Nine restaurant is known for having the natural nuances that shown from the tress that placed around the restaurant. It's also having this vintage theme which is one of a kind.
The restaurant itself usually opens from 10 am to 10 pm every single day. You can get some beers if you want to while waiting for your foods. However, the good thing about the Ninety-Nine restaurant is not only its nuances but also its meals. From the menu, you can choose some things like Young Green Papaya Salad, some snacks like French Fries and Chili Fries, Burgers, Sandwiches, Pastas, and many more.
Location: East Mall Lower Ground
Price for two: Rp250.000,-
2. Fook Yew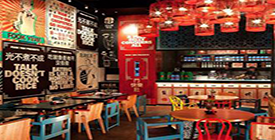 Aside from the things to do in Kemayoran that also having large choices of restaurants, there's one in Gran Indonesia called Fook Yew. You should visit this one because it's considered one of the best that should be included inside the list of restaurants in Grand Indonesia. As you can see in the picture, they use a very authentic Chinese design which is good to see.
The Fook Yew starts to open from 10 am to 9.30 pm every day. Almost the same as a restaurant above, this one also has wines and beers for the drinkers. The customers can enjoy all the delicious dim sums that came in different menus such as Sheng Jian Bao with chicken and black pepper, The Easy Bites, Chinese Porridge, Soups, Barbeque, and the Fook Yes Specialties like Master Chai Pan Fried Oxtail and Garoupa Fish Fried Rice.
Location: 3A Floor
Price for two: Rp300.000,-
3. Cafe Millano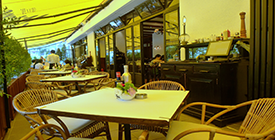 If you're looking for some places romantic like romantic garden restaurants in Jakarta, you can come to a cafe that located inside the Grand Indonesia Mall called Cafe Millano. Like most urban cafe that you already visited, this cafe is also having the vintage theme which is pretty much suitable with modern life. Many people would recommend this place as the best one for hangout.
The restaurant has some main services like Beers, free wifi, the smoking area, and also table booking for sure. Besides the coffee, you can order the Italian meals such as Mixe Green Salad, Caesar Salad, and Tomato and Arugula Salad that included in Insalate. You can also order some pasta, the grilled meats, Antipasti meals, and even Pizzas.
Location: East Mall Grand Floor
Price for two: Rp600.000,-
4. Itacho Sushi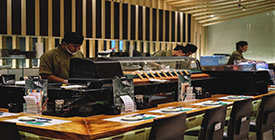 Inside the list of restaurants in Grand Indonesia, we also want to introduce you the Japanese restaurants, like this Itacho Sushi. This place is always famous for having a nice menu for the customers that supported with a very cozy location.
However, the place opens from 11 am to 9.30 pm every day. There's also the happy hours starting from 11 am to 4 pm. In here, there are Japanese and Asian meals such as The Set Meals, Sushi, Spring Roll, Sashimi, Hand Roll, Rice Box, and many more.
Location: 3A Floor.
Price for two: Rp250.000,-
5. Slice of Heaven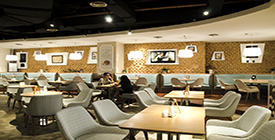 Do you believe that you can have a slice of heaven in a city like Jakarta? Aside from the best japanese restaurants in Grand Indonesia, inside this list of restaurants in Grand Indonesia, we want to introduce you to one restaurant called The Slice of Heaven. What a phenomenal name of a place. Sure there will be something great to offer.
This is the restaurant where you can find both Japanese and Italian foods. It opens from 11 am to 4 pm. It has the breakfast menu, table booking, and free wifi. This place is not recommended for the drinkers because there's not alcohol. However, about the menu, you can have some things like Mini Pizzas, Salad and Fries, Waffles, Pancakes, Fried Rice, Burgers, and also the lunch specials. 
Location: 5th Floor
Price for two: Rp300.000,-
6. Imperial Lamian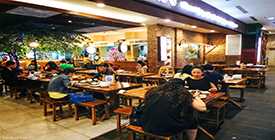 As for the sixth place, we have the Imperial Lamian. As you can see, the Imperial Lamian can be the most affordable restaurant of all the restaurants that we already mentioned above. It has a very good review from customers who were stating that this Imperial Lamian is rich in variants of food.
About the menu, there's the chef recommendation that really popular such as Noodles, Fried Rice and Chicken Wings that completed with special additions. Aside from those, you can also order the dim sum, soup, or barbeque. Even though most of the foods are non-Halal, there are some Halal ones that suitable for all Muslims.
Location: 5th Floor
Price for two: Rp170.000,-
Aside from those restaurants mentioned above, of course, there are some more of them that you can find inside the mall. For example, you can also see another list of restaurants in Grand Indonesia that will be mentioned in the list below :
Hang Gang
Carl's Jr
Koffie Warung Tinggi
Benedict
Skye
Social House
Marche
Tom Tom
Tokyo Belly
So that's the article about the list of restaurants in Grand Indonesia. The mall is indeed very complete with its collections of restaurants, starting from the modern to the authentic restaurant that can sell you their special meals. All of them are worth to visit and can be the perfect choices for your Saturday night.
Food Review at Ninety-Nine